Storyville: Orion - The Man Who Would Be King, BBC Four |

reviews, news & interviews
Storyville: Orion - The Man Who Would Be King, BBC Four
Storyville: Orion - The Man Who Would Be King, BBC Four
The strange story of the Elvis follow-up, who just wanted to be himself
Tuesday, 17 November 2015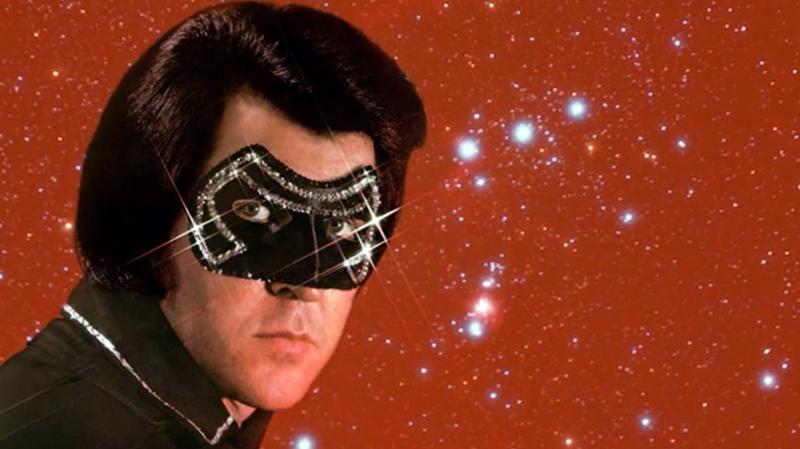 Jimmy Ellis: the man behind the mask
The story of Orion, aka Jimmy Ellis, really was a case of truth being weirder than fiction. "He couldn't have failed, if Elvis had never lived," we heard from Shelby Singleton, boss of Nashville's Sun Records, which launched his career – meaning that Ellis was born with a voice so close to the King's that he couldn't escape becoming something of a stand-in. There was no other direction for his talent, despite efforts to clear matters up by recording a song, "I'm Not Trying To Be Like Elvis".
The mask he donned over his eyes to give an extra element of mystery was a stipulation in his contract, and Ellis increasingly hated it. "Everybody loves a fairy tale," was an ex-manager's comment, and this combination of the dead-Elvis mystique with a hint of the Lone Ranger looked irresistible. Before he became Orion, Ellis had the voice for an independent career, but failed to make it on his own; instead he was packaged to assume, unofficially at least, Presley's mantle after the latter's death in 1977. For shattered Elvis fans the idea that their idol might have faked his own death to escape fame proved alluring enough to make them follow Ellis in their droves (the Orion-Elvis myth in newspaper headlines, below).
Success at least gave him a generous flow of groupies
Jeanie Finlay's film took a languid look at this American South life, with long drive-by shots of homesteads and some exotic coiffures from participants. The challenge was to fill in the details of a life with only the recorded words of its protagonist – Ellis was killed in an armed robbery in December 1998: he owned a pawn shop by then – and the comments from those who knew him were sometimes more atmospheric than incisive.
Either that, or those who knew the real story weren't talking. You could see why – Ellis came across here as a country boy with a voice who only wanted to sing, who was exploited by the music industry something rotten. Singleton, a "flamboyant promoter of product", was selling a lot of Ellis' records, but very little money ever reached the singer, Ellis himself admitted: he'd become effectively "Shelby's little toy".
The Sun Studio outfit certainly sounds like a bizarre place: Singelton would open it for the tour bus circuit, meaning that his artists would be recording, only to be interrupted by a group of tourists. No surprise that things went wrong: when Ellis got the wrong words for a song, it didn't seem to greatly worry Singleton, who oversaw Orion releasing albums at the rate, at one point, of seven in two years. They were sold, lucratively, at first by mail order to Elvis fans, before they hit the stores.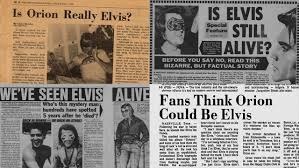 Gail Brewer-Giorgio was the author of the Orion book concept which she'd come up with even before Elvis's death, and she was alerted to Ellis by a friend, the song-writer Carol Halupke, who was one of the more sympathetic characters interviewed here. Ellis was the missing link the project needed: whether they were exploiting Ellis too was left rather unclear, but they'd met their match in Singleton. Brewer-Giorgio said he was the most sued man in Tennessee at the time. You wondered whether that's treated as a badge of honour in the music business over there.
Which left Ellis an increasingly sad character, continuing a career under a variety of changing monikers – Mr Excitement, The Cadillac Man – while his tour-buses got smaller and smaller (and then they started breaking down altogether). Given up by his birth mother at the age of two, he'd spent three years in boarding houses before being adopted by parents who specialised in training walking-horses – a sport in which the young Jimmy was a medal-winner – so he was used to life on the road. Success at least gave him a generous flow of groupies, as well as some stranger habits, like a briefcase full of what might be best called "pussy pics". He was a chauvinist pig, one admirer reckoned, saying she didn't respond to the briefcase invitation. She saw enough of them at work, she explained, in a gynaecologist's office.
That's the kind of priceless anecdotal detail that the Storyville strand often manages to accumulate, and the underside of the American dream seems a particularly fruitful territory in which to collect them. Orion seemed less striking than usual, however, its rhythm not always quite right in a story that felt on the long side. Rather like the Orion-Jimmy Ellis stage-career.