Maria Schneider Orchestra, Cadogan Hall |

reviews, news & interviews
Maria Schneider Orchestra, Cadogan Hall
Maria Schneider Orchestra, Cadogan Hall
A landmark performance from Schneider's first-class New York band
Wednesday, 18 November 2015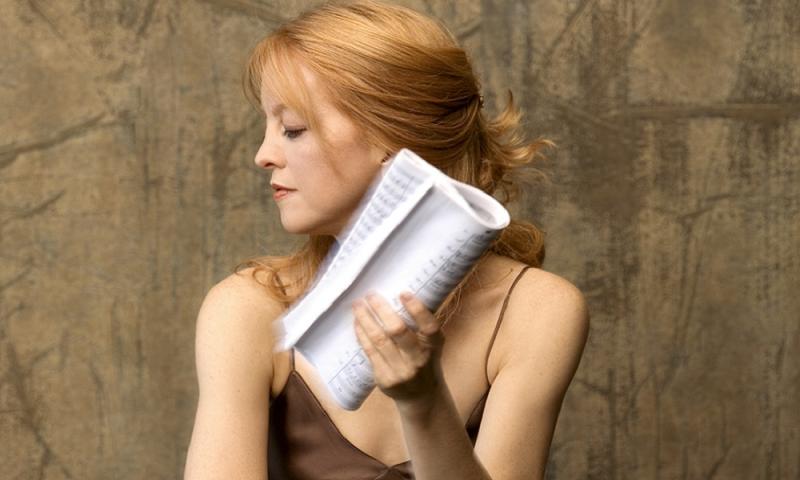 Unerring expressiveness: the Maria Schneider Orchestra
Eloquent, transfixing, profoundly moving. Last night, in the beautiful setting of the Cadogan Hall, the Maria Schneider Orchestra gave one of those landmark performances that people will remember for years to come. We heard seven of the eight tracks from the composer, arranger and bandleader's stunning latest release, The Thompson Fields, which celebrates its composer's love of her childhood home in Windom, southwest Minnesota.
The scene-setting opener, "A Potter's Song", featured the free-flowing accordion playing of Ron Oswanski (also a fine pianist and Hammond B3 player), with just the subtlest of hints at the influence of Brazilian music on Schneider's writing. "Nimbus" painted the picture of Schneider and her mother witnessing a tornado at life-threateningly close quarters. Settling into an intense groove, altoist Steve Wilson's burning solo possessed a majestic depth of feeling, counterpointed against the orchestra's sorrowing chorale. There was some ear-catching textural detail here, too, from the versatile drummer Johnathan Blake. Confirmation that this really is a band of stellar soloists came with "The Monarch and the Milkweed", one of several paeans to nature on the album, in which trombonist Marshall Gilkes and flugel player Greg Gisbert seemed magically to take flight.
Pianist Frank Kimbrough was an outstanding presence throughout
Taken from Schneider's 1994 debut album Evanescence, and with an almost filmic sense of textural layering and drama, the dazzling orchestral showpiece "Dance You Monster to My Soft Song" was thrillingly performed. A feature for pianist Frank Kimbrough, an outstanding presence throughout, and guitarist Lage Lund, whose hymnic intro was one of the evening's standout moments, the album's title track "The Thompson Fields" unfolded with unerring expressiveness. Superimposed against an impressively vast, repeating B major chord sounded in the orchestra, the colliding harmonic field of Kimbrough's daring improvisations would have had Charles Ives nodding his head in approval.
Following the blazing sonorities at the close of "Home" and the extraordinary, shapeshifting solos of Donny McCaslin (tenor) and Scott Robinson (baritone) in "Arbiters of Evolution" (the title a reference to the ritualistic behavioural displays of birds-of-paradise in New Guinea, Schneider being a keen birder), we were treated to the first of two encores. Both pieces were instrumental versions of songs first heard on Schneider's Grammy-winning song cycle Winter Morning Walks (2013), which sets nine poems by the two-time US poet laureate and Pulitzer Prize winner, Ted Kooser.
The achingly beautiful "Walking by Flashlight", the opening track of The Thompson Fields, was unforgettable for its timbral richness and touching melodicism. Kooser provides a brief weather observation for each walk/poem, and the one given for "Walking by Flashlight" – penned exactly 17 years ago today (original title, "November 18") – was certainly apt for the evening: Cloudy, dark and windy. Constructed over the gentlest of ostinatos in the piano, the second encore, "All Night, in Gusty Winds", brought an outstanding concert to a suitably lyrical conclusion.
The evening started with a compelling half-hour set from pianist Liam Noble, playing music from his recent solo album, A Room Somewhere. Laced with ear-catching detail, "Wouldn't It Be Loverly" drew at will from influences that nodded to Thelonious Monk and Abdullah Ibrahim on the one hand, and J.S. Bach and Igor Stravinsky on the other. Both the beautifully sustained call-and-response section of Joe Zawinul's "Directions", featuring some nifty damping of the piano strings, and the nuanced levels of attack in "Body and Soul" highlighted why Noble is one of the UK's most distinctive voices.
The colliding harmonic field of Kimbrough's daring improvisations would have had Charles Ives nodding his head in approval
rating
Explore topics
Share this article