Classical CDs Weekly: Christmas CDs, Part 2 |

reviews, news & interviews
Classical CDs Weekly: Christmas CDs, Part 2
Classical CDs Weekly: Christmas CDs, Part 2
A Baroque Christmas service, and carol collections from New York and Toulouse
Saturday, 19 December 2015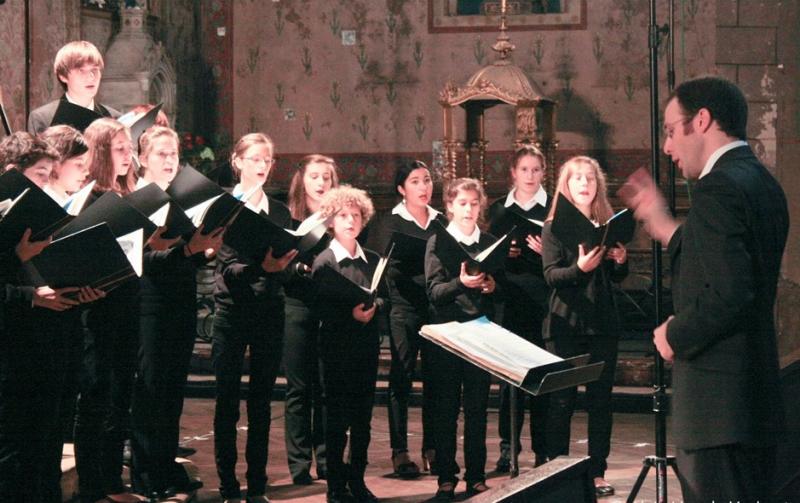 Mark Opstad and La Maîtrise de Toulouse
Bach: Magnificat Dunedin Consort/John Butt (Linn)
This disc's academic credentials are impeccable, but my reasons for loving it are purely musical; John Butt's Bach programme allows us to party as if it was, er, 1723. This is a reconstruction of Bach's first Leipzig Christmas – a cantata and a magnificat, interspersed with organ music and chorales. Butt begins proceedings with a Gabrieli motet and a sonorous organ prelude, before Bach's cantata Christen, ätzet diesen Tag erupts into life. Opening with a swinging chorus, the grandeur is bolstered by four trumpets. The choral forces are modest but brilliantly sung, every strand audible. Joanne Lunn and Matthew Brook are matchless in the aria "Gott, du hast es wohl gefüget". The optimistic final chorus will move the staunchest of atheists. Separating the cantata from the Magnificat are two more organ preludes and a rousing choral blast of "Von Himmel hoch"ll, the Dunedin Consort bolstered by a host of well-drilled friends and supporters.
Butt gives us the earlier incarnation of the Magnificat, a semitone higher than the D major version. The differences are pointed out in Butt's notes. We hear recorders instead of flutes, and there are a couple of ear-tickling harmonies. Following Leipzig custom, Butt inserts four traditional hymns into the work. It's as if you're attending an 18th century Nativity performance. Playing and singing are matchless, the whole work bubbling with theatricality and energy. Another organ prelude and chorale close proceedings in some style. Two additional organ pieces couldn't be squeezed onto the disc, but Linn offer them as free downloads. Essential listening.
Dancing Day: Music for Christmas Saint Thomas Choir of Men and Boys/John Scott (Resonus)
As with the Toulouse collection reviewed below, it's a delicious surprise to hear a collection of Christmas music which defies expectation in terms of choral sound. Dancing Day is also a fitting tribute to the late John Scott, a renowned organist, choir trainer and composer who was Director of Music at St Paul's Cathedral for many years. Scott moved to New York in 2004 to become organist and Director of Music at Saint Thomas Church, Fifth Avenue. What we hear on this disc is consistently impressive: full-throated, big-hearted singing, lending a work as familiar as Britten's A Ceremony of Carols a refreshing warmth and exuberance. Sehjin Jo's vibrant treble solo in "Balulalow" is typical. He's exactly how you'd expect a teenage boy to sound. "Adam lay i-bounden" fizzes, and is followed by a rich rendition of Britten's delectable New Year Carol. Sara Cutler's harp accompaniments hit the spot.
Cutler also impresses in the showy prelude to John Rutter's Dancing Day, conceived in 1973 as a companion work to A Ceremony of Carols. There are fewer shadows in Rutter's work – understandable given that each carol is based on traditional melodies. There's a magnificent, stark version of the medieval Coventry Carol, but it's the faster, brighter numbers which stick in the memory. "Personent hodie" is a highlight. Scott's anthology is filled out with some appealing extras. I'd not heard Patrick Hadley's sweet setting of I sing of a Maiden before, nor William Matthias's ripe, earthy Wassail Carol. Matthew Martin's bold, affirmative Novo profusi gaudio is a rousing opener. Thrilling stuff, and a fitting memorial to an influential musician.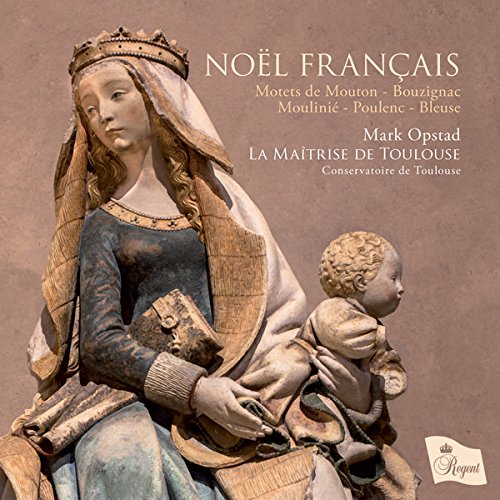 Noël Français La Maîtrise de Toulouse/Mark Opstad (Regent Records)
We tend to assume that the the default Christmas choral sound is that produced by English cathedral choirs. So, stretch your ears with this delectable disc from La Maîtrise de Toulouse, the majority of of whom are aged between 11 and 15, bulked out by other students from the Toulouse Conservatoire. This is magnificent choral singing, and the stylistic range is refreshingly wide. We get motets from the likes of Mouton and Charpentier, alongside Baroque rarities from Guillaume Bouzignac and Etienne Moulinié, both of whom lived and worked in the Languedoc region. Bouzignac's brief Stella refulgent is typical: three minutes of bright spiritual uplift. Conductor Mark Opstad's uninhibited soloists in the motet sequence, all drawn from the choir ranks, are consistently good.
As a counterweight, the disc continues with a sequence of Motets de Noël Modernes. Poulenc's Salve Regina and Quatre Motets pour le temps de Noël are wonderfully done, with the latter's "O magnum mysterium" accompanied by chirping birds. The brightness of "Hodie Christus natus est" anticipates Poulenc's late Gloria. Marc Bleuse's angular, uplifting contemporary setting of the same text is a winning contrast, sung with thrilling confidence. The disc closes with seven traditional French carols. Most are heard in unfussy arrangements by Opstad. They're all rather lovely – especially a richly harmonised Alsatian carol, Dormi, fili, dormi. Beautiful, immediate recorded sound too, the resonance never clouding the detail.
O magnum mysterium is accompanied by chirping birds
Explore topics
Share this article