Goodbye, Lemmy Kilmister 1945-2015 |

reviews, news & interviews
Goodbye, Lemmy Kilmister 1945-2015
Goodbye, Lemmy Kilmister 1945-2015
Farewell to a proper, no-holds-barred rock 'n' roller
Wednesday, 30 December 2015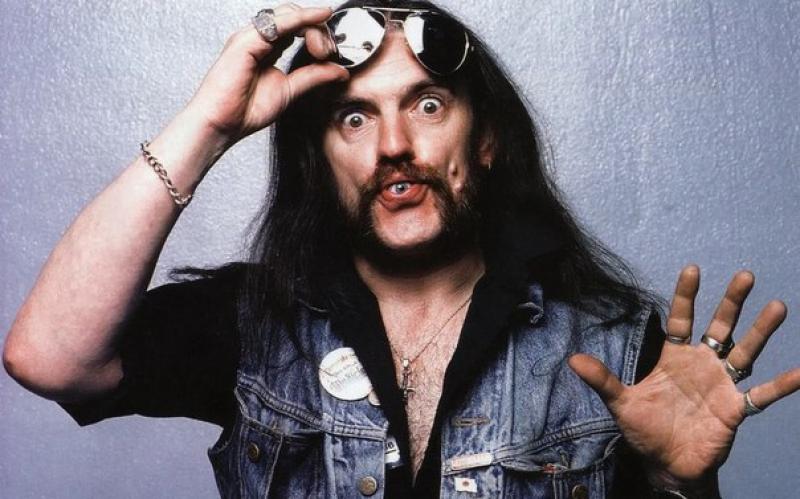 Warts 'n' all, in his prime
Motörhead played loud rock 'n' roll. Now, like The Ramones, they are gone. They burned with unbelievable vigour from the mid-Seventies until earlier this year, when the wheels started to fall off Lemmy's wagon. His health suddenly gave way – as was clear at this year's Glastonbury Festival – and now, as one of his greatest songs roared with rabid conviction and a cheeky wink, he has finally been killed by death.
Whatever their line-up, from the mid-Seventies until his death on December 28 this year, Motörhead were Lemmy Kilmister's conception. He was a confident, down-to-earth, post-hippy, punk-spirited, dressed-to-kill, rock'n'roll machine who understood the game, and played it with gruffness, hedonism and moroseness, as suited his mood. Arguably he eventually became more famous for who he was rather than the music he made. He never gave too much of a fuck about that, though, and carried on regardless, firing out rabid, dirty-riffin' bomb after rabid, dirty-riffin' bomb after rabid, dirty-riffin' bomb on 22 studio albums and endless, endless tours.
Motörhead's sound can shake windowpanes
In later years, as irony and meta-perspectives took over the universe, Lemmy was increasingly regarded as an amusing retro dinosaur – a "character". The media picked over his armour. Careerist journos would search for weak spots and paint him as a lonely old man. I do not think he was (if you want the full biog bit, five years ago I interviewed him backstage at Wolverhampton City Hall, one of my favourite interviews ever). He was a Sam Peckinpah of rock music, a man on a self-coded, successful, lifelong mission, bellow-growling about death, demons, war, women and living on the edge with wry, damage-case world weariness. Motörhead's sound can shake windowpanes. Raised in the crucible of the 1960s counterculture, the earthy biker end of it, he liked what he liked and said what he said, regardless of how it would look in print. He did "Silver Machine". He did "Bomber". He did "Ace of Spades". He did "Going to Brazil". He did tons more and the drugs to go with it. He moved to LA, drank all day, lay by the pool and let the record company pay.
On Motörhead's 1986 state-of-the-wasted-nation address "Built for Speed" he sang, "You know the rules, you all know the game/Try and do what's right/And I swear I can't complain, if I die tonight/But I don't think it's in the stars for me to go that way/I'll be here for a long, long time, babe/I'm here to stay."
He wasn't here to stay. None of us are. But his music really is.
He was a Sam Peckinpah of rock music, a man on a self-coded, successful, lifelong mission
Explore topics
Share this article