Reissue CDs Weekly: Motörhead |

reviews, news & interviews
Reissue CDs Weekly: Motörhead
Reissue CDs Weekly: Motörhead
Smart 40th-anniversary edition of Lemmy and co's timeless debut album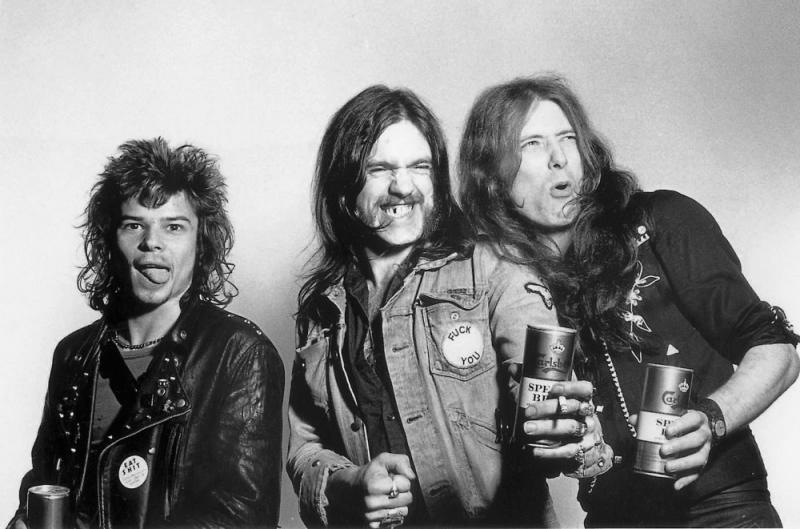 Unsure whether they were marketing themselves or a brand of beer in 1977, Motörhead further undermine the promotion with their choice of badges. Left to right: Phil Taylor, Lemmy, Eddie Clarke
Immediately before recording their first album in 1977, Motörhead were on their last legs. They went into the studio after playing what was initially conceived as their farewell show. Appropriately, no one then could have predicted that the band formed by Hawkwind's former bass player in 1975 would become integral to rock's rich tapestry. It wasn't even their first attempt to make an album: one begun in 1975 had been shelved.
The early
Motörhead
were bedevilled by false starts and upsets.
The unpremeditated subsequent durability of the band has ensured Motörhead was never deleted. Scheduled to hit shops on 12 August 1977, it was issued late on 24 September 1977 and has always been available. The album's 40th anniversary is marked by a new reissue. On white vinyl, it comes with a reproduction of the original inner sleeve and a cover embossed in silver with the band's behorned, helmet-like logo. Lemmy died in December 2015. Drummer Phil Taylor died a month earlier. But the band's music and their then guitarist Eddie Clarke live on.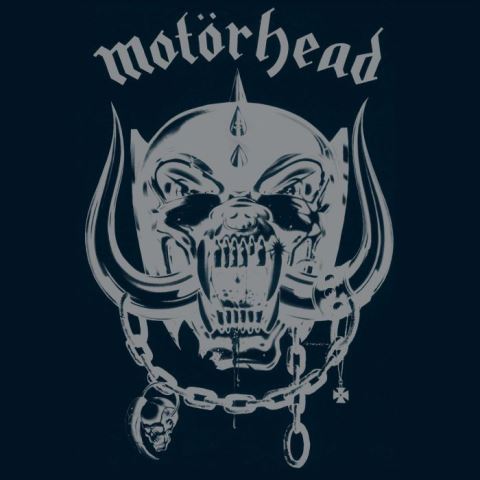 In 1977, working out how the band fitted in with the year's prevailing trends was problematic. They played on a London bill with punk bands The Adverts and The Damned in April but didn't quite – as it were – fit the bill. Lemmy's background in Britain's foremost freak band was inescapable and he, Clarke and Taylor looked like bikers. In Sounds Pete Makowski said "Motorhead", the umlaut-free single which trailed the album, was "pure heavy metal, uncompromising, relentless and almost physically brutal." For New Musical Express, Patrick Humphries declared the single "sounds like it was recorded on a cassette underwater, but the energy cuts through and even makes old farts like me think this new wave thing might catch on."
This was a trio which shared the stage with punk bands and was thought of as heavy metal and new wave. Hard to market maybe, but the blurring of genre boundaries meant Motörhead potentially had a pan-tribal audience. That, though, was not on anyone's mind after the band formed. Achieving stability was more important. Indeed, Motörhead was not by the band which had coalesced two years before it came out.
Motörhead played live for the first time on 20 July 1975. The selling point in ads for the show was that the new band featured "Lemmy from Hawkwind". He was joined by guitarist Larry Wallis and drummer Lucas Fox. Wallis was also in Hawkwind's fellow freaks The Pink Fairies, who he did not leave. At the end of the year, the trio recorded an album for United Artists, Hawkwind's label. Fox left in December 1975 when the label rejected the album and was replaced by Phil Taylor, who knew Lemmy from the Ladbroke Grove/Notting Hill scene. The drum parts were re-recorded with Taylor but UA again rejected the album (later issued as On Parole) despite having already scheduled a single of "Motorhead"/"City Kids" for release. Then, the band decided to explore whether becoming a four-piece would work. Guitarist Eddie Clarke, who had worked with Taylor, came on board but Wallis walked out of the quartet's sole rehearsal.
With Wallis gone and committed to The Pink Fairies, the band were now Lemmy, Clarke and Taylor. A single for Stiff Records was planned for release in December 1976 but problems with Motörhead's United Artists' contract meant it was cancelled (it was issued in January 1977 by the French label Skydog). The road had been bumpy and a show at London's Marquee set for 1 April 1977 was planned as their last. It was to be recorded for a live album which would become their legacy. Chiswick Records' Ted Carroll stepped in and offered a chance to record a single.
The day after the Marquee show, they entered Kent's Escape Studios with Who associate Speedy Keen as their producer. Instead of two tracks, enough for a whole album was recorded. After remixing at Olympic Studios, Motörhead was ready for pressing.
Much of what was on the mothballed United Artists' album with Larry Wallis was re-recorded at Escape over a 30-hour period. Two of the album's eight tracks – "Motorhead" and "The Watcher" – were previously recorded by Hawkwind. One ("Train Kept A Rollin'") was a cover version and another ("Vibrator") was co-written by the departed Wallis (credited as Wallace). Three others were co-written by people not in the band. The mix and match, make-do approach suggests Motörhead might have been a pig's ear.
Confoundingly, after not having heard Motörhead for 20 years it's revealed as extraordinarily cohesive. It defies what it ought to be. "The Watcher", which was reflective and acoustic-based in its Hawkwind version becomes a dark, grinding rocker. "Keep Us on the Road" is tremendous, held together by an evocative melody. "Train Kept A Rollin'", sounding as if based on The Yardbirds' version from the Live Yardbirds (Featuring Jimmy Page) album, is relentlessly kinetic. Taylor's drumming – akin to that of Deep Purple's Ian Paice – is marvellous. in 1977, only The Damned's Rat Scabies was also this good a drummer. The album is about (perhaps amphetamine-stimulated) forward motion.
Is it heavy metal, punk or new wave? Though punkily aggressive, direct and minimal, it could be any or none. Heard now, it's clear Motörhead occupies its own musical continuum. The Krautrock-derived rhythmic pulse of Hawkwind is present throughout but melded with a hard rock stance drawing from late-Sixties' blues rock. Not that of Led Zeppelin, but a souped-up version of Blue Cheer's and the slightly later Sir Lord Baltimore's pulverising sensibility. Though the MC5 were on Lemmy's mind when he formed the band, their stop-start dynamic is absent from Motörhead.
A comparison between this remastered version of the album and a 1977 pressing doesn't reveal any marked differences. It is less muddy and has a markedly greater dynamic range (EQ employed in 1977 has probably been eschewed) but, despite being a clean pressing, still lacks clarity. Nothing can be done about the latter as Keen's production was awful – though not as much so as his mud-in-the-ears work on The Heartbreakers' album he sonically annihilated the same year. Even so, what rings through loudest is Motörhead's timelessness. It remains as bracing as when it was recorded. Anyone without this vital album should head to this smart reissue.
Next week: The Turning Tide – a collection of previously lost recordings by P. P. Arnold featuring Eric Clapton and members of The Bee Gees

'Motörhead' remains as bracing as when it was recorded
Explore topics
Share this article