Sherlock: The Abominable Bride, BBC One |

reviews, news & interviews
Sherlock: The Abominable Bride, BBC One
Sherlock: The Abominable Bride, BBC One
Mind-expanding trip through the alternative Holmesian universe
Saturday, 02 January 2016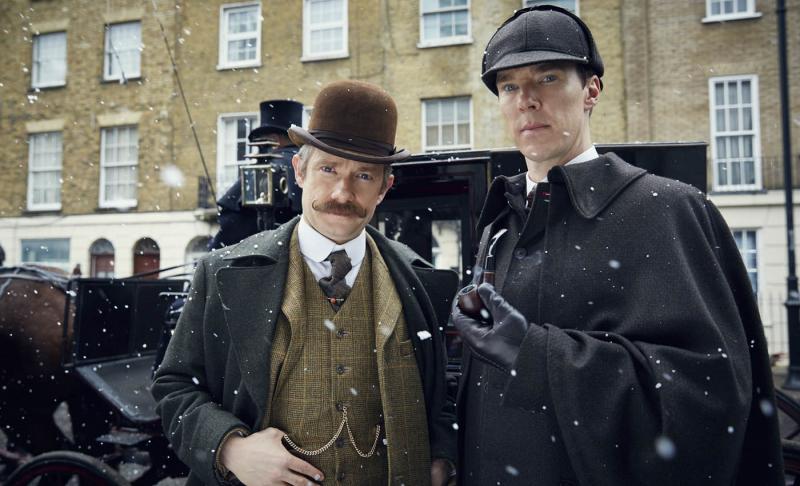 Holmes and Watson, back from the future
Since Benedict Cumberbatch is now one of the world's most in-demand actors, and his sidekick Martin Freeman isn't doing too badly either, getting them on a set together is like trying to get Simon & Garfunkel to do a reunion. Hence Sherlock fans now have just this one-off New Year special to slake their Cumberlust.
To compensate, writers Mark Gatiss and Steven Moffat (pictured below) had laboured feverishly to cram as much as possible into this swirling 90-minute ride. The novelty du jour was to whisk the sleuthing chums back to the 1890s, into which they slotted so slickly that you could soon forget they'd ever dwelt in the hypertext-and-social-media soup of the 21st century (here, letters and documents in antique typefaces were superimposed on the action rather than text messages).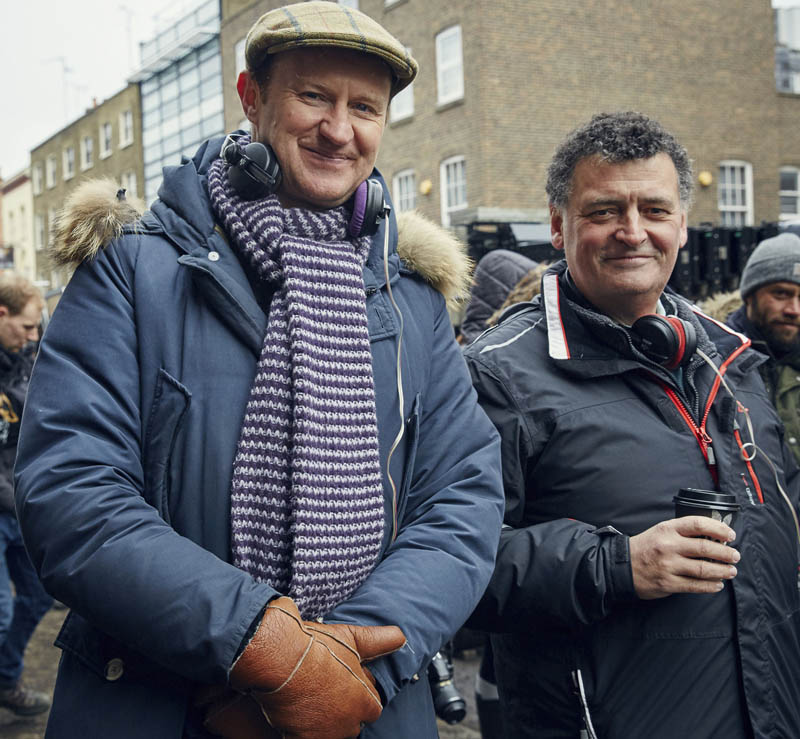 The nominal trigger for the action – sparked, it seems, by a fleeting reference to "the case of Ricoletti of the club foot and his abominable wife" in Conan Doyle's story The Musgrave Ritual – was the startling appearance of a demented bride, Emelia Ricoletti, clad in brilliant white with a garish slash of crimson lipstick, firing a pair of revolvers at passers-by in a London street. Then, with a grand guignol flourish, she stuck one of the pistols in her mouth and blew her brains out.
Thus, her subsequent reappearance to dispatch her husband to the Great Beyond with a shotgun caused some scratching of heads, though Holmes instantly rejected Watson's suggestion of identical twins. "It is never twins, Watson," he barked. The solution, or most of one, eventually emerged towards the end of the piece, but by then the "killer bride" theme had been whirled in a cosmic blender with time-leaps back to the present day, an obscure conspiracy between the present-day Mycroft Holmes (Mark Gatiss) and Watson's wife Mary (Amanda Abbington), the revelation of a secret turbo-Suffragette women's movement, and a hallucinogic parallel story in which Holmes, evidently having imbibed far stronger doses of cocaine than his claimed "seven per cent solution", relived his tortuous relationship with his nemesis Moriarty (Andrew Scott).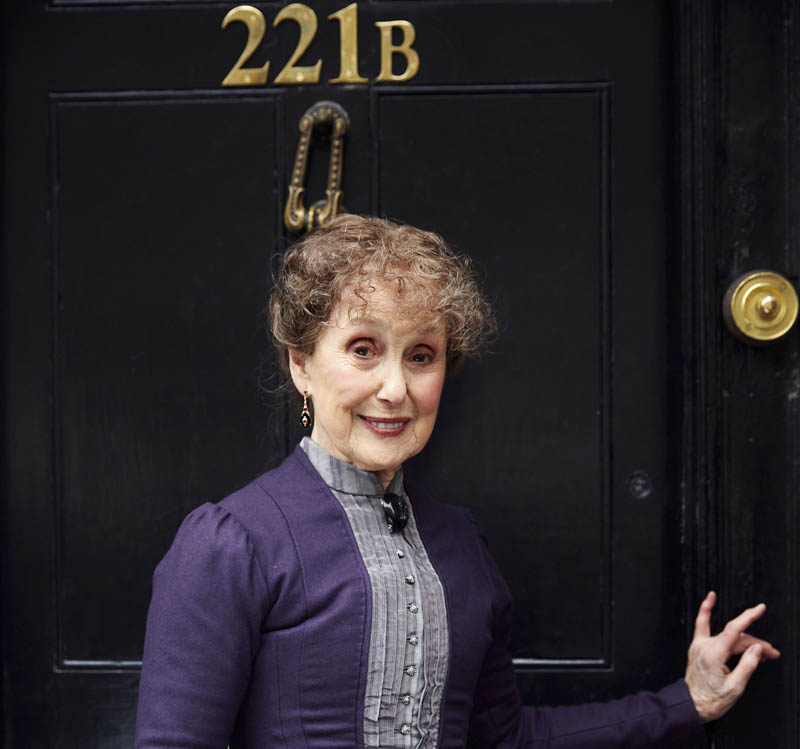 It would be interesting to find out what had been fuelling Moffat and Gatiss – other than the colossal quantities of food consumed by the vastly obese 1890s Mycroft, trying to outdo Monty Python's Mr Creosote – as they dared to rewrite the Holmesian apocalypse at the Reichenbach Falls, this time including a crucial role for Watson. One of the teeming running gags was the reaction to Watson's published Holmes stories, with maid and housekeeper Mrs Hudson (Una Stubbs, pictured) complaining that they'd been given short shrift, or no shrift at all, and Watson tetchily trying to explain the logic behind his authorial decisions. Watson was clearly relishing the bowler hat and twirly moustache of his 19th century incarnation, though Holmes needed an authorial meta-nudge regarding his deerstalker: "You're Sherlock Holmes, wear the damned hat."
No doubt about it, this was a bravura display from the writers and their leading men, though as ever Moffat and Gatiss were walking that invisible tightrope between goading themselves to yet further flights of free-associating fancy and telling a story. It might be fun to see them simply take an original Holmes story and dramatise it, because the episode here in a doomy mist-shrouded maze as the phantom bride fixed her sights on Sir Eustace Carmichael (Tim McInnerny) was a splendid dollop of Gothic spine-chiller. Too easy, I suppose.
It might be fun to see Moffat and Gatiss simply take an original Holmes story and dramatise it
rating
Explore topics
Share this article