DVD: The Jacques Rivette Collection |

reviews, news & interviews
DVD: The Jacques Rivette Collection
DVD: The Jacques Rivette Collection
Art-auteur's lost films could be the year's most important home cinema release
Jean-Pierre Léaud in 'Out 1: Noli me tangere', the crown jewel of 'The Jacques Rivette Collection'
It's a general rule that extras on a home cinema release should not be watched before the feature. This sumptuous box set of French art-auteur Jacques Rivette's most – until now – hard-to-see films reverses that.
Just as the director turned the nature of cinema on its head with his oblique, often-lengthy, dream-like contemplations,
The Mysteries of Paris: Jacques Rivette's Out 1 Revisited
must be seen before
Out 1
:
Noli me tangere
, as a way in to the just-short of 13-hour epic it examines.
Out 1: Noli me tangere (filmed in 1970, but screened once in its entirety in 1971) is The Jacques Rivette Collection's main course. Accompanying it are its cut-down version from 1974, the four-and-a-half-hour Out 1: Spectre and the stand-alone, related films Duelle (Une quarantaine) (1976) and Noroit (Une vengeance) (1976). The feature Merry-go-Round (completed in 1978, but released in 1983) is also included. As well as The Mysteries of Paris: Jacques Rivette's Out 1 Revisited, copious other extras feature the actors and those involved in the films. The always analytical Rivette appears repeatedly via archive footage.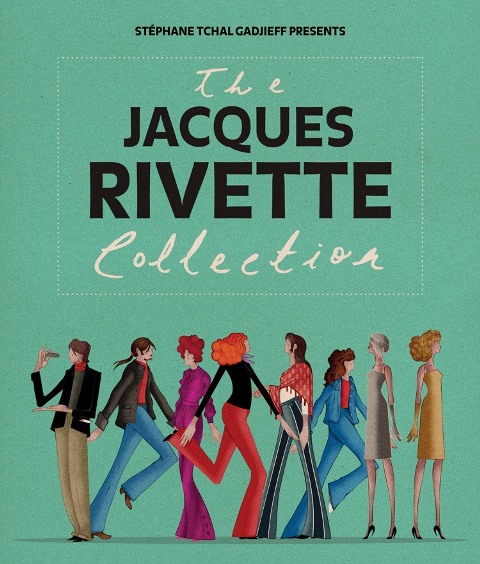 The dual-format box set spreads its contents across seven Blu-ray discs and, alternately, nine DVDs. As diligent and definitive as the same imprint's recent Walerian Borowczyk box, the slipcase contains a proper book. The package is limited to 3000 copies.
All the films collected had fallen between the cracks. Not only was this due to Out 1: Noli me tangere's unwieldiness, but also due to a production company's bankruptcy. It is ironic that part of the oeuvre of a director with a path as singularly uncommercial as Rivette was unseen due to business issues. That said, all these films were either barely seen or unseen after they were completed.
This is not the relatively restrained Rivette of Paris nous appartient (1961). Céline and Julie vont en bateau: Phantom Ladies Over Paris (Celine and Julie Go Boating: 1974) is the touchstone. Indeed, The Jacques Rivette Collection effectively bookends it. Duelle (Une quarantaine), although a fantasy-mystery, shares much with Céline..., despite being the oblique story of the Queen of the Sun (Bulle Ogier) and the Queen of the Night's (Juliet Berto) hunt in Paris for a magical diamond. Its companion piece, Noroit (Une vengeance), is a pirate tale drawing from The Revenger's Tragedy via Moonfleet. Two follow-ups were planned but unmade.
Instead, the opaque (even by Rivette's standards) Merry-Go-Round was completed with Joe Dallesandro and Maria Schneider as its leads. According to critic and writer Jonathan Rosenbaum – whose ties with Rivette were close – in one of the extras, the non-linear Merry-Go-Round was made because Schneider wanted to make a film with Dallesandro. Whatever the motive, there was friction between them and, Rosenbaum says, drugs were around. Seeing it is akin to reading a graphic novel with the images arranged in random order and then shorn of many of its speech bubbles.
Then, there is Out 1: Noli me tangere. It was filmed as eight episodes and, in the extras, Rivette is seen saying both that it was made as a TV series and that it is was intended to be screened in one go in cinemas. Just as the film was improvised, Rivette had a fluid take on what his film was meant to be. Its framework is Balzac's History of Thirteen. It is a mystery. It is self-indulgent. Its actors are seen working out what they are going to do. It was also inspired by the original 11-hour cut of Jean Rouch's naturalistic 1970 documentary Petit a petit. It is hard work. Rivette declares that his film "is an attempt to describe a general period of crisis." Nonetheless, it is great fun.
The Jacques Rivette Collection must be seen. It is likely to be this year's most important home cinema release.
'Out 1: Noli me tangere' is is self-indulgent and hard work. It is also great fun
rating
Explore topics
Share this article