Rabbit Hole, Hampstead Theatre |

reviews, news & interviews
Rabbit Hole, Hampstead Theatre
Rabbit Hole, Hampstead Theatre
David Lindsay-Abaire's examination of grief is smart and sincere, but too studied
Sister knows best: Becca (Claire Skinner) scolds younger sibling Izzy (Georgina Rich)
The death of a child is an unnatural loss. There's no reassurance that the departed lived a full life, rather the jagged edge of one cut short. In the case of Becca and Howie, it's also nonsensical: their perfectly healthy four-year-old son struck by a car in a freak accident while chasing their dog onto a quiet suburban street. How to find meaning in such absurd horror?
The central problem of American playwright David Lindsay-Abaire's empathetic, Pulitzer-winning work is that their respective coping mechanisms have taken them down different paths, opening up a chasm between them. Becca (Claire Skinner) drives forward with relentless purpose, packing up Danny's possessions and urging Howie (Tom Goodman-Hill, pictured below right) to sell the house, while he winds back the clock, endlessly rewatching video footage of their son. Howie wants to return to who they were; Becca, who sacrificed everything for motherhood, and is now adrift without that identity, knows she has been changed forever.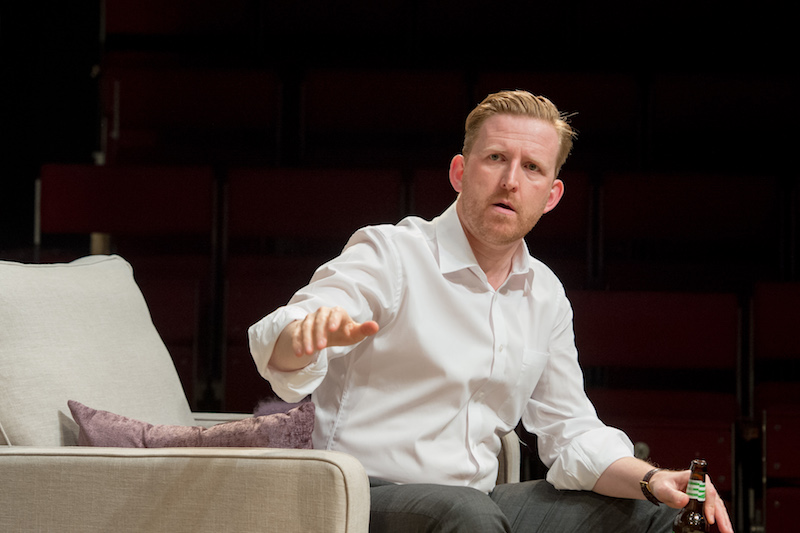 Rounding out the family drama are her opinionated mother Nat (Penny Downie) and wild-child sister Izzy (Georgina Rich). The former also lost a son, when Becca's addict brother committed suicide, while the latter is about to become a mother, pregnant by – she assures her sceptical family – a "working musician". These shared experiences could bring them together, but instead cause tension. Becca resents Nat comparing their maternal bereavements, while Izzy believes her zealous homemaker sibling thinks she's unworthy to be a parent.
Lindsay-Abaire's extensive Author's Note shows an awareness of how easily such material can become sentimental, melodramatic or overly tidy – closure unearned. Rabbit Hole, which won lead Cynthia Nixon a Tony Award in 2006, and Nicole Kidman an Oscar nomination via the 2010 film adaptation, does avoid swooping histrionics, instead focussing on the minutiae of day-by-day survival. However, Edward Hall's thrust-staged yet tastefully distant production highlights the fact that it's all a tad studied. Though each act begins with a reported blow, the play itself pulls its punches, moving swiftly onto the next therapeutic step towards, if not happiness, then at least a measure of peace.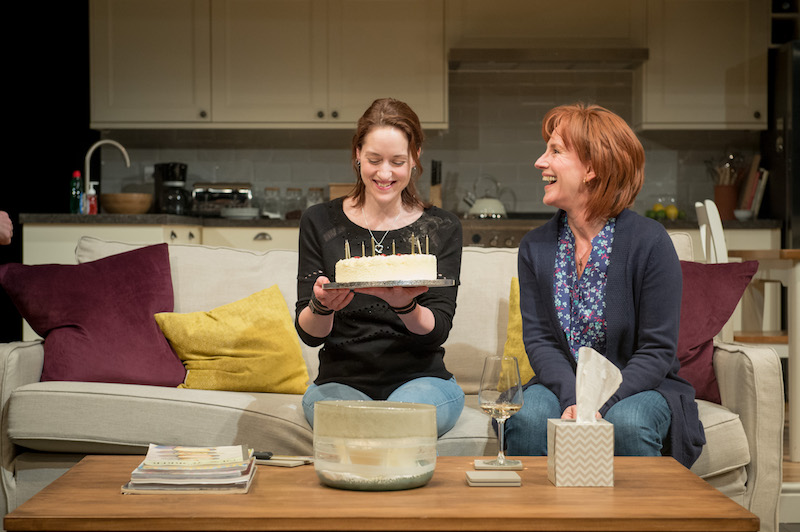 By a quirk of transfer scheduling, this work reaches London theatre audiences two years after Lindsay-Abaire's later – and superior – Good People, which featured a blistering central turn by Imelda Staunton. The class division which fired that taboo-smashing piece is touched upon here, but, with a less sharply defined sense of place, mainly played for laughs, as when Nat posits conspiracy theories about the idle rich Kennedys. Similarly, religious conflict dissipates quickly. Becca dismisses the Christian comfort accepted by her mother and prevalent in her rejected support group – if God needed another angel, why didn't he just make one? – but proves open to a scientific version of this benevolent, faith-based consolation.
Skinner brings a slightly too English understatement to Becca, at odds with the broader, brasher approach of Downie and Rich (pictured above left). Goodman-Hill is effective as the spiralling Howie, and, playing the teenager marked by this tragedy, Sean Delaney (a recent RADA graduate making his professional stage debut) is heartbreakingly tremulous, gauche and open. Ashley Martin Davis's set has Danny's childhood bedroom loom over the action, a reminder that grief is as much a presence as an absence. A sincere evening, balancing guilt and blame with warmth and pithy humour, but ultimately touching rather than truly shattering.
Though each act begins with a reported blow, the play itself pulls its punches
rating
Explore topics
Share this article