The Mother, Tricycle Theatre |

reviews, news & interviews
The Mother, Tricycle Theatre
The Mother, Tricycle Theatre
Florian Zeller's desolate farce tackles maternal devotion and mental instability
Wednesday, 27 January 2016
Motherly love: Gina McKee's Anne clings to her son (William Postlethwaite)
Anne longs for her 23-year-old son Nicholas to return home. One night, he appears. Or does he? Welcome back to the queasily elliptical world of Florian Zeller, where certainty fractures as familiar elements are repeated, dissected, made strange and menacing. Zeller used this immersive dislocation to powerfully communicate the experience of dementia in The Father, which last year travelled from Theatre Royal Bath to the Tricycle and on into the West End.
This earlier 90-minute piece, on the same path, lacks
The Father
's shattering focus and lyrical subtlety, but, thanks to Christopher Hampton
'
s textured translation and the sure hand of Laurence Boswell, effectively addresses parental depression in a similarly dreamlike fog.
Zeller excels at the Pinteresque muddying of the mundane. The seemingly casual "Had a good day?" becomes accusatory, baiting, bleak, and finally resigned, as Gina McKee's Anne (pictured below) wonders whether husband Peter (Richard Clothier) is cheating on her, and whether she cares. Perhaps he already left her, or might die, as she fantasises, or perhaps he really is off to a seminar in Leicester – a fate worse than death, in Hampton's impish running gag. Her focus is the absent Nicholas (William Postlethwaite), who suddenly returns to his childhood bedroom after a row with girlfriend Elodie (Frances McNamee). "This time he was here," Anne declares to Peter, suggesting this is a regular apparition in her achingly empty nest.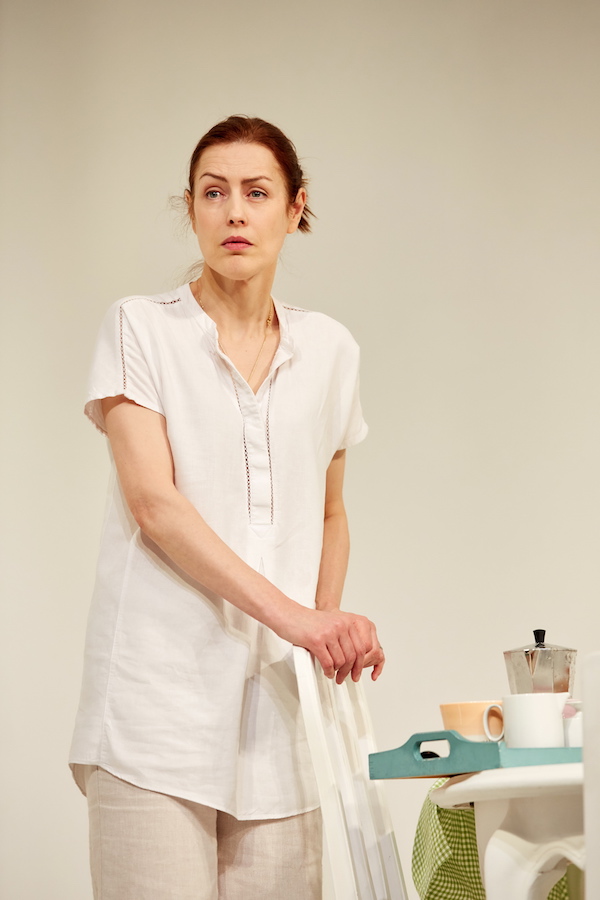 Zeller's writing is awash with echoes and parallels. McNamee plays multiple threatening younger women, while the making of breakfast gains ritualistic significance, as does the donning of a girlish red dress. Sleep deprivation winds through disparate scenes, until we begin to feel its drugged, sluggish confusion. The nightmarish chaos allows us to share Anne's perception, but Zeller punctures it too often with nakedly voiced truths – often shocking or darkly funny, but leaving little to the imagination. There's no call for deep Freudian analysis here.
Even if it's bluntly stated, Anne's sense of bone-deep abandonment is vividly expressed in McKee's haunting portrayal, as is her fear of slipping into the void once she's no longer needed. Taken literally, this is a pretty dispiriting reading of the female experience – what about a career, a degree, a second chapter? – but Zeller's interest is in these specific familial relationships. And as he demonstrates, defining yourself through others to this extent is tragically and inescapably toxic.
Anne's mental deterioration – suggestive of bipolar disorder – is rivetingly played by McKee, as she ricochets between vicious barbs and defeated slumps, giddy elation and despairing vulnerability. She lends Anne a jittery physicality to match her erratic psyche, but it's the empty pools of her eyes, staring into the abyss, that will stay with you. Clothier and Postlethwaite are strong opposites – one stiff in both suit and business speak, the other a louche, loping eternal teenager – and, along with McNamee's shrewd sexpot, they keep the truth an ever-shifting entity by responding to Anne alternately with compassion and cruelty.
Mark Bailey's stark set drains the warmth from the family home, comforting environs shifting to clinical. The use of children's voices in Jon Nicholls' soundscape is overkill, however. We don't need such prompts when McKee so memorably demonstrates a mother's primal, visceral grief.
Defining yourself through others to this extent is tragically and inescapably toxic
rating
Explore topics
Share this article