The Propaganda Game |

reviews, news & interviews
The Propaganda Game
The Propaganda Game
Compelling documentary on misinformation about and within North Korea
Wednesday, 24 February 2016
Grandeur and weirdness: director Alvaro Longoria feels seduced by North Korean propaganda in his new film
The set-up behind Spanish film-maker Álvaro Longoria's intelligent documentary on North Korea is almost as bizarre and unlikely as the regime he's attempting to probe.
Having felt compelled for several years to make a film about the country, he's finally allowed to travel there thanks to intermediary and fellow Spaniard Alejandro Cao de Benós (pictured below), the North Korean government's sole foreign employee (we're told), and a passionate, unquestioning supporter of the regime. Permitted to film whatever he wants to (as long he's accompanied by government guides, and as long as it's what the authorities actually allow him to shoot, naturally), Longoria to some extent accepts, even embraces the propaganda he's being fed. To be fair, he doesn't have much choice. His goal, it seems, is to make a film not so much exposing the horrors and downright weirdness of North Korea, but pondering the manipulation of truth itself.
The result is a surprisingly even-handed, at times almost affectionate portrait of North Korea, presenting positive, pleasant images of the country that we rarely see (and probably can't trust anyway), with a gentlemanly Longoria bumbling along like a wowed tourist in many scenes, gently questioning rather than forcefully challenging what he's being shown.
At one point he admits he's feeling seduced by it all. It's hard not to be, with the bizarre splendour of what's paraded in front of him – a colourful wedding in the Demilitarized Zone between North and South Korea; beaming kindergarten kids singing impeccably in praise of their Leader (pictured below); a mini-orchestra of teens giving a kitsch xylophone recital.
If there are times when The Propaganda Game treads dangerously close to an apologia for North Korea, that's kind of the point. There are other times, however, when Longoria's seemingly polite interactions pay off brilliantly, Nick Broomfield-style. Taken to a luxurious flat, apparently one of many provided to North Korean teachers, he casually asks the woman cooking a meal to see what she's got inside her fridge – is the whole thing simply for show? Blaming his Christian faith and need to worship, Longoria gains entry to a Pyongyang Catholic service – but fascinatingly, we're never entirely sure whether the whole event is staged or not.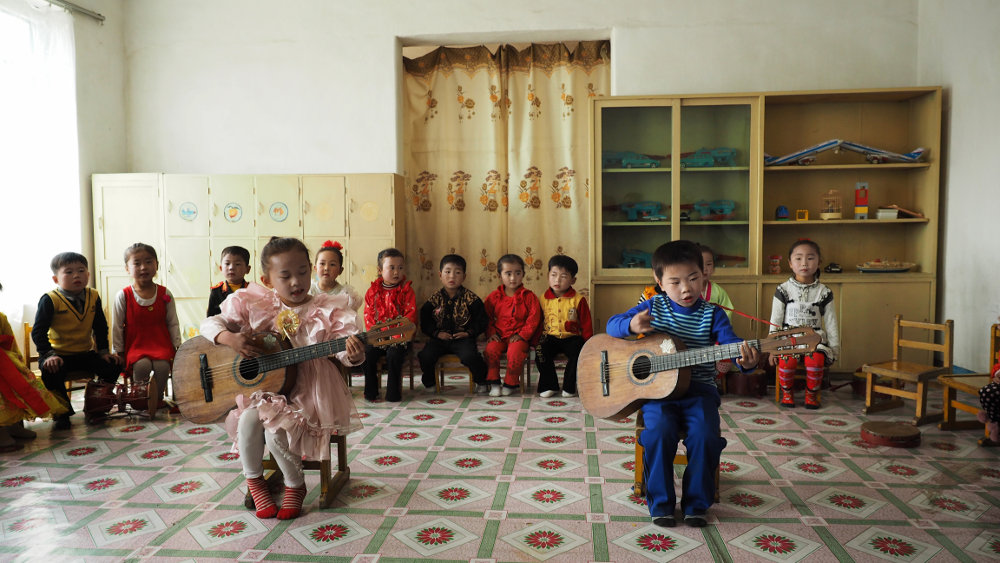 But the film is far from just a catalogue of images of tolerance and idyllic modernity. Longoria constantly brings the viewer up short with reminders of the regime's harsh restrictions and brutality, using chilling accounts from defectors, as well as from an impressive army of experts gathered from the UN and international news organisations. He lines up those testimonies, though, next to rabid Western news reports – Fox News and the Daily Mail get a few namechecks – of enforced hairstyles (kind of true, kind of false) and high-ranking officials fed to the dogs (false, apparently, and blamed on a Chinese blogger). It's even admitted at one point, though quickly brushed aside, that certain North Korean defectors may have embellished some of their more hair-raising stories to ensure they remain in the West.
It's all very confusing, intentionally so. Longoria's conclusion is that we don't really know what to believe about North Korea – and that misinformation comes as much from the West as it does from inside North Korea itself. Ultimately, he admits, his own film is just another part of that propaganda game. But he never quite delves deeply enough into those more philosophical issues, so that what might have been a film touching on the nature of truth ends up feeling far more traditional, stepping back to remain an exposé of what are admittedly fascinating revelations about the country – but slightly disappointing as a result. When one of Longoria's guides happily admits the importance of North Korea's all-pervasive internal and external propaganda, explaining that for North Korean citizens there's a fine line between propaganda and education, Longoria, frustratingly, simply moves on.
Nonetheless, what emerges is still a fascinating, surprising portrait of North Korea, in a film that despite its new images and fresh perspectives, ends up highlighting even more mysteries about an already enigmatic country.