Anomalisa |

reviews, news & interviews
Anomalisa
Anomalisa
Charlie Kaufman's latest is bleakly brilliant
Cyndi Lauper-inflected, but sadder: Charlie Kaufman's `Anomalisa'
"Girls just wanna have fun," or so we're told in the exuberant signature song from Cyndi Lauper making a surprise appearance midway through Anomalisa. But try telling that to the sad-eyed folk who move through Charlie Kaufman's dazzlingly sorrowful 2016 Oscar nominee, as if in a sort of hushed-voiced haze.
Funny in parts but dead serious in its view of that deadening thing we call life, Anomalisa offers up so singularly eccentric a world of blankness and despair that it has a contradictory effect on the viewer, sending one back out onto the streets ready to embrace their shapes, sounds and colours as if one had never seen that world before. Told in stop motion animation with notably few people voicing its motley assemblage, the film could only be the work of the supreme original that Kaufman remains, the result here suggesting some oddball fusion of Chekhov and Kafka for the computer age. You watch in wonder – and, as seems appropriate to its story, in slight terror, as well.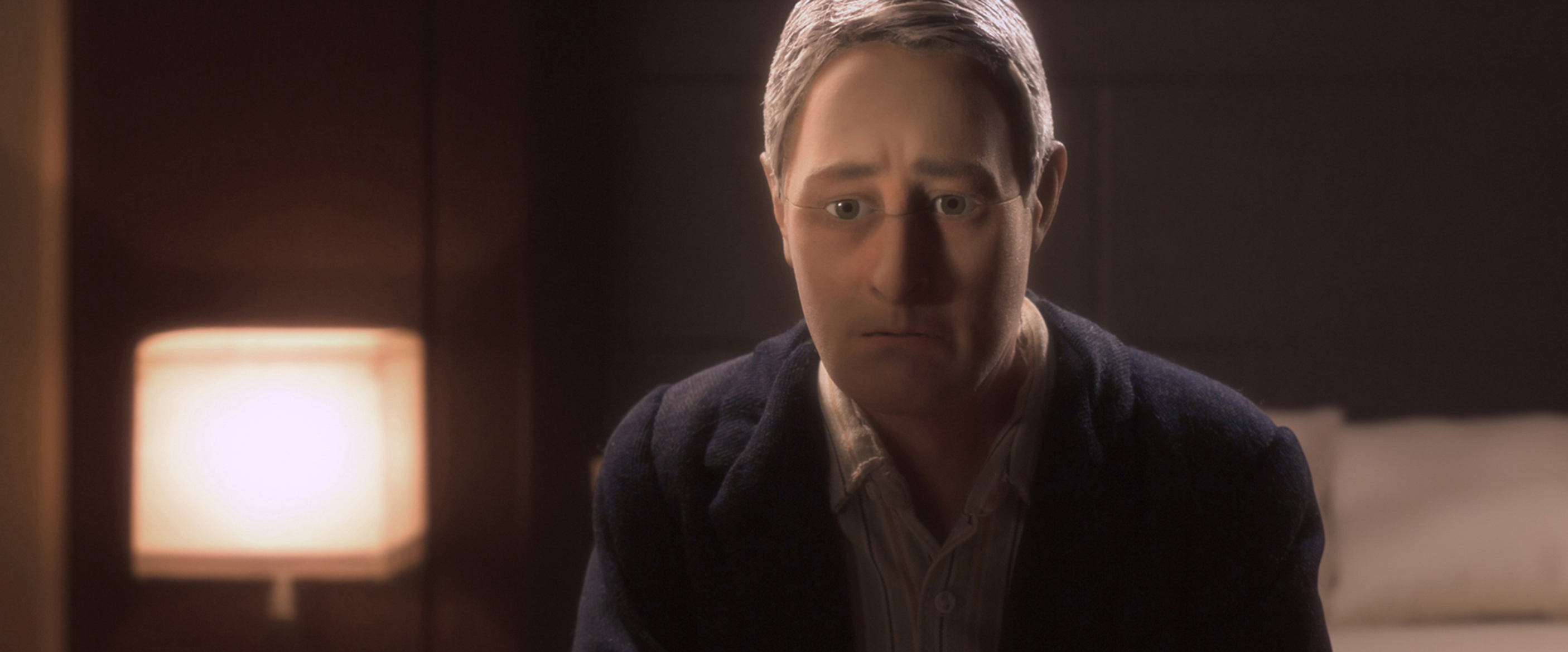 Kaufman's little-seen yet equally startling Synecdoche, New York – how this filmmaker loves playful titles! – placed a production of Death of a Salesman at its mournful core, and it's tantalising to note that this new movie, co-directed with the animator Duke Johnson, was in fact based on a 2005 play by Kaufman himself.
That said, one can't readily conceive of the material being presented in any other way than it appears here, as a sort of sonorous dream-turned-nightmare of midwestern American anomie in which a travelling Brit called Michael (David Thewlis, pictured above) does what he can to keep himself together given that the alternative is to fall completely apart. (Spoiler alert: cue scene in which Michael cracks wide open.)
When first seen, Michael is making his way to Cincinnati to speak at a conference, his topic that of motivational behaviour which seems not a little ironic when he himself exists a half-step away from breakdown. We follow Michael through the airport and into a cab and ultimately to the hotel that Anomalisa calls home base – a blandly corporate environment whose defining anonymity finds its antithesis in the wistful Lisa (Jennifer Jason Leigh, pictured below), with whom Michael is soon sharing a bed, not to mention an a cappella version of the aforementioned Lauper theme song: "OK, here goes, don't laugh at me," Lisa pleads at the outset of her impromptu serenade, only to get so into the performance that Michael's spontaneous "That's beautiful" by way of response is overridden as Lisa charges ever-onward.
"I want to be the one that walks in the sun," the lyric tells us, but Anomalisa inhabits a soul-deadening, half-lit world in which animosity and rancour exist but a broken heart away from the prospect, at least, of kindness: Thewlis hasn't traversed an emotional spectrum of this kind since his career-making performance in Mike Leigh's Naked. Tom Noonan voices the additional roles not taken by the leads in a landscape that locates an eerie sameness at every turn, next to which the idea of being John Malkovich – to co-opt the title of Kaufman's great earlier collaboration with the director Spike Jonze – seems too radical for words.
By film's end, Michael is released from the horrors of hotel life, from the vaguely unctuous check-in clerk onward, and is back home in Los Angeles only to be confronted with a surprise party in his honour where he doesn't recognise the guests. We carry our despair with us, Anomalisa seems to suggest, and if that sounds like heavygoing news, well, at least it's made more palatable by the curative effect of art.
You watch the film in wonder - and, as seems appropriate to its story, in slight terror, as well
rating
Share this article