Paul Strand, Victoria & Albert Museum |

reviews, news & interviews
Paul Strand, Victoria & Albert Museum
Paul Strand, Victoria & Albert Museum
Searing portraits, immaculate compositions: the American who made photography art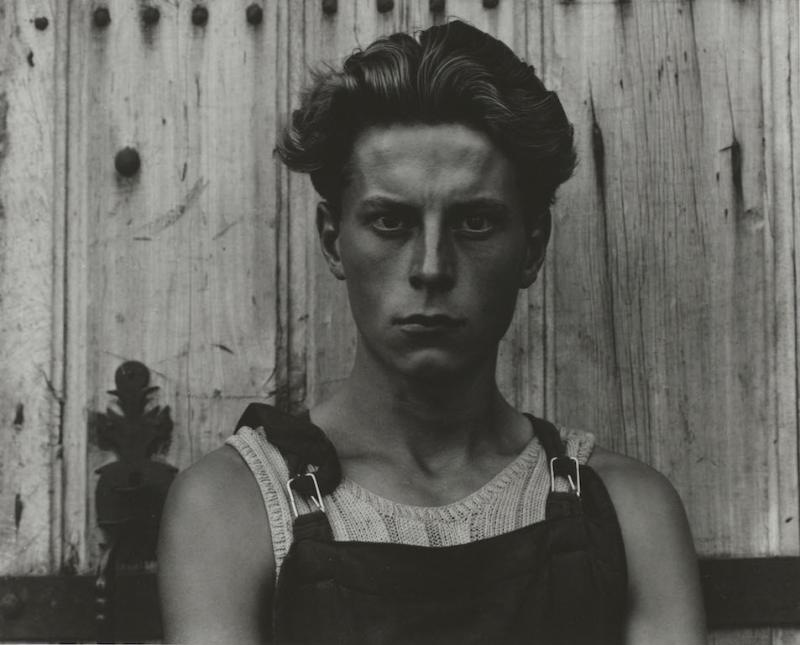 Paul Strand, 'Young Boy, Gondeville, Charente, France', 1951
Once you've seen him, you can't forget him. Taken in 1951, Paul Strand's black and white portrait of a French teenager sears itself onto your retina. He stares unflinchingly back, and looking into his eyes, you feel almost scalded by his exceptional beauty and the piercing intensity of his gaze. With his chiselled features, Roman nose, curled lips and leonine shock of hair, he could be a classical Greek sculpture; and as though to affirm this association, his skin has the sheen of burnished bronze.
The textures and patterns are all-important; his denim boiler suit and knitted woollen vest emphasise the smoothness of his skin, the strands of his hair dip and curl against the vertical striations of the wooden boards behind his head, while the rusty iron bolts patterning the wood echo the dark circles of his watchful eyes (main picture: Young Boy, Gondeville, Charente, France, 1951).
How did an American photographer create such an extraordinary sense of shared intimacy with a French boy? Strand referred to his method as "a process of gradual absorption, of sympathetic perception." He spent several weeks getting to know a place and its people before taking a single shot. "Much looking, much simple being there precedes any photograph," he explained. The process of familiarisation was mutual and it paid off.
Strand had left America the previous year because, as a committed communist, he was no longer safe in his own country. Away from home and living like a nomad, he began seeking out places that had escaped the march of progress – where people's lives were inextricably bound up with the locality and the land. Photographing people and buildings (houses, churches, barns, cafés and shops) as well as landscapes, farmland, woodland and flora, he tried to convey the unique flavour of a place. One of the most sublime images on show is of horses on the beach of the Hebridean Island of South Uist. Taken in 1954 under a dappled grey sky, it shows the interpenetration of land and sea; the horses are standing in the water while the houses on the distant peninsular look as if they could be floating.
In 1953, he spent five weeks in the north Italian village of Luzzara, a communist stronghold in the Po Valley. There he photographed the Lusetti family (pictured above) and the empathy he felt for them gave rise to another truly memorable picture. Valentino, who had been acting as Strand's guide, poses with his mother and four brothers in the doorway of their dilapidated house. Their communist father had been murdered by fascists a few years earlier and, since the family hierarchy had been destroyed, the picture does not resemble a traditional family portrait.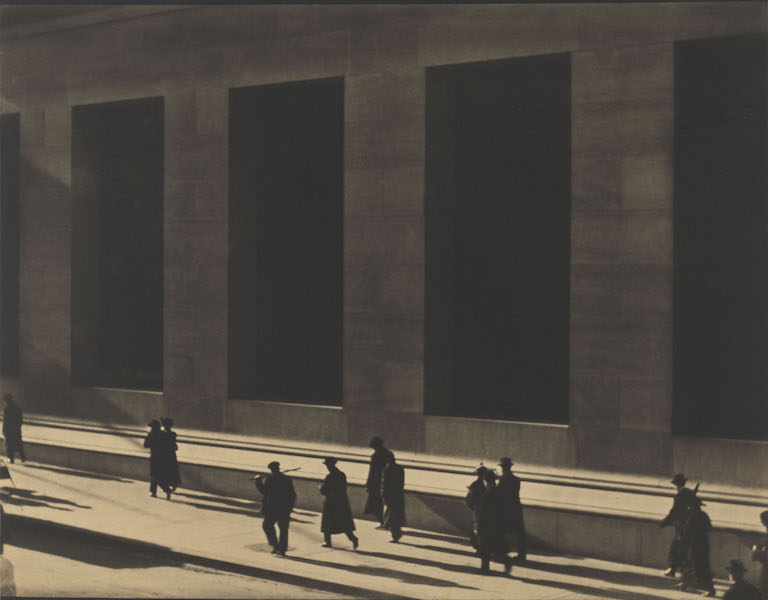 Instead of being clustered together, the siblings are spread out in a grid-like pattern that implies equality. Valentino sits on the doorstep facing the camera, his mother standing by his side. The brothers sit or stand on either side; the emphasis on horizontals and verticals could have been boring if it were not disrupted by the diagonal gaze of the young men and the circular wheel of the bicycle leaning against the wall. It would be wonderful to analyse the picture as though it were a painting by Raphael; the web of interlocking rectangles and triangles reveal Strand's keen eye for geometry while also hinting at the complex interplay of personalities negotiating their place within the family unit.
Strand's photographs of "the simple life" could easily have fallen into the trap of sentimentality were it not for the acute sense of composition that structures every image and gives it amazing clarity and poise. His keen eye seems to have been present from the very beginning, when he studied in New York with Alfred Stieglitz; he briefly flirted with Pictorialism before rejecting it as "merely the expression of an impotent desire to paint". In a series of still lifes inspired by Cézanne and the Cubists, he explored the dynamics of light/dark contrast and the poetry of abstract shapes; but he was after grittier, more relevant subject matter and soon began photographing the streets and people of Manhattan.
Wall Street, New York, 1915 (pictured above right) uses the lessons he learned from arranging still lifes to comment on the relationship between office workers and the overarching system that employs them. Extending apparently indefinitely, the blank wall and row of dark windows dominate the small silhouettes who cast long shadows along the pavement as they trudge to work.
Seen pouring off the Staten Island ferry in the early morning, this anonymous flood of workers also stars in Manhatta, a film made in 1921 with the painter and photographer, Charles Sheeler. Lines from Walt Whitman's poetry structure this euphoric hymn of praise to Manhattan, which follows a day in the life of the bustling city. Shots of building sites, cranes and skyscrapers towering over busy streets and of steam belching from trains, boats and chimney stacks climax in a glorious sunset over the tugboats scooting like water boatmen across the sparkling waters of the Hudson River.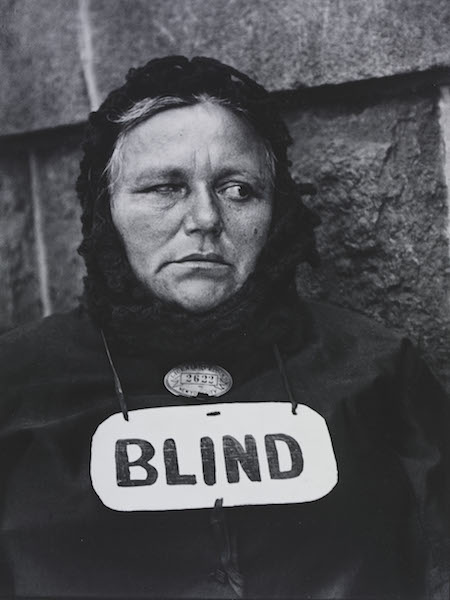 Strand's primary interest was in people, though, and he soon began photographing the characters he encountered while wandering the streets. The difference between these superb early shots and the later portraits is that they were taken secretly. Using a decoy lens attached to his camera and hiding the real lens under his arm, he was able to capture his subjects unawares. The direct, eye-to-eye contact that imbues the later portraits with the intensity of a love affair is replaced by a delicious sense of stealth. We are spying.
Nothing brings the invasion of privacy more poignantly to the fore than Blind Woman, New York, 1916 (pictured above left). The label hung round the woman's neck already turns her into an exhibit. While we peer at her with impunity, she seems alert to the fact that she is being observed, but can't identify where the intruder is located. And her furtive look askance adds a frisson of unease to the stolen encounter.
This superb retrospective brings home the speed with which Strand found his voice as a young photographer. Rather than gradually finding his way, he seems to have sprung fully formed. The opposite seems true of his life, though. By the time he acquired a house of his own – in Orgeval near Paris – he was already 65. And, settled at last, he spent the next 20 years photographing his own backyard, rather than that of others.
The eye-to-eye contact that imbues the later portraits with the intensity of a love affair is replaced by a delicious sense of stealth
rating
Share this article
Subscribe to theartsdesk.com
Thank you for continuing to read our work on theartsdesk.com. For unlimited access to every article in its entirety, including our archive of more than 10,000 pieces, we're asking for £3.95 per month or £30 per year. We feel it's a very good deal, and hope you do too.
To take an annual subscription now simply click here.
And if you're looking for that extra gift for a friend or family member, why not treat them to a theartsdesk.com gift subscription?