theartsdesk at Tectonics Glasgow 2016 |

reviews, news & interviews
theartsdesk at Tectonics Glasgow 2016
theartsdesk at Tectonics Glasgow 2016
Hits and misses amid the weekend's genre-colliding exuberance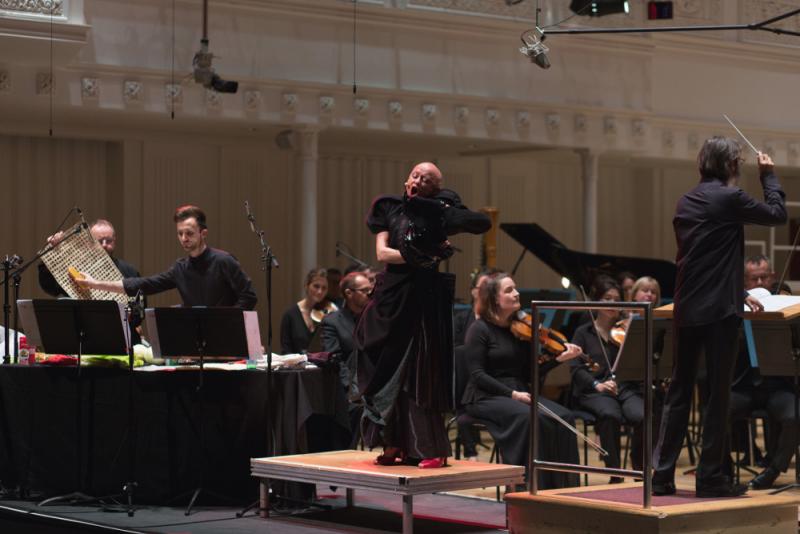 Embrace the chaos: Alwynne Pritchard is spellbinding in her own Rockaby with a duo of Foley artists and the BBC SSO under Ilan Volkov
For a festival of wild, genre-colliding musical experimentation, Tectonics is almost starting to feel like part of the establishment. Which shows, if nothing else, that it must be getting somewhere with its boundary demolishing. The 2016 weekend over 7-8 May was its fourth outing in Glasgow – conductor Ilan Volkov founded it in Reykjavík in 2012, and since then it's spread its all-embracing eclecticism worldwide to Tel Aviv, Adelaide, New York and beyond.
And it feels like the event has settled nicely into its quirky, iconoclastic identity – and established a faithful and committed audience all its own, too.
But for all its throw-everything-in-the-mix-and-see-what-happens mayhem (carefully controlled and curated though it all is), Tectonics is now a brand with clearly articulated values: that collision of musical styles – the experimental ends of contemporary classical, rock, folk, electronica, improv, plus plenty of uncategorisable stuff – and also a revealing mix of local and global artists.
Which, for Glasgow 2016, meant a residency from elder statesman of experimental piano John Tilbury, plus visits from US musicians Alvin Curran and Nate Young, alongside music from closer to the festival's temporary Scottish home from composer David Fennessy, singer/guitarist Alasdair Roberts and, of course, the BBC Scottish Symphony Orchestra, who opened up their own home, Glasgow's City Halls, to the weekend's madness.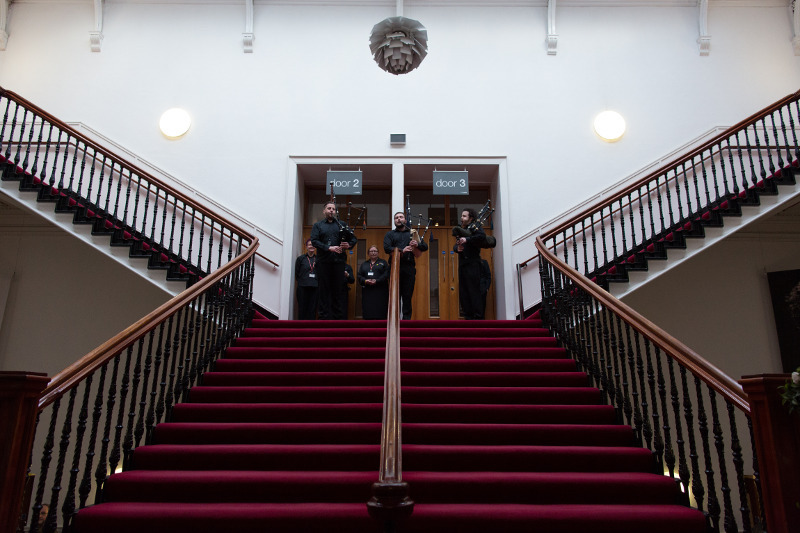 And that home got exploited to the fullest – not only the stage and balconies of the BBC SSO's regular Grand Hall concert venue, but also the shadowy recesses of its darker sister venue Old Fruitmarket, and even the corridors and staircases in between. Fruitmarket by Luxembourg composer Catherine Kontz sent BBC SSO players to all corners of Old Fruitmarket's balconies and cavernous hall, even arming conductor Volkov with a loudhailer for a bit of shrieking, but its tapestry of street-sellers' cries sounded a bit too calculated and naive to be truly effective, and a false start didn't help with an unusually nervy, hesitant performance.
At the other extreme was Alvin Curran's ridiculously over-the-top (and rather unconvincingly titled) Musique sans frontières, which led a rather bemused but thoroughly entertained audience Pied Piper-like from City Halls' foyers into Old Fruitmarket, back out again and into the Grand Hall with a mix of wailing bagpipes (pictured above), keening saxophones, the tireless Glasgow Chamber Choir chucking pots and pans on the ground, a brass band, kazoos, symphony orchestra, even the composer himself scraping an office chair noisily across the stone floor. It was as disconcerting as it was celebratory, also naive in its good-natured, old-fashioned exuberance – and while it's not a piece you'd ever necessarily want to hear again, it fitted the time and place perfectly.
By way of contrast, and occupying City Halls' cosy recital room, was the intimate installation A Sound Map of the Housatonic River by New Zealand-born Annea Lockwood, which charted the New England river from source to sea in an hour-long catalogue of sounds of rushing water, birdsong and buzzing insects taped along its length. Protected by double doors from the rest of Tectonics' mayhem, and it felt almost like a shrine or a holy space, a room that invited respect and contemplation. Equally contemplative at times was Concealed Unity by Jessika Kenney and Eyvind Kang, which surrounded the City Halls audience with small groups of performers drawn from the BBC SSO, Glasgow Chamber Choir and elsewhere for often magical Japanese gagaku- and shakuhachi-like evocations, Feldman-esque in their expansiveness, teasingly ritualistic in their deliberateness.
Fruitmarket, Musique sans frontières and Concealed Unity were all getting their very first performances, among a remarkable nine world and UK premieres across the Tectonics weekend. Probably the best-known name among the others was Howard Skempton, who'd written a typically aphoristic, disarmingly simple Piano Concerto for John Tilbury (pictured above left), although the performance could have done with a bit more rhythmic precision. Tilbury was also the soloist in (deep breath) fields have ears (10) (constellation, monarch, canyon) by New York-born Michael Pisaro, an astonishing, near-silent piece in which the veteran pianist came entirely into his own, supplying a few achingly sensitive splashes of colour and throbbing clusters to Pisaro's breathtakingly complex but barely audible orchestral textures – a few bows sliding airily across strings, stroked cymbals, breathy woodwind, paper rustlings. It was exquisite, like nothing else being aired, and captivating from start to finish.
Elsewhere, Laurence Crane's thoroughly post-modern Cobbled Section After Cobbled Section managed to be both fascinating and mischievously amusing, colliding together conventional 19th-century musical gestures until they lost all sense of meaning, whereas Richard Emsley's chaos theory-inspired Strange Attractor was rather disappointing, more of a mathematical demonstration in sound than anything particularly musical. The BBC SSO under Volkov played with remarkable commitment and conviction in both, however, as they did in the far more alienating – surely intentionally so – Rockaby by Glasgow-born Alwynne Pritchard, with the composer herself as vocal/theatrical soloist, purring and shrieking her way through the Beckett-inspired text accompanied by a duo of percussionists acting as Foley artists, flicking paperbacks, snapping celery stalks or flapping umbrellas. It was all very immediate, and mixed music and theatre to tantalising effect, but in the end the vocal histrionics and flamboyant sound effects tended to obscure much sense of meaning.
In fact, Tectonics' theatrical offerings overall were a bit of a mixed bag. The intense Áfall/Trauma from Canadian/ Icelandic/Scottish duo Moss Moss Not Moss (pictured above right) was strangely captivating in its presentation of two chanting, hocketing women staring intimately into each other's eyes, cobweb-like crochet draped over their shoulders, passing secret messages back and forth through sign language, as if we were eavesdropping on some private ritual. Billed as Tectonics' first foray into opera, Jane Dickson's Labyrinthine had less to captivate, though – not helped by performers bouncing on their toes screaming 'Chthonic landscapes!' into microphones. Being baffled and entertained is one thing, but confused and unengaged is another entirely.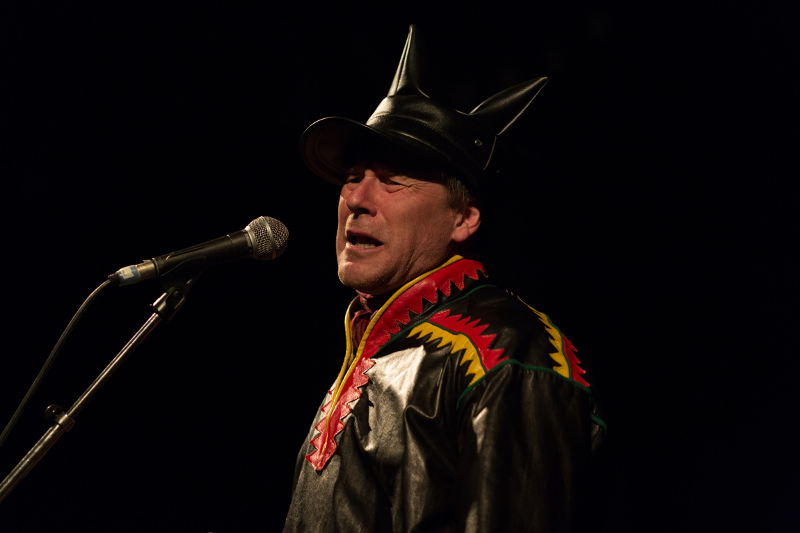 There was plenty else worth at least name-checking – including the growling nonsense vocals of Ivor Kallin, the smouldering avant-folk of singer/guitarist Alasdair Roberts, or the astonishing display of extended violin technique from Jon Rose. But Tectonics' closing concert, occupying three different spaces within Old Fruitmarket with an audience strolling between them, summed up the weekend's freewheeling, genre-straddling spirit to a tee. Beginning with the delicate, folk-inspired tremolos of Glasgow-based composer David Fennessy's Hirta Rounds, delivered with beautiful sensitivity by the BBC SSO strings, it continued with the animalistic evocations of Ánde Somby's Sami yoik singing (pictured above left), ending with the uneasy, brooding menace of the very urban Standard Deviance One by Nate Young of Detroit noise band Wolf Eyes (pictured below, with Ilan Volkov).
That closing concert, and the Tectonics weekend as a whole, drew an enthusiastic audience from classical, rock, folk, improv and more keen to dig deeper than the genre they're most familiar with. And as such it felt like a provocation – to define boundaries between these musics, and also to find ways of engaging with less familiar styles. The festival's own reluctance to explain or define, though – with scant concert descriptions, no written notes and few introductions – is both a blessing and a curse, at best encouraging listeners to discover the music behind the label, but at worst meaning we can only respond to unfamiliar styles on a very superficial level.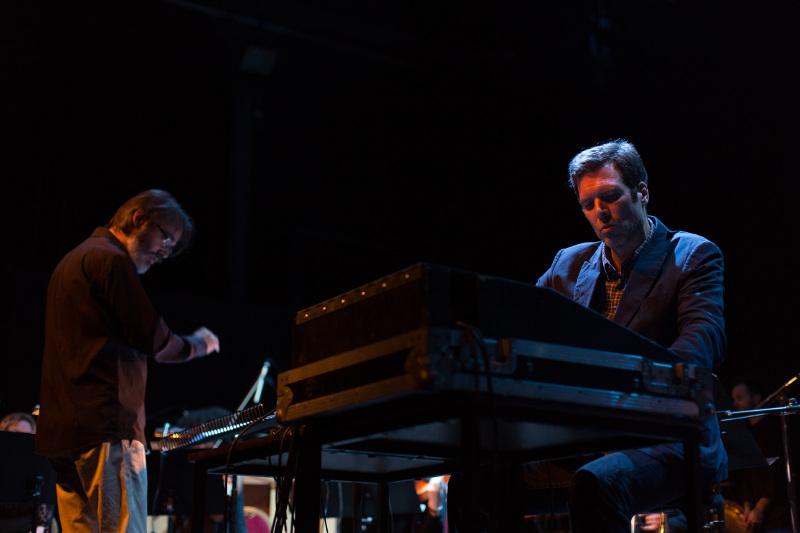 Tectonics Glasgow 2016 was a remarkable achievement, nonetheless, and very much Volkov's personal vision, allowed to grow and blossom with unquestioning support from the BBC SSO and outgoing chief executive Gavin Reid (about to take the reins of the Scottish Chamber Orchestra). And gratifyingly, Volkov was a very visible presence throughout, introducing, encouraging, guiding, sometimes literally seating listeners in the best spots, all with genuine enthusiasm and passion.
A duo of percussionists acted as Foley artists, flicking paperbacks, snapping celery stalks or flapping umbrellas
rating
Explore topics
Share this article