Wallander, Series 4, BBC One |

reviews, news & interviews
Wallander, Series 4, BBC One
Wallander, Series 4, BBC One
Agreeable scenery can't compensate for feeble plot and unconvincing characters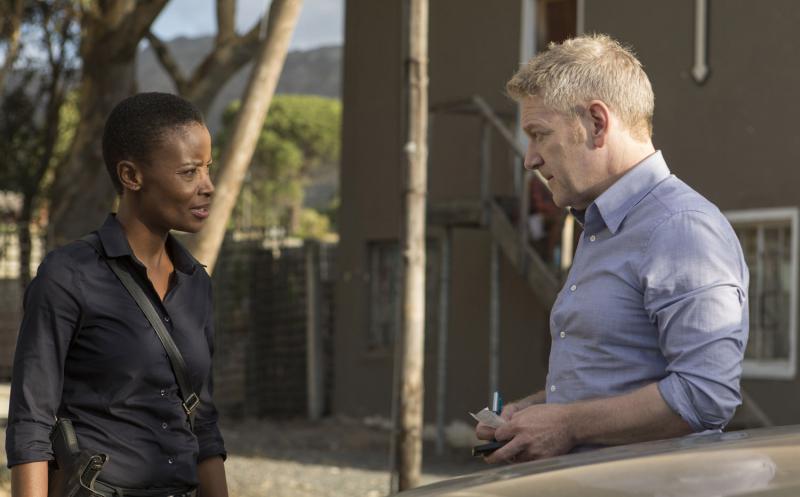 Murder most mundane: Sgt Grace Mthembu (Bonnie Mbuli) and Kurt Wallander (Kenneth Branagh)
Having enjoyed so many Scandinavian dramas created in their own homelands, it feels like taking a step backwards to return (for its final series) to Kenneth Branagh's Anglo-Wallander. Far worse was that this first of a three-part series, The White Lioness, was dull, undramatic and utterly implausible.
Henning Mankell's original novel from which this was derived journeyed between Sweden and South Africa in 1992, and involved an elaborate international plot to assassinate Nelson Mandela during the last days of apartheid. A dark and ugly subject rooted in South Africa's existential political and social turmoil, then. But this update swept away virtually all of that edgy complexity, excised the Swedish bits altogether, and instead gave us a picturesque travelogue round the Western Cape plus an unremarkable murder mystery with a perfunctory bit of politics tacked on the end. This involved not some momentous historical figure, but a politician called Bernie Meyiwa crusading on an anti-fat cat platform of "hope" and affordable housing for young people (below, Tumisho Masha as Meyiwa). His supposed mentor, Max Khulu (John Kani), a veteran of the apartheid struggle turned tourist minister, planned to have him removed to safeguard his own secret property investments.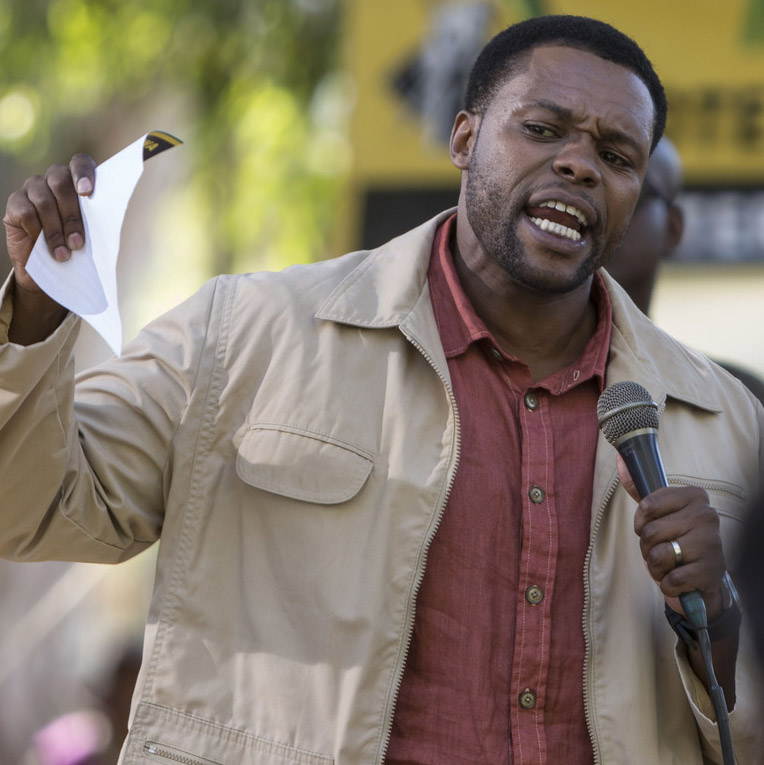 It was a drastic diminishing of horizons from a story of catclysmic political conspiracy, and mediocrity seemed about as much as this dramatisation was hoping for. The trigger for the action was the disappearance and presumed murder of a Swedish woman, Inga Hedeman (Tessa Jubber). Kurt Wallander happened to be in Cape Town to deliver a speech at some sort of policing conference, but when the missing woman's husband Axel (Alex Ferns) started kicking up a fuss about why the cops weren't doing more to find his missing wife, the local police chief asked Wallander if he'd mind having a quiet word with his fellow Swede to get him to shut up.
And the upshot was that Wallander ended up taking over the case more or less single-handed. In between moping about looking depressed and middle-aged, he kept stumbling across vital pieces of evidence which obligingly hurled themselves in front of him. Merely by driving around for a bit, he happened across the derelict stock farm whence the luckless Mrs Hedeman had been abducted, the police having failed even to get this far. The missing woman's crucifix helpfully led Wallander straight to one of the perpetrators, Victor Mabasha (Lemogang Tsipa, pictured below). When a man in a motorcycle helmet started shooting at Mabasha, that was the key to the whole mystery (just to make sure, this guy then helpfully left his incriminating satnav in his car for Wallander to find).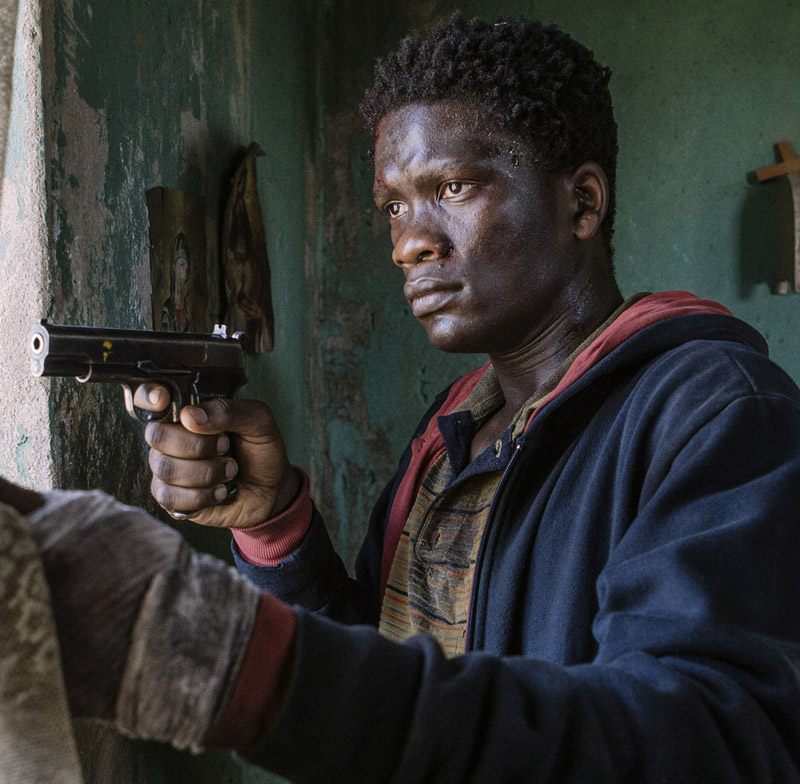 The job of the South African police was to turn up after Wallandar had cracked another bit of the puzzle. He formed an unlikely friendship with Sgt Grace Mthembu, who seemed delighted that some unknown Swedish bloke with no jurisdiction was trampling all over her case. Mind you, she wasn't keen on Wallander's social worker-ish attitude to his job. When he suggested, hand-wringingly, that Mabasha had become a potential assassin because he'd grown up in poverty, Grace told him "you can't just blame it on society".
Wallander wouldn't let it lie, though. Even though Mabasha had threatened him with a knife and kidnapped him at gunpoint, Wallander proposed to take him back to Sweden with him, the Swedes apparently being even more enthusiastic about infinite immigration than Mrs Merkel. "Sweden's a good place," he lectured earnestly. "We try and help people that have been hurt." The consummate professional, Branagh managed to speak these lines with a straight face.