DVD: In a Lonely Place |

reviews, news & interviews
DVD: In a Lonely Place
DVD: In a Lonely Place
Nicholas Ray's masterful thriller ponders the screenwriter's art and impossible love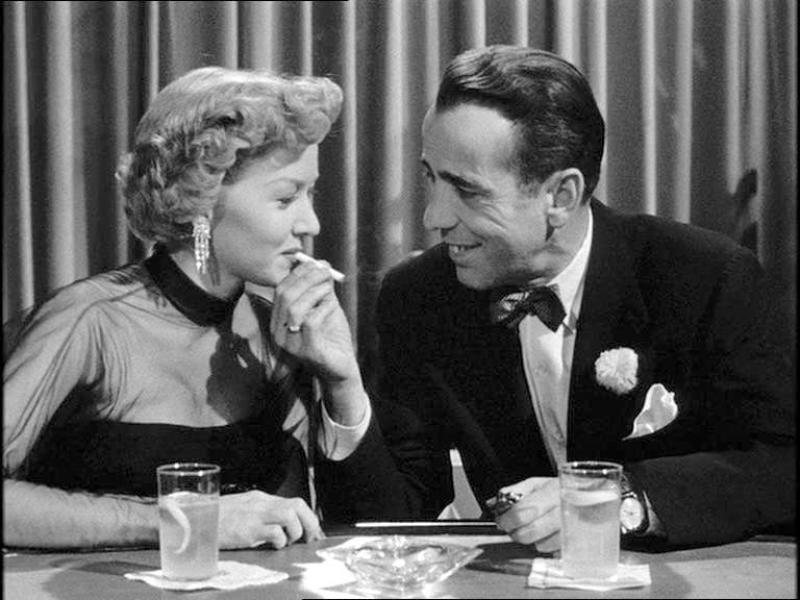 "I lived a few weeks while you loved me": Laurel Gray (Gloria Grahame) and Dix Steele (Humphrey Bogart).
In a Lonely Place (1950) contains one of the most harrowing night-time drives in all of film noir. Dix Steele (Humphrey Bogart), a volatile screenwriter suspected of murder, accidentally learns that his new girlfriend, Laurel Gray (Gloria Grahame), has been freshly interviewed by detectives. In one of his uncontrollable rages, Dix slaloms through the Hollywood hills, the terrified Laurel in the passenger seat, and scrapes the paint off another car.
He beats up the young driver for yelling at him and is about to smash his skull when Laurel screams at him. Is it any wonder she starts to regret their involvement?
Nicholas Ray's romantic thriller is only a noir by common consent, however. Ray used the genre's format as a conduit for exploring two torturous processes dependent on evasion and concealment: the distillation of a classy screenplay from a trashy source, which Dix explicates to Laurel and his friends as he writes one, and the curdling of a passionate affair that was bringing about redemption.
Even as they made the film with maximum professionalism in the fall of 1949, Ray and Grahame's marriage was undergoing its first collapse. A master of psychological realism, Ray bequeathed Dix his own paranoia and Bogart's brawler image while drawing on Grahame's elusiveness – apparently real – to ramp up Laurel's ambiguity. She gave one of her greatest performances.
It isn't all hell. The clearly post-coital intimacy demonstrated by Dix and Laurel as they smoke and drink cocktails at the end of nightclub performer Hadda Brooks's piano was uncommonly adult for a Hollywood film. Laurel's attempt to build a surrogate family around Dix with the help of his sweet old agent (Art Smith) and a washed-up, Shakespeare-spouting ham actor (Robert Warwick) is deeply moving. But there's no brooking Dix's existential choices – which augured Ray's own eventual alienation from the studio system.
Among the features on the Criterion Collection's Blu-ray edition are a revealing video essay on Grahame by her biographer Vincent Curcio, a shortened version of the 1975 Ray documentary I'm a Stranger Here Myself, and a radio adaptation of Dorothy B. Hughes' source novel – the ultra-bleak ending of which Ray felt obliged to eliminate from the movie.
Dix and Laurel's post-coital intimacy was uncommonly adult for Hollywood
rating
Share this article