Versus: The Life and Films of Ken Loach |

reviews, news & interviews
Versus: The Life and Films of Ken Loach
Versus: The Life and Films of Ken Loach
An intimate documentary about the unstoppable veteran director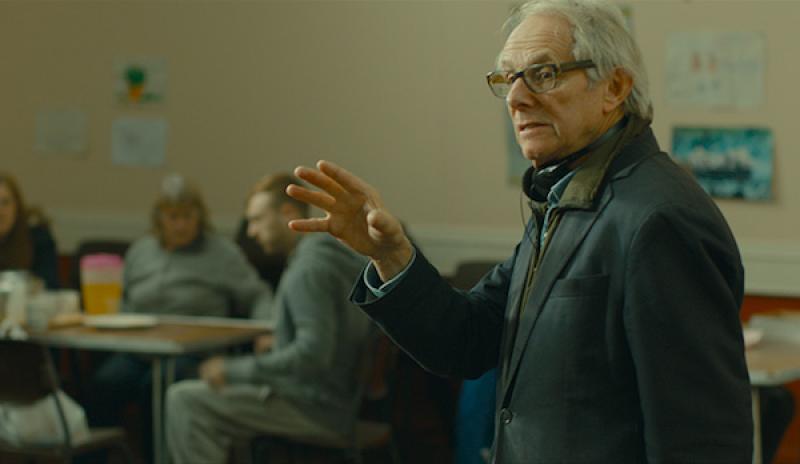 Man of the people: Ken Loach directs 'I, Daniel Blake'
The release of Louise Osmond's biographical film about the director Ken Loach, who turns 80 on 17 June, has been timed to perfection. Twelve days ago, Loach's I, Daniel Blake won him his second Palme d'Or. He came out of retirement to make it after the Conservatives won the General Election last year. "Bastards," he calls them, with a schoolboy-ish smile, at the beginning and end of the documentary.
Except in the first half of the Thatcher '80s, Tory policies have specialised in eliciting Loach's fiercely oppositional cinema – so have anti-socialist Labour policies. For 53 years, he has been British film and TV's undislodgeable thorn in the side of institutionalised selfishness and greed.
Gabriel Byrne characterises him as a medieval knight who would respectfully kill an opponent by severing a vein
He has directed film after film that supports the rights of ordinary people and empathizes with the jobless, the homeless, the colonised, and others socially disenfranchised. He has frequently focused his anger on the betrayers within: callous welfare workers (Cathy Come Home; Ladybird, Ladybird), neglectful or bullying teachers or relatives (Kes, Family Life), treacherous union officials (The Rank and File, Questions of Leadership), political turncoats at times of crisis (Days of Hope, Land and Freedom, The Wind That Shakes the Barley); and working-class predators of their own (Raining Stones, Sweet Sixteen, The Angels' Share). Yet humor, song and romance invariably warm his fiction films.
A man of will, conviction, and extraordinary modesty, Loach probably had to have his arm twisted before he agreed to be the subject of a documentary. Given the decreasing share of wealth and concern for working-class people globally, the filmmaker who has championed their rights more than any other over the last half-century may have felt it would be worth revisiting those of his works that were adulterated, delayed, censored, canceled, or vilified by the right-wing.
In fact, Versus reports on only three of Loach's sabotaged projects, all from the Thatcher era. Channel 4 scuppered Questions of Leadership (1983), his discussion-driven four-parter probing the conduct of union leaders who had betrayed the rank and file. Which Side Are You On? (1985), a documentary about art made by miners during the 1984-85 strike, was dumped by London Weekend Television because it incorporated images of police brutality. Loach says LWT had no integrity. Melvyn Bragg, who commissioned the film for The South Bank Show, defends the broadcaster's need to protect its franchise. (Pictured above, Loach wins the Palme d'Or at Cannes, May 2016).
Another blow was delivered by the Royal Court Theatre's cancellation of Jim Allen's Perdition, which Loach was directing, shortly before its first performance in January 1987. Allen's script about a deal made between Adolf Eichmann and Zionist leaders in Nazi-occupied Budapest incensed contemporary Zionists and columnists primed to tar Allen and Loach as anti-Semitic. In Versus, Loach accuses Max Stafford-Clark, the Royal Court's artistic director, of cowardice for halting the production; the latter regrets both putting the play on and taking it off. Cast-member Gabriel Byrne, who witnessed Loach's response to Stafford-Clark's decision, characterises him as a medieval knight who, when roused, would respectfully kill his opponent by severing a vein.
The film critic Andrew Sarris named his book The John Ford Movie Mystery for the boozing, bullying director's ability to craft poetic, beautiful Westerns and other films. Equally mysterious is the gentle, self-deprecating Loach's harbouring of a spine of steel (as the late Jim Allen put it), a set of inflexible principles, and a capacity for ruthlessness. Tony Garnett, his producer partner in the BBC years, suggests his friend's "absolute" self-belief owes much to his mother's devotion to him and that his "infantile omnipotence" served him well as a director who is otherwise benign. Garnett has said elsewhere he wouldn't have had the actor playing Kes's headmaster cane four schoolboy actors, as Loach did in the quest for verisimilitude.
Produced by Loach and Rebecca O'Brien's Sixteen Films for the BFI and the BBC, Versus makes no claims for impartiality. It is unusually candid for a tribute to an artist, however. Loach frankly describes the 1971 car crash that killed his grandmother-in-law and his and his wife Lesley's second son, five-year-old Nicholas, and of his permanent loss of happiness. His youngest son, director Jim Loach, recollects how his father's succession of suppressed projects alerted him to his fallibility. Obliged to make commercials when he couldn't get films financed, Loach feels he acted unethically. There's no flinching from the truth here.
Loach's memories piece together his journey as the son of a Tory-voting factory foreman who laughed until he cried at the stage comics the Loaches saw on their Blackpool holidays (the loosely structured narrative is connected by too many impressionistic shots of the resort's modern amusements.) Oxford law graduate Ken disappointed his parents when he decided to become an actor: the theatre stills of him dressed in period costume or as Brer Fox – actually a large pantomime pooch – won't have reassured them. He once served as Kenneth Williams's understudy. One of his daughters thinks it's apt the director of Up the Junction and Cathy Come Home likes gaudy Hollywood musicals because, she says, "he's camp, isn't he?"
"Curious journey people go on," Loach allows. His is also momentous.
Tony Garnett says Loach's 'absolute' self-belief owes much to his mother's devotion
rating
Explore topics
Share this article