Where to Invade Next |

reviews, news & interviews
Where to Invade Next
Where to Invade Next
Michael Moore turns his back on the US in search of superior societies abroad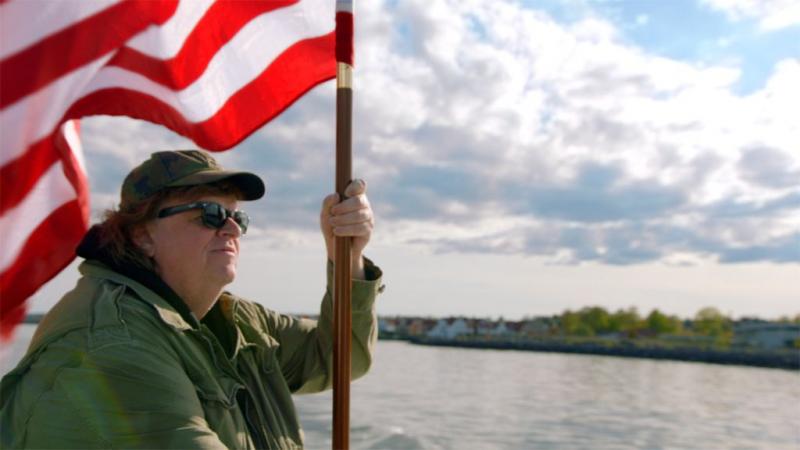 An American abroad: Michael Moore in 'Where To Invade Next'
There are a lot of cheerful people in the world, most of them outside the United States. That's the startling conclusion of Michael Moore's pointed comic jeremiad Where to Invade Next, in which American cinema's premier schlub decamps overseas to encounter numerous life- and work-related lessons that our ketchup-loving conqueror wants to take back home.
What surprises isn't Moore's view of present-day America, which is unexceptional in its assessment of a hard-scrabble country ruled by multiple iniquities – not least the overriding potency of money, and a signal inability to face up to the more dubious aspects of its past. As he tromps around Europe and elsewhere, an American flag mock-triumphally in hand, the cumulative point-scoring at America's expense proves enlightening about some of the more surprising ways of the world, but it also makes one wonder about precisely what Moore is leaving out. Otherwise, wouldn't we all be emigrating to Slovenia en masse?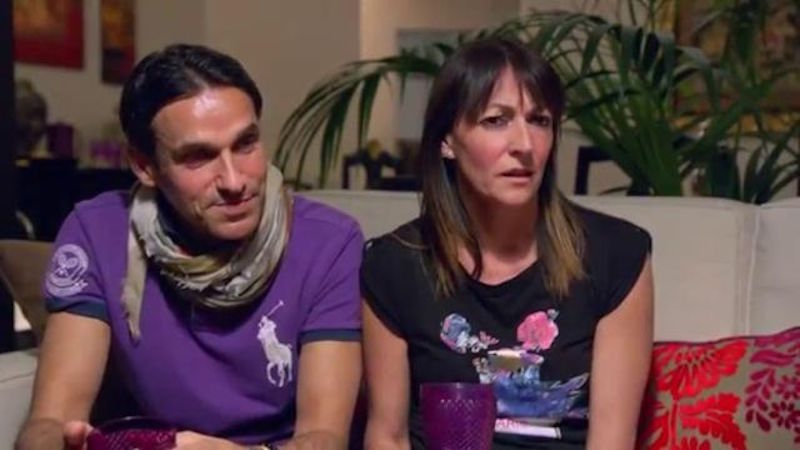 The Slovene capital Ljubljana is one of the cities in which Moore finds scores of happy, grinning people, all of whom react with varying degrees of bewilderment to the conditions the filmmaker describes back home. Ticking off the social advantages in each of his destinations, Moore is quick to make plain that he is talking Slovenia and not Slovakia (what, is the citizenry less chirpy there?). He lands the best joke in the movie when he enquires whether the lack of a W in Slovevnia's alphabet might in some way be due to George W. Bush.
Each of Moore's ports of call has a particular ace in the hole. Slovenia's is a university system that is free to all comers, including several Americans who are seen enjoying an access to education at a price they could never afford back home. In Italy – whose notables, we're told, include Don Corleone and Jesus – Rigoletto blasts away on the soundtrack while we meet a couple (pictured above) who inform Moore matter-of-factly that they are obliged to take eight weeks of vacation: an eye-wateringly envious situation, to be sure, though one familiar to anyone who knows even the most basic differences between America, with its scant allowance for downtime, and pretty much anywhere else.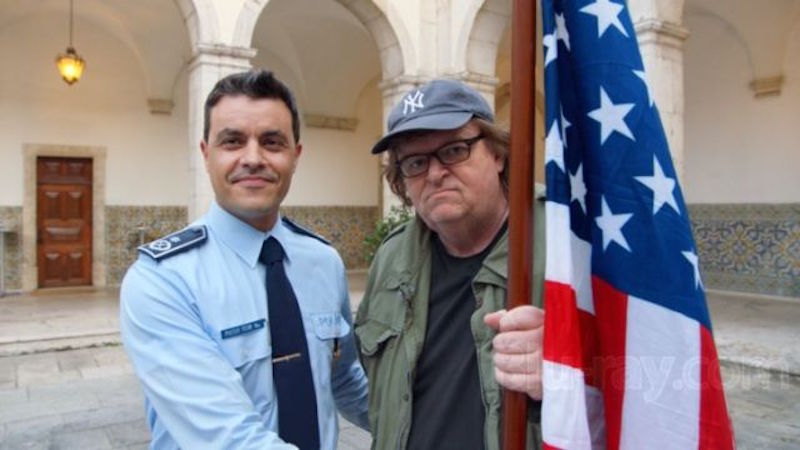 The case studies get more interesting as the film progresses. In a Norway still scarred by the murderous spree in 2011 of Anders Behring Breivik, we encounter a prison system based on rehabilitation, not revenge, and where the longest-possible sentence is 21 years. Dropping southward to Africa, Moore encounters a Tunisia admired for its women's health centres and government-funded abortion clinics; footage of the fearsome landscape back home drives home the painful point. And whereas America compounds denial of all kinds about its slavery-ridden past – it took a Briton to film 12 Years A Slave – Moore finds a Germany which teaches students directly about the Holocaust: only from confronting its darker recesses can a country begin to envisage a brighter future.
And yet, one can be in absolute sympathy with Moore's politics and his ideals, and still wonder about the stories and scenarios he leaves out. There's no reference to the swelling tide of global anger and frustration very much at odds with the fresh-faced folk he encounters. They include a pair of Portuguese cops (one pictured above with Moore) who are taken aback by America's war on drugs and some especially huggy Finns who remark that school is about "finding your happiness" (so much for Trump Academy then).
In the end I was reminded of Moore's provocative film Sicko, in which he seemed to encourage America's unwell to beat a hasty path to Cuba for quality care at a low cost – except, as was often pointed out at the time, that upon arrival in the promised land patients would find a serious shortage of equipment and supplies. You applaud Moore for his candid, caustic dissection of an ailing homeland, but you're left questioning whether the panaceas he locates elsewhere are quite this pat.
Overleaf: watch the trailer for Where to Invade Next
People react with varying degrees of bewilderment to the conditions the filmmaker describes back home
rating
Explore topics
Share this article