Haïm: In the Light of a Violin, The Print Room |

reviews, news & interviews
Haïm: In the Light of a Violin, The Print Room
Haïm: In the Light of a Violin, The Print Room
Compact, stylish show about a Polish Jew who survived Auschwitz by playing the fiddle
Clarinettist Samuel Maquin, actor Mélanie Doutey and accordionist Alexis Kune in 'Haïm'
On the face of it, there is nothing in this tightly focused little piece that says anything new about the Holocaust. The plight of a poor Jewish boy unfortunate enough to be growing up in 1930s Poland is dismally familiar. The story of life-affirming music made in the jaws of hell – the starving ghetto, the Nazi work camp – has been amply covered on page and screen.
And one's first thought during the opening 10 minutes of this production is, slightly guiltily: do I really have to look this horror in the face yet again?
But at a time when the storm clouds of extreme nationalism are gathering all over Europe, the story of last century's moral meltdown may be more pertinent than ever. Writer and director Gérald Garutti clearly thinks so, but he's also smart enough to know that he has to give it a novel slant.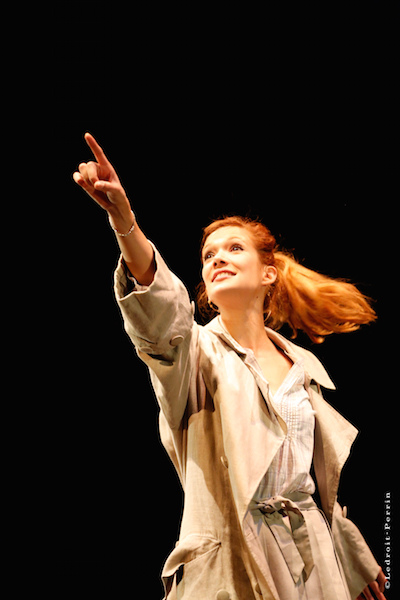 Haïm: In the Light of a Violin is, at one level, storytelling at its simplest. Parisian actress Mélanie Doutey (pictured right), seductive of voice, flamboyant of manner, striding about like a principal boy, narrates the life story of Haïm Lipsky in the third person while a quartet of on-stage musicians provide aural relief, breaking up the chunks of spoken text with appropriate music. But what music! This is no scratch theatre band but a collective of world-class concert artists: Samuel Maquin coaxes shudders and sighs from a clarinet; pianist Dana Ciocarlie is as persuasive in a Chopin Nocturne as in a klezmer stomp; and burly Alexis Kune is the go-to accordionist for many a famous chansonnier.
Most affecting of all, though, is violinist Yaïr Benaïm, who not only throws off the entire first movement of the Mendelssohn concerto with staggering finesse, but sings the Israeli national anthem with an artlessness that breaks your heart. And how sensible of the director not to ask his musical cast to act. That they do, at various points, embody the characters in this true story lends colour to the telling but still lets our imaginations do the work.
As a rather fine poet once noted, human kind cannot bear very much realityMost notably Benaïm – short, balding and bespectacled – makes a touchingly blank canvas on to which we are invited to project the narrator's account of Haïm and his experiences. And the fact that Benaïm doesn't once pretend to be Haïm makes it easier for us to relish the character's triumphs – the discovery of his prodigious musical talent aged 10 – and his descent a decade later into horror – a job burying corpses in the Lodz ghetto, the cattle-truck to Auschwitz. As a rather fine poet once noted, human kind cannot bear very much reality.
That the narration is delivered in French is, curiously, not a significant hurdle to a non-Francophone audience. Doutey makes gracious allowance in her delivery so that most will be able to pick up at least the odd phrase. And there is a good, lean translation by Christopher Hampton projected on the back wall (though, please, might each line linger a little longer so we have a chance to finish reading it?). Inevitably, though, reliance on surtitles detracts from the full experience, since you cannot give the actor your unbroken attention. One day technology will find a solution. Special Google glasses for the theatre?
Another small irritation is the absence of musical credits – odd, given the prominence given to musical performance. Mendelssohn is name-checked in the narrative, but the many other compelling compositions leave question marks hanging in the air. How hard would have been to list them in the programme?
On balance the writer did, I think, intend this piece as an up-beat story, the life-force of music triumphing over the forces of darkness. Yet in the final moments, as the career successes of 94-year-old Haïm Lipsky's musically talented children and grandchildren were enumerated, I'm sure I wasn't alone in thinking instead of the millions who didn't survive to have offspring, wünderkinder or otherwise. There can be no happy ending to such a story, however lustily the klezmer band plays us out.
How sensible of the director not to ask his musical cast to act
rating
Explore topics
Share this article