Notes from Underground, Print Room |

reviews, news & interviews
Notes from Underground, Print Room
Notes from Underground, Print Room
Harry Lloyd frantically engaged with one of Dostoevsky's less sympathetic characters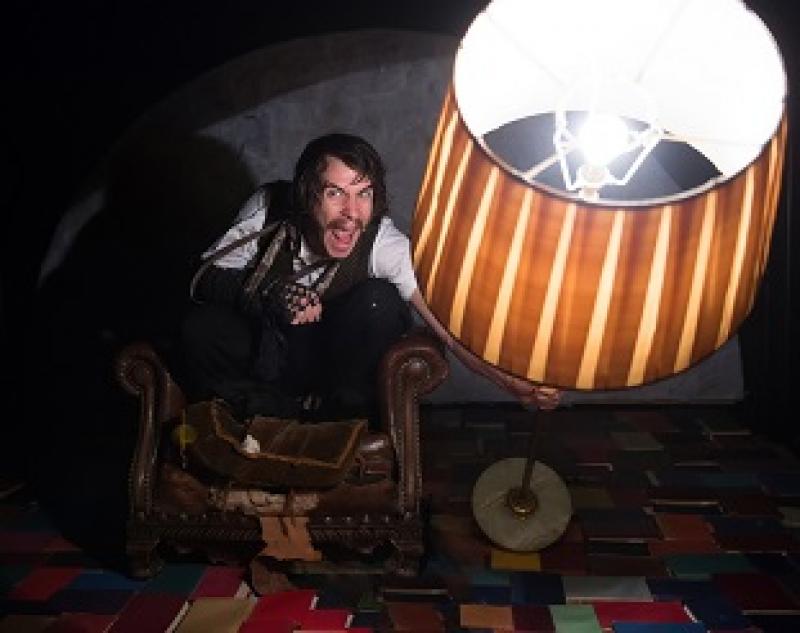 Lord of a crazy room: Harry Lloyd struggles to stay in the light
"I am spiteful! I am ill! You are not going to like this!" With these words Harry Lloyd opens his one-man show that adapts the Dostoevsky 1864 novella that is often hailed as the first work of literary existentialism. Lloyd is already on stage as the audience enter, darkly bearded, sitting in a dishevelled armchair on a floor created from stacked books beneath his bare feet, his haunted piercing eyes following viewers as they take their seats.
He can't wait to talk. Lloyd duly launches into a 70-minute diatribe that reveals the darker corners of the soul of an uneasy, unreliable narrator. The actor may be best known for his television work, including Viserys Targaryen from the first series of Game of Thrones, but he's gripped and fascinated here by the sheer theatricality of his character, who delights in his humiliations in a way that's borderline masochistic.
Lloyd gives a four-star performance of a script that sometimes does not quite rise to that
The question is whether he can engage the audience in the same way as they settle in with someone who is clearly most used to talking to himself (Lloyd the hectorer, pictured below right). As someone you would not want to be stuck in a train compartment with the Underground Man, as we know him, probably ranks up there with Coleridge's Ancient Mariner. (Interestingly, Lloyd's monologue refers to insects on a couple of occasions, putting us in mind of the absurdist heroes of Franz Kafka, and in formal terms of adapting prose for the stage particularly of his story "A Report to an Academy", seen a few years back at the Young Vic.) How much can the tone be varied away from the purely manic, into moments of quieter introspection? Quite how much the comic interaction will come through – maybe not something you expect with this material, but it's certainly there – will likely depend on the audience at each performance.
Maybe Lloyd could go just a little further in bringing out such contrasts, but perhaps they will come as this four-week run develops (playing the piece twice a night is going to test his physical stamina too). But it's a struggle to find empathy with a character whose interactions with human beings are so limited, and presented with an almost perverse delight in that very limitation. The closing episode relates his encounter with the prostitute Liza, with whom the Underground Man does establish a moment of real contact – he's almost disgusted with himself for having done so – before intentionally shattering the possibility of any such shared emotion.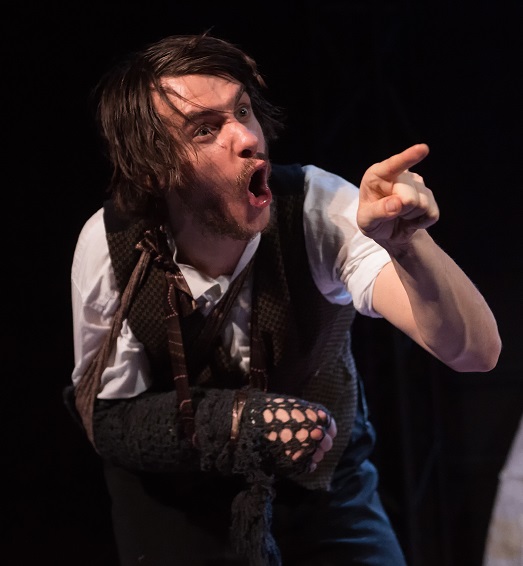 The scene preceding that, where he encounters old school friends and invites himself to a reunion dinner, before revelling in their perceived rejection of him has even less potential for positive engagement. In that episode, on another note, it seems a strange decision by Lloyd and his director and co-adapter Gerald Garutti to bring the piece into an English context. In Dostoevsky's story the friends and their unwelcome guest have gathered to bid farewell to one Zernov, who's being sent away from St Petersburg to the Russian provinces, while Lloyd's character goes along to fete a certain Briggstock, who's off to Hong Kong of all places. It gives a very strange Home Counties note to a work that, as with most Dostoevsky, seems to breathe the dank air and inhabit the short winter days of Russia's Northern Capital.
Lloyd gives a four-star performance of a script that sometimes does not quite rise to that. Notes from Underground reaches London from Paris, and has found itself a very nice gaff (a word that catches well the spirit of the downtrodden room in which it's set) indeed at the Print Room's new home at Notting Hill Gate's Coronet cinema. What used to be the smaller hall there has been transformed into a great 100-seater, black-box style space (in its cinema days the space seemed long and narrow, but it's been adapted into something much roomier). The Print Room's previous venue was under landlord threat, and the full project of adapting the rest of the Coronet is going to take considerable time and much funding, but first impressions of this new space are excellent. When it's all eventually finished West London will have a new cultural centre, housed in the elegant building that opened as a theatre in 1898. Apparently John Gielgud saw his first Shakespeare there in 1912. Harry Lloyd is only the latest player in a long stage history.
Quite how much the comic interaction will come through will likely depend on the audience at each performance
rating
Share this article