Weiner |

reviews, news & interviews
Weiner
Weiner
Nightmare political campaign becomes devilish documentary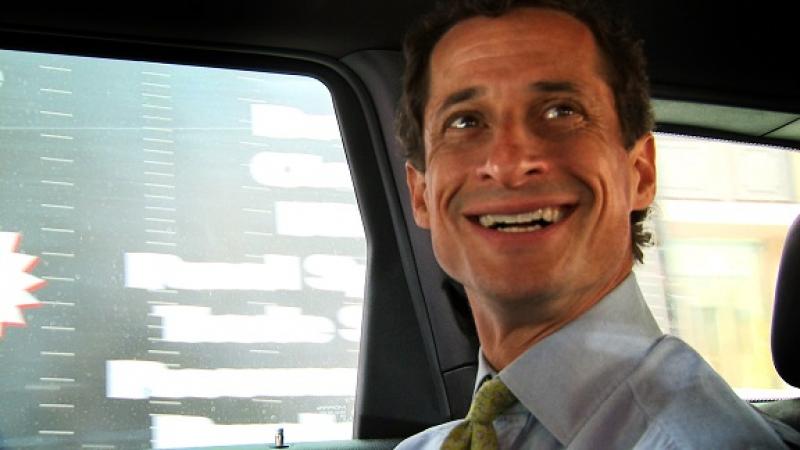 Smiling, regardless: Anthony Weiner
Weiner is the story of a rapid ride from comeback to meltdown. It's an enthralling journey to witness, even if you sometimes feel like averting your eyes. What can be more inexorable than a political life – not to mention a private one – imploding on screen in a documentary where the subject has promised full access to the filmmakers, and sticks to that pledge regardless?
The story of Anthony Weiner's 2013 bid to become mayor of New York made front page news in America. He was clearly an extremely articulate and dynamic Democrat political operator, but that wasn't the main issue. What made his decision to stand so compelling was the fact that, two years earlier, he had been forced to resign from Congress, where he had represented the city, after being caught sexting: he had sent an explicit image of himself to a woman from his public account, and was later forced to admit that it wasn't the only one.
You couldn't make it up. Directors Kriegman and Steinberg didn't have to All of which made his bid for the mayor's office a clear endeavour to put that right behind him. The other explanation for heightened public interest in the story lay in his personal life: Weiner was married to the much-acclaimed Huma Abedin, who's generally seen as Hillary Clinton's closest aide, and Abedin's decision to stand by her man couldn't help but be compared with what Hillary had done for Bill a decade or so earlier. (Weiner's surname proved irresistible for media jokers, too.)
All of which must have made Weiner directors Josh Kriegman and Elyse Steinberg feel that they had landed a coup in being accorded full access to follow Weiner's campaign; Kriegman had been an aide to Weiner earlier in the latter's political career. Kicking off their film with a news clip montage of the 2011 scandal, they followed on to introduce Weiner at home with Huma and their son Jordan Zain, then almost 18 months old. Weiner's in T-shirt and shorts, and their fly-on-the-wall approach catches the intimacy of the family together, as well as our sense that the filmmakers were being allowed to witness every facet of the candidate's life.
To say that this initial atmosphere felt easy would probably be stretching it, however: any tensions of the forthcoming campaign aside, Weiner seems to live on his nerves, perpetually slightly jumpy, a man of many words especially when compared to Huma's calmer, more reserved manner. There was plenty of nuance here, including a fascinating sense that his nervous energy in some way echoed that of New York itself, always a bit on edge; it was an indication of Abedin's own political status, which wasn't really looked into in the film, that people seem to refer to her naturally by her first name, just like her immediate boss.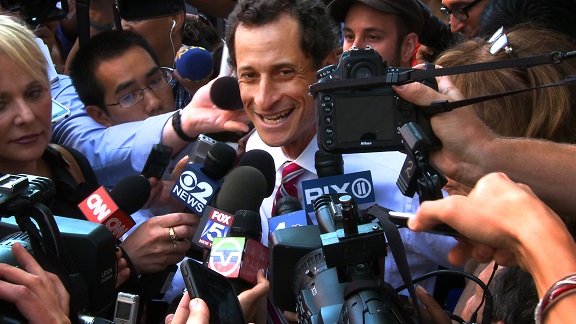 The press were clearly paying close attention to the campaign (all cameras on Weiner, above), and for a while all seemed to be going brilliantly. Weiner is clearly a natural politician, able to focus on the local issues of concern in each of the New York boroughs, and perpetually on the move – there can't have been a single parade in the city he didn't join, glad-handing everyone in sight (at New York's LGBT parade, below). We saw inside his campaign office, set up from scratch, meeting his enthusiastic young staffers; Weiner's mother came in to work the phones, with Huma around to pull in contacts and donations.
And then it happened… As surely as if some divine being on Mount Olympus had decided that nemesis was overdue, accusations began to surface that Weiner had returned to his sexting habits long after he'd promised he had put them behind him. They went on growing, detail after excruciating detail accumulating (he chose the online moniker "Carlos Danger" for his phone sex). Huma's silences grew longer and more ominous, even after she's gone before the cameras to say that, once again, she was standing by her man. The film becomes a portrait both of a marriage under real strain, and of a political self-immolation – but only once did Weiner ask the directors, who were on his heel the whole time, to leave him alone in the room with his wife.
We can only wonder what made Weiner go on with the filming. The sense that he'd given his word, a fascination with the attention, even the realisation – perhaps subconscious, maybe even right from the beginning – that this sort of meltdown was bound to happen? He turned two particular scenes – a television interview, then a flare-up with a member of the public in a Jewish bakery – into set-pieces of how not to advance your campaign, and then rewatched it on camera.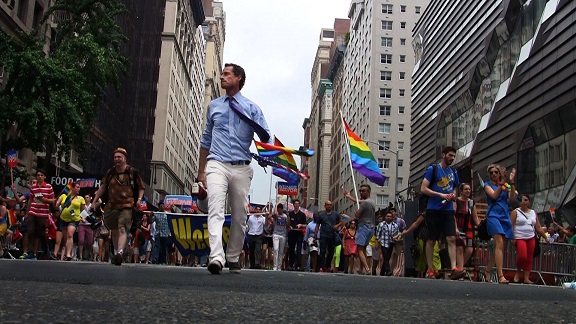 His approval ratings plummeting, Weiner would not pull out, forcing himself to run to the bitter end, and the film towards farce. We saw various episodes of Weiner's team trying to regroup and invent new strategies on the hoof, until it was just down to his remaining planner, Andrew, a man for whom we felt increasingly sorry, to engineer a way for the candidate to attend his own post-vote party. Which you might think would have been easy, except for the fact that one of Weiner's phone-sex partners – real name Sydney Leathers, codename in Weiner's campaign "Pineapple" – was waiting outside to meet him in the flesh, TV crews in tow. Weiner finally made it in through a back entrance, via the neighbouring McDonalds.
You couldn't make it up. Directors Kriegman and Steinberg didn't have to. A television interviewer asked Weiner at one stage if he was sick, raising the issue of sex addiction. The film was framed by a much more reflective interview Weiner gave after it was all over, which nevertheless didn't really answer any of the main questions, let alone explain the dynamics of his marriage. A final delicious coda hinted at the fact that politics may just be a drug for those who become caught up in it, leading them on – either to triumph, or to tragedy.
Overleaf: watch the trailer for Weiner