Don Quixote, Bolshoi Ballet, Royal Opera House |

reviews, news & interviews
Don Quixote, Bolshoi Ballet, Royal Opera House
Don Quixote, Bolshoi Ballet, Royal Opera House
The Russians are back, marking 60 years since they first took London by storm
Frilling stuff: Andrei Merkuriev, Ekaterina Krysanova and company in the Bolshoi's new-old 'Don Quixote'
Exactly 60 years have passed since this company made its first London visit, an unlikely triumph of art over geopolitics. For 1956 was the year Britain was rocked by the Suez crisis and the year the Soviet Union invaded Hungary. British spies Burgess and Maclean had surfaced behind the Iron Curtain after five years on the run and distrust between London and Moscow was acute. Until their plane landed, it was touch and go that the Bolshoi's London season would happen at all.
But it did, giving the West its first taste of a phenomenon that had assumed the quality of myth. And that air of marvellous otherness, of heroic prowess, still clings to this gargantuan cultural flagship as it returns to mark that anniversary. This is doubly remarkable given Russia's current reputation in athletics and the exposure of the Bolshoi's inner dysfunction in the acid attack on its then-director three years ago.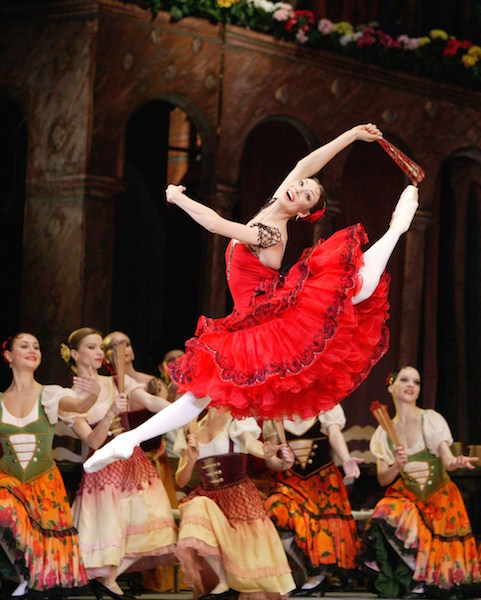 In view of which it was clever to kick off with its newly spruced-up production of Don Quixote, a ballet in which the sun always shines and virtuosity shouts olé from every painted rooftop. Of all the 19th-century classics it has always been considered the most "Bolshoi" – not only because its 1869 premiere was in Moscow, but for its general boisterousness and technical fizz. It's certainly a good fit.
But why the new production, when the previous one delivered the fireworks just as well? It's supposed to be a cleaning-up job, stripping away the accretions of 160 years to leave just the steps that Marius Petipa and Alexander Gorsky intended, and Ludwig Minkus's music in its original state. Hmm. Some unfamiliar tunes in Act II sound more 1920s film score than 1860s ballet, and the newly restored "jig" resembles a music hall comedy skit by the Crazy Gang. But who cares about provenance when it's this much fun?
Newcomers must also forget anything they might know about the original Cervantes novel. The ballet version is only attached to it by the slenderest thread: in truth it is cod-Spanish twaddle. Here the heroine is Kitri (pictured above, the innkeeper's daughter whom the deluded Don takes to be Dulcinea, the muse of his chivalrous fantasies) and the hero is her lover, Basilio, a village barber. In Monday's opening cast Kitri was Olga Smirnova, a fast-tracked young star who brings an ideal physique and pristine technique to the role, and vivacity too, but lacks the ability to make us love her, or long for her to end up in the arms of Denis Rodkin's Basilio.
It wasn't the leading couple that sent the crowd home with a song in their hearts – it was the corps de ballet
He, too, is a physical specimen that might have been fashioned in some fiendish genetic lab. How do the guys build the strength to hold a ballerina aloft with one hand, yet maintain such slender limbs? Let's not go there. Rodkin's personality, though, managed to reach across the vast expanse of the stalls to warm cockles, helped by his character's bad-boy appeal. There was a nice moment when, jokily faking death when he is refused Kitri's hand by her stern father, he cops a feel of her breast while she is (mock) grieving over his corpse.
For all their show-off moves, though, it wasn't the leading couple that sent the crowd home with a song in their hearts on Monday night – it was the corps de ballet, the near-anonymous scores of turbo-powered technicians, ruthlessly matched in height and proportion, who drove the evening's helter-skelter pace. At one point they overenthusiastically raced ahead of Pavel Sorokin's baton (and what an orchestra: the Russians' heartfelt commitment to this frankly circus-grade music raises its game). But one forgave the corps instantly: it's their tireless stamping, clapping, tambourine and skirt shaking that supplies the powder for the cannon.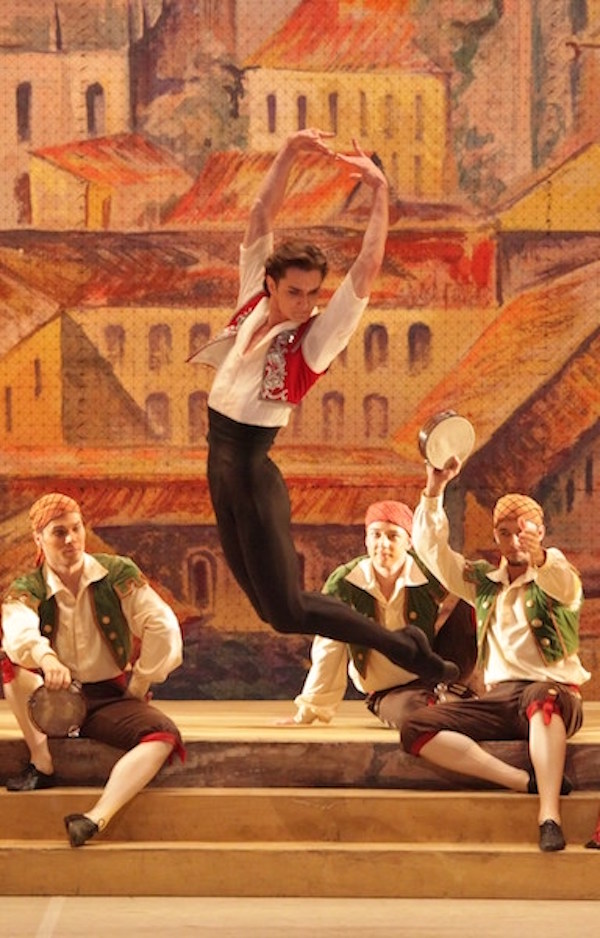 Don Q is packed with what they call "character dances" – danced in heeled shoes, not on point – and the Bolshoi's corps de ballet is formidable in them. You will not believe possible that 64 feet can move so fast, so intricately, and in such tight unison. And the women's knack with a fan, the men's with a bullfight cape, are entertainment in themselves. Hats off to the unsung masses.
There are some solo standouts too. Vera Borisenkova's slinky Spanish Dance, all floor-polishing backbends and come-hither castanets; Anna Antropova's manic-depressive Gypsy Dance, repeatedly coming over all despondent, then flying into another skirt-swirling frenzy. And though the Don himself is a mere narrative peg in this story, Alexei Loparevich plays the deluded title character with affecting pathos, wandering dazed among the tutu'd lovelies of the Vision Scene like a superannuated boy let loose in a lingerie department. (Pictured right: Vladislav Lantratov)
The company has clocked up 1,000 performances of Don Q since 1869. On this reckoning, it will make a good few hundred more.