David Brent: Life on the Road |

reviews, news & interviews
David Brent: Life on the Road
David Brent: Life on the Road
Ricky Gervais's world-class gargoyle doesn't quite cut it as a tragic figure
Wednesday, 10 August 2016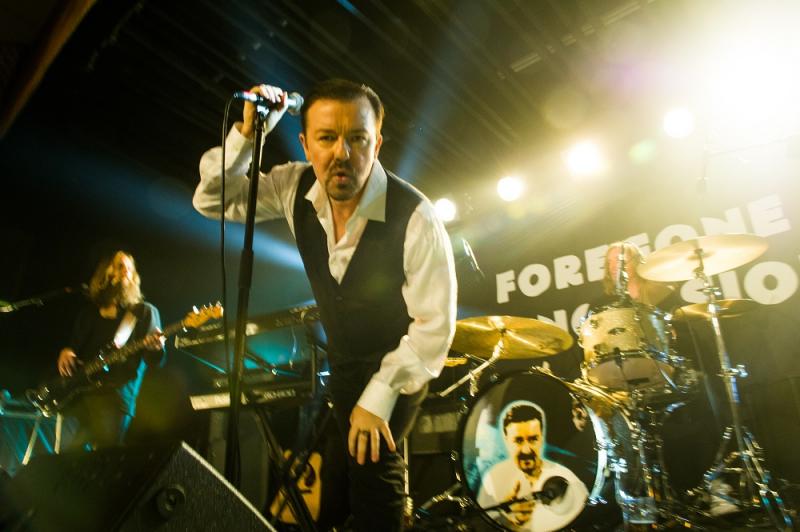 Morrissey without Marr: Ricky Gervais takes David Brent out on tour
David Brent is unwell. The irritating giggle that punctuates his verbiage is now hysterical. His reality show infamy in The Office led to a nervous breakdown, and the one-time boss of Wernham Hogg (Slough branch) is now a travelling tampon salesman for a sanitary firm. He's a wearying man out of time to most of his younger co-workers, a laughing stock and irritant. It's like late Hancock, replayed by a talentless buffoon.
The Office was always excruciating as much as it was funny. The laughs come most cleanly this time in early, rapid-fire scenes of Brent the salesman at work, Willy Loman scripted by Viz. After that, it becomes hard to recall his film debut as anything other than a tragedy. His insistence on taking unpaid leave to bankrupt himself trying to be a rock star (like Gervais, he has a back-story in flop 1980s bands) is disastrous on every level. A tour that barely leaves Berkshire plays to empty venues, till Brent's hubris becomes plain even to himself. There are still gags – the usual Gervais comedy of cringing disbelief, as Brent puts both feet in it with every step, especially with his self-described "ethnic sidekick", rapper Dom (Doc Brown, pictured below with Gervais). But there's more despair.
The most affecting moments involve Brent's exploitation by his expensively hired band, who ban him from the tour bus and dressing-room he's paying for, and by two unappetising women he desperately takes back to his hotel, where his minibar is picked clean. In the latter potent scene, Brent's invincibly obnoxious front breaks into bitter clarity. Like a brief glimpse of his home, spartan yet glumly messy and exactly right, this is Brent stripped bare.
Gervais's years of fame have made his similarities to Brent increasingly obvious: gaucheness, aggravating garrulousness and misplaced ego are no strangers to his public appearances and Twitterfeed. Self-awareness, talent and iron nerve give him the edge over his flailing creation, but the parallels are drawn knowingly close here. Called in by his weary line manager for making slant-eyed Chinaman and gay jokes, Brent explains that it's her own prejudiced perceptions that create offence. "I flipped it!" he declares of his comic method, exactly like Gervais.
Excessive sympathy is where this fourth substantial visit to Brent's world (after The Office's two series and 2003 Christmas special) falls down. It was Martin Freeman's trapped Tim, with his lone, sane double-takes to camera, not the unwittingly tyrannical Brent, who was The Office's hero. Stephen Merchant was co-writer then and, like Morrissey without Marr, Gervais unbound is also unbalanced. He writes "sidekick" Dom with a sketchy lack of interest resembling Brent's, who gets shocked double-takes from everyone he meets now, crassly emphasising a joke once made on TV with subtle realism. The sentimentality and pathos which finally made both The Office and Extras kind isn't shared around. Brent greedily gets it all. The film is as solipsistic as he is.
He works as a local hero, as when he plays an almost successful gig in Slough ("Close to Windsor, but the property's less," he sings, to appreciative nods). But it's hard to see him as a tragic one. He's destructive as well as self-destructive, a liability on the loose. David Brent: Life On the Road is a brave character study of a depressed, delusional middle-aged man, thinly disguised as an outrageous comedy. But Gervais loads the dice too much in his doltish alter ego's favour, and can't really see him clear. The Office's rounded social portrait has become a sort of autobiography of a man its writer could have been. Brent's blinkers have become Gervais's own.
Overleaf: watch the trailer to David Brent: Life on the Road
Gervais's years of fame have made his similarities to Brent increasingly obvious
rating
Explore topics
Share this article