Edinburgh 2016: Angel by Henry Naylor/ Horse in Careful/ Lucy McCormick: Triple Threat |

reviews, news & interviews
Edinburgh 2016: Angel by Henry Naylor/ Horse in Careful/ Lucy McCormick: Triple Threat
Edinburgh 2016: Angel by Henry Naylor/ Horse in Careful/ Lucy McCormick: Triple Threat
Theatre highlights from the world's biggest and best arts festival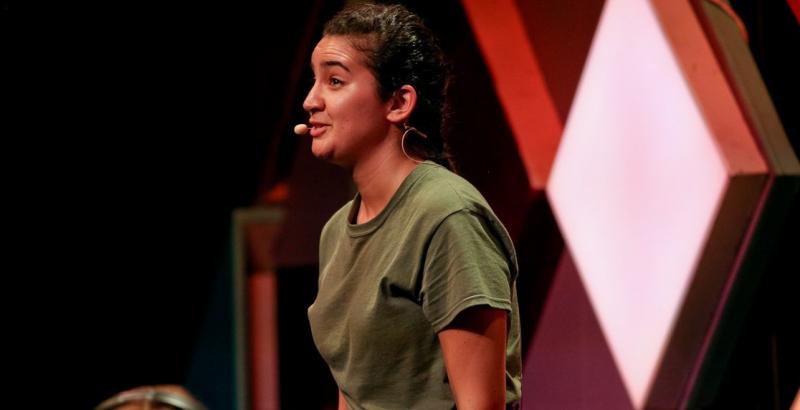 Filipa Bragança is the Angel of Kobane, a sniper reputed to have killed 100 Isis jihadis
Angel by Henry Naylor, Gilded Balloon
★★★★
Rehana tells us what her hometown Kobane, in Syria, is like – "A small border town where nothing happens … like Berwick-on-Tweed" – a typically wry and smart line in Henry Naylor's final instalment of his "Arabian Nightmares" triptych (following The Collector and Echoes).
It's based on the modern legend of Rehana, or "The Angel of Kobane", a Kurdish resistance fighter and sniper who reputedly killed 100 Isis jihadis. She tells her story chronologically and plays all the people mentioned; we begin by seeing her close relationship with her farmer father, who taught her to shoot, as it was a skill she would need when she would one day take over the farm. However, Rehana has other ideas: she wants to be a lawyer, righting the world's wrongs.
But the shooting lessons eventually come to her aid when Isis take over the area and her family is displaced. She joins a female fighting unit, and having overcome her distaste for violence after being a victim of it from men who were until recently their neighbours, she discovers a talent as a sniper. But there's light as well as shade in the monologue, with mentions of her father's Star Trek obsession and her devotion to Beyoncé, as well as a good running gag about Mariah Carey.
Angel is passionate but never preachy, and utterly gripping – much helped by a fantastic solo performance by Filipa Bragança.
Until 29 August

Horse in Careful, Gilded Balloon @ the Museum
★★★★
Horse McDonald, a Scottish singer-songwriter of some distinction best known for her love song "Careful", recounts her story in this biographical show written by Lynn Ferguson and directed by Maggie Kinloch.
Growing up gay in smalltown Lanark in the 1970s, Horse always knew she was different; she hated her given name, Sheena, and always wanted to be a boy. She renamed herself Horse as a youngster because of her passion for ponies, and the name eventually stuck.
There are tough experiences recounted here: a strange man accosting her as a young girl, being referred to a psychiatrist by the family GP, or being shouted at in the street as a teenager because she was walking with a girl. And then, when her beautiful voice seemed to offer escape and salvation, it let her down.
But while not sparing us the necessary detail to tell Horse's story, Ferguson leavens it with some cracking humour and affectionately recalled incidents from Horse's childhood; the "two-tone loon pants" she ordered from a catalogue ("as experimental as it gets growing up in Lanarkshire"), the "mum and dad" chairs in the McDonalds' living room, the school discos.
Horse, making an accomplished debut as a performer, is an engaging teller of her story, an important one to be told.
Until 29 August

Lucy McCormick: Triple Threat, Underbelly Cowgate
★★★★
She comes on to thumping music looking like Lady Gaga, dressed to the nines, aided by her scantily clad (male) Girl Squad dancers. Lucy McCormick is going to re-enact the New Testament, in which the three – a very unholy trinity – will play all parts, with McCormick as Christ, the Virgin Mary and Mary Magdalene. What follows has never, and will never, appear in a Religious Ed class anywhere in the world.
In a mass of sweat, glitter, coffee granules and Nutella, all manner of objects – including a large purple dildo – are employed to tell the story of how Jesus came to end his life on a cross. There are some shockingly blasphemous scenes: the Three Kings arrive at the manger dancing to wonderfully camp disco music, Judas betrays McCormick's Christ with a very passionate kiss, while Doubting Thomas puts his fingers into Christ's stigmata in places that the Bible never recorded he had them. It's daring, but the payoffs are a hoot.
There are neat visual gags too – my favourite is the Massacre of the Innocents being enacted by McCormick greedily and messily gulping down a whole carton of an Innocent smoothie – all done not just in the name of comedy or theatre, but to neatly show how women always come off worse in the retelling of history, and how religions objectify women's bodies.
Outrageous, funny, witty, original, subversive and utterly daft – but not for the religious or the easily offended.
Until 28 August
All manner of objects – including a large purple dildo – are employed to tell the story of how Jesus came to end his life on a cross
Explore topics
Share this article