Beyoncé, O2 |

reviews, news & interviews
Beyoncé, O2
Beyoncé, O2
A high-wattage and thrilling spectacle from Mrs Carter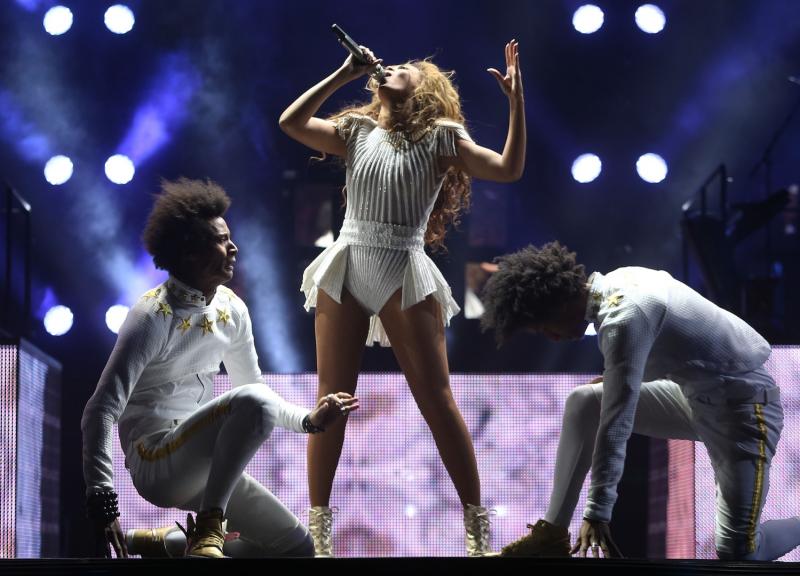 Beyoncé on stage at the O2 with two of her dancers, the only men in the show
Oh my goodness but that Mrs Carter knows how to entertain. Sparkles, glitter, flames, fireworks and costumes galore: The Mrs Carter Show had the lot and so much more. A tight eight-piece band, 10 dancers, three backing singers and extraordinary lighting effects - not to mention Beyoncé's honey voice, her sexy swagger and all-round bootyliciousness - made for a thrilling two hours in a cavernous space that she made feel almost intimate.
Such intimacy, as afforded by the big screens either side of the stage, confirmed that there was no embarrassing Obama inauguration miming here; this was full-on Beyoncé, albeit aided by the judicious use of some pre-record during the more energetic dance routines.
There was a knowing element of delayed gratification as the Texan's entrance was teased out over a few minutes of bombastic chords and blazing lights. Then she suddenly appeared, rising from beneath the stage, to sing "Run the World (Girls)", one of several subtle nods to girl power during the evening. The only males on stage were two of her dancers, and many of the video inserts played during the eight costume changes were about empowering girls or powerful women; she appeared as a Marie Antoinette-like figure in one and an African queen in another.
The opening number was accompanied, like most of the songs, by a dance routine and a high-wattage light show that used to full effect a moveable screen stretching the entire width of the stage. While both added to the spectacle, one occasionally yearned for something visually less distracting so that we could concentrate on that magnificent voice.
We got it when Beyoncé sang "1+1" lying atop a piano dressed in a sparkly purple catsuit. Of the many moments in the show oozing pure sex appeal, this was the most lascivious; "Make love to me," she sang, and - whatever their gender or sexuality - pretty much everyone in the audience was mentally already there.
During the song Beyoncé was clipped on to a zipwire by her dancers and she flew over the audience to the other end of the auditorium, landing on a small runway stage surrounded by fans to sing three banging numbers - "Irreplaceable", "Love on Top" and "Survivor", the only nod to her Destiny's Child days. It was a terrific mini-set within the show.
Back to the main stage (again by zipwire), another costume change and the nicely reworked "Crazy in Love" and "Single Ladies (Put a Ring on It)" followed by the one new song in the show, "Grown Woman", with its terrific Timbaland percussion-heavy production. Up popped a video montage of family home movies, where we saw a brief glimpse of Mr Carter, aka Jay-Z.
If Beyoncé has occasional diva-ish moments - producing the BBC's recent Imagine documentary about her life, reportedly banning unflattering photographs of live performances - then all is forgiven because, despite being super rich and one of the biggest players in the entertainment business, she comes across as warm and immensely likeable. She dedicated two songs to her fans and even posed for pictures with them during a couple of numbers.
"I make me so damn easy to love," Beyoncé sings on "Why Don't You Love Me". Twenty thousand people at the O2 last night couldn't have agreed more.
Beyoncé is at the O2 tonight, and 3-5 May, and then plays Manchester and Dublin
Of the many moments in the show oozing pure sex appeal, this was the most lascivious
rating
Explore topics
Share this article