Prom 55: Hannigan, CBSO, Gražinytė-Tyla |

reviews, news & interviews
Prom 55: Hannigan, CBSO, Gražinytė-Tyla
Prom 55: Hannigan, CBSO, Gražinytė-Tyla
A thrilling Proms debut full of invention and the unexpected
In incoming music director Mirga Gražinytė-Tyla the CBSO have an exciting new asset
If ever there was a Prom to put London's classical crowd in their place, to remind us (as those outside the capital so frequently and justifiably do) that the city isn't the be-all and end-all of concert-going, then this was it. It featured three major debuts – all of them overdue, two of them musical hand-me-downs from Birmingham.
The CBSO's much-anticipated new music director Mirga Gražinytė-Tyla made not only her Proms but also her London debut, bringing with her Hans Abrahamsen's RPS and Grawemeyer Award-winning song-cycle
let me tell you
, a London premiere lagging almost three years behind its first performance in 2013.
Gražinytė-Tyla formally takes up her position at Birmingham next month, as Richard Bratby reported earlier this year, so this concert (and its Birmingham twin, 24 hours earlier) offered a preview of things to come. On the limited but telling basis of the Overture to Mozart's The Magic Flute, Tchaikovsky's Fourth Symphony and the Abrahamsen, the CBSO has done it again. This is a conductor whose physical authority – big, expansive urges to expression set against thrilling vertical precision – is matched by her creative intelligence, her ability to look at a piece and see its architectural peaks and planes crosshatched quite differently to her colleagues.
At once fresh and deeply serious, this was the overture to an opera you'd very much want to see
Take the Mozart. It started slow, very slow. But just as the weight of it became too much to bear, the offbeat violins pulling laboriously against the orchestral current, the music skipped into an Allegro of giddy speed, suddenly unsettled and scrambling for footing – musicians transplanted into a world where the normal rules don't apply, making up the counterpoint as they went with desperate invention. At once fresh and deeply serious, this was the overture to an opera you'd very much want to see – not, I suspect, a cutesy, fairytale production, but one of grown-up fantasy and human failings.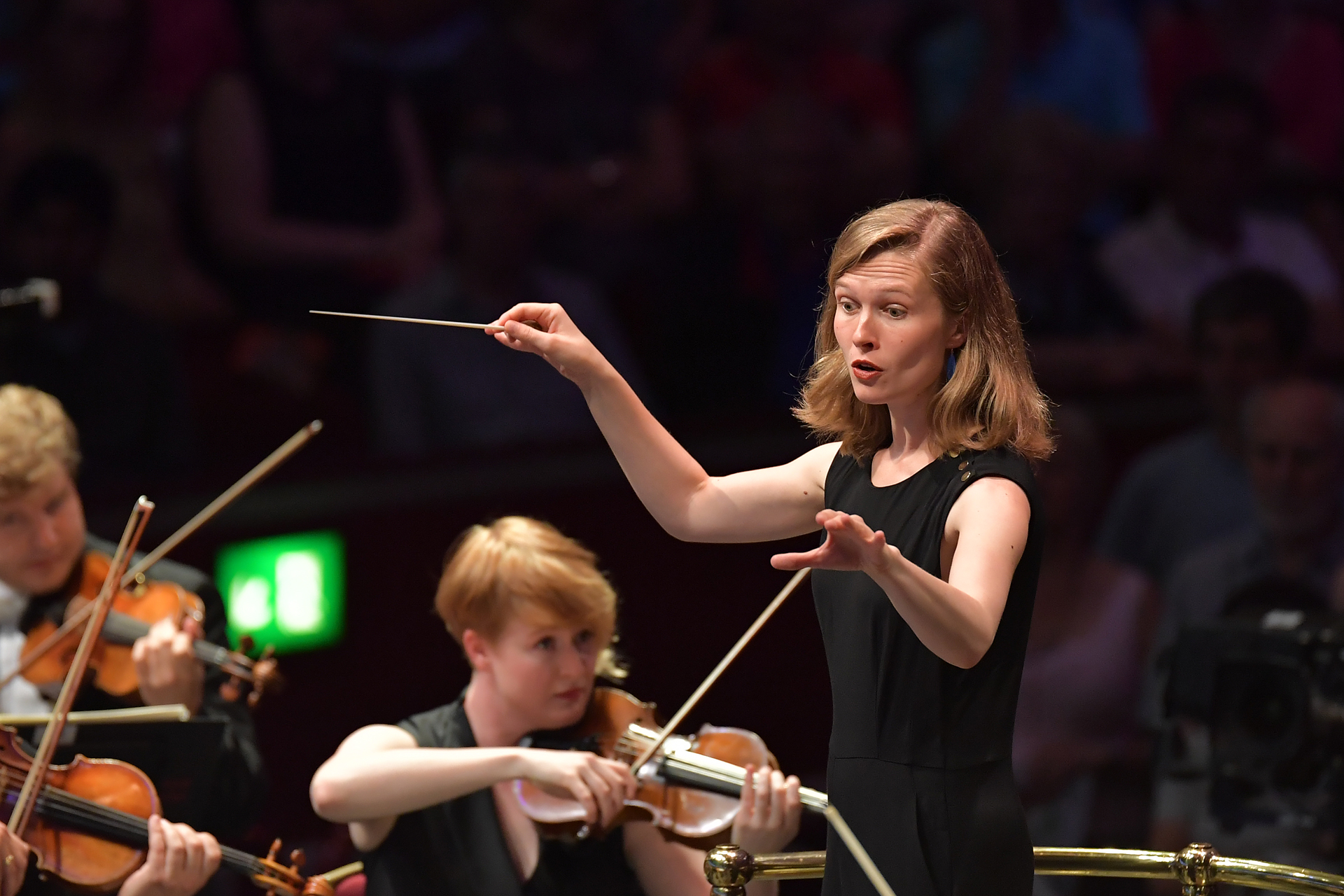 The Tchaikovsky, similarly, had a zest and invention to it that demanded attention even from this most fidgety of Proms audiences. The Fate theme burnt through the hall in cruel fortissimo, musical shock and awe, before the clarinet led us to the ballroom floor for the waltz – a dance whose ghostly strings, wispy and fragile, suggested that the floor might dissolve at any minute leaving us waltzing into the abyss. Atmospheric but always mindful of structural clarity, with a beautifully organic evolving set of tempi, this was the prelude to a big, generous Andantino, the CBSO singing out with Russian heart, a witty pizzicato Scherzo and a Finale that returned us to the fire of the opening. Woodwind soloists shone, while strings found the rhetorical clarity encoded in Tchaikovsky's phrases.
But it was the Abrahamsen that many of us were there to hear – finally, a weighty piece with a real chance of becoming core repertoire, in contrast to the increasingly flimsy handful of disposable openers we've been treated to this season. The term "sound-world" gets bandied about a lot, but that's really what Abrahamsen creates here – a sequence of often interconnected movements that seem to warp time to their will. In a curious sleight of hand, the composer's slow-moving harmonies, often circling around a clear tonic, seem to react when set against shards of musical light from tuned and untuned percussion and high woodwind, lost in woozy clouds of microtones, creating time at once static and swift-moving. If it seems far-fetched to think of these in terms of Henri Bergson's temps and durée – the absolute clock-time of temps and the psychological flexi-time of durée – it's an interpretation grounded in Paul Griffiths's gloriously allusive text (shaped only from the limited words Shakespeare's Ophelia speaks during Hamlet), which meditates persistently on precisely this: "time of now and then tumbled into one another,/ time turned and loosed,/ time bended".
At the centre of this still sonic world is Barbara Hannigan (pictured above with Gražinytė-Tyla), the soprano whose extraordinary range and expressive capacity inspired and helped shape the work. To watch Hannigan is to see Griffiths's Ophelia (a more emancipated, articulate creature than Shakespeare's) come alive. The tone-colours available to her – from the white light of her denatured purity at the top of her register, to the guttural directness of the bottom – are myriad, and deployed with deft musicality and care. Together with Gražinytė-Tyla and the CBSO she wove a musical tale here all the potent because this Scheherazade, we know from the start, is already condemned to death.
London had better get used to feeling jealous, because Gražinytė-Tyla has just given us one more reason to envy Birmingham her wonderful CBSO.
To watch Hannigan is to see Griffiths's Ophelia come alive
rating
Share this article