Doctor Faustus, RSC, Barbican Theatre |

reviews, news & interviews
Doctor Faustus, RSC, Barbican Theatre
Doctor Faustus, RSC, Barbican Theatre
A punky Faustus that swaps psychology for religion
Wednesday, 14 September 2016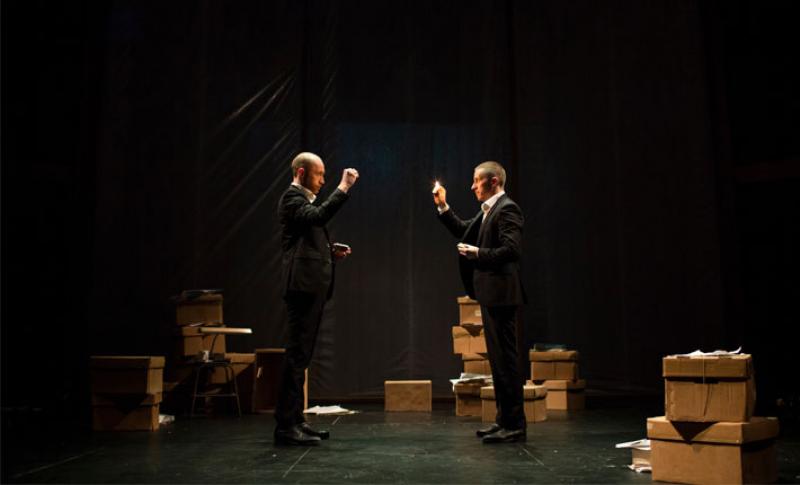 Sandy Grierson and Oliver Ryan play with matches, working out who will play Faustus, who Mephistophilis.
What price a human soul? That's the question Marlowe's Doctor Faustus asks – a question whose answers are rooted in faith and theology. But in a society with little use for faith and still less for theology, how do you reframe the question? Director Maria Aberg offers a deft if not always entirely coherent answer in her breathless, punky take on the play for the RSC.
In this monologue of an age, an era in thrall to the selfie and the narcissistic navel-gazing of the blogosphere, our ambitions and loves are turned inwards, but also our fears. It follows that a contemporary Faustus is fascinated, obsessed, not in the devil but his own inner demons – the desires and urges, instincts and angers that he cannot or will not control. In a neat opening sequence Aberg has actors Sandy Grierson and Oliver Ryan face one another. Identically dressed in Faustus's black academic suit, they each strike a match. Whoever's goes out first "loses" and takes the role of Faustus, while the other becomes his dark alter ego Mephistophilis – two halves separated, only to be reunited in a final twist and stab of an ending.
Aberg takes an enthusiastic blade to the text, cutting it down to the dramatic muscle tissue
What reads on the page as a clamorous ensemble piece becomes to all intents and purposes a two-hander, two figures locked in a game of chance and wit. A company of actors, often faceless or distorted beyond recognition, support them, but are little more than projections of a battle of wills that forms the core of the drama. Aberg takes an enthusiastic blade to the text, cutting it down to the dramatic muscle tissue. Gone are the tedious comic episodes – the business with Robin, the horse-courser and his manure, the various pranks – and we're left only with the pageant of the Seven Deadly Sins – here reimagined as a Tim Burton-style cabaret (if that cabaret were taking place in a Soho sex-shop) complete with song and dance routine – and a brief visit to the court of the Duke of Vanholt.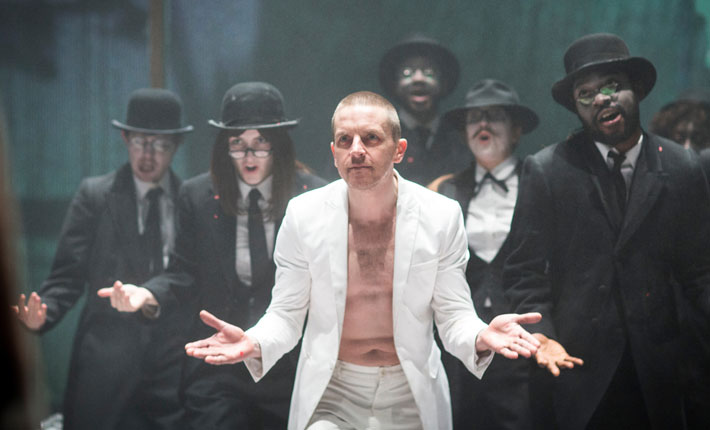 Bodies here are distorted and distended. Great bellies and breasts jut out, limbs are stretched out like a spider's, faces are wiped clean of features by gimp masks – physical horrors for a show that might have one eye on the soul, but by no means forgets the body. Faustus's wounds (self-inflicted, naturally) are bloodily real and inflicted with grotesquely erotic slowness – a striptease in which flesh is the garment removed – and the chorus of scholars/devils vibrate and convulse with constant energy, pacing, twitching and clicking as displacement activities for rather less acceptable urges.
Tightly wound and nervy, Grierson's Faustus (pictured above, so the casting went on press night) is at the brink from the start. Manically painting a pentangle on the floor of his chaotic office, he already shares the devils's unfocused energy, and his encounter with Mephistophilis only seems to channel a very present streak of anarchic energy. Ryan (pictured below) plays it cooler, a soft-spoken tempter whose evil only occasionally seeps through the crisp formality of his suit and delivery.
Winding up with unusual speed to the end, Aberg pauses for one astonishing and deeply disquieting moment of stillness. Mephistophilis, as commanded, summons Helen of Troy for Faustus, but instead of a woman a young girl appears. She and Faustus struggle and embrace, now she pulls away, now surrenders, in a disturbing encounter that's part dance and part seduction. Appropriating the silent doctor's words it's Mephistophilis who speaks the "Is this the face that launched a thousand ships" speech, taunting the seemingly impotent Faustus with talk of kisses and lips. Goaded, Faustus lunges. Is there a rape? It's unclear, but we understand that this is the final threshold breached, the final taboo confronted. No God can save Faustus now.
What price a human soul? Aberg's production counts the cost in meticulous, compelling detail, even if it can't quite reckon the value as high as Marlowe's God-fearing original.