The Fall, Series 3, BBC Two |

reviews, news & interviews
The Fall, Series 3, BBC Two
The Fall, Series 3, BBC Two
Too much sympathy for the devil?
Friday, 30 September 2016
Hard to kill: Jamie Dornan as Paul Spector
The cliffhanger ending of series two – will serial killer Paul Spector survive his gunshot wounds? – has been quietly defused, since Spector (Jamie Dornan) now has series three stretching out ahead of him. What was less expected was that this opener would look like a homage to Sky One's appallingly graphic surgical drama, Critical.
After a quick recap of the shooting incident which left our eminence noire teetering on the brink of oblivion and experiencing near-death visions of tunnels and car crashes, most of the action focused on the trauma team dealing with his injuries.
There was a nifty little role for Richard Coyle as Dr O'Donnell, supervising his medical team with brisk efficiency and black Belfast humour as they probed Spector's wounds by rolling his bloodied body unsentimentally back and forth, stuffed him with tubes, and pumped him with saline, assorted stimulants and twice his own volume in blood. A shot of the deserted theatre, littered with used dressings, pools of blood and random items of clothing, was queasily eloquent.
But I was dubious about the underlying premise of this extended and meticulously staged medical spectacle. This guy is a calculating, sadistic killer responsible for a hideous catalogue of crimes against women, yet his shooting was being covered like John F Kennedy's final tragic moments in Parkland Memorial Hospital in Dallas. Perhaps this notion of the sexy, aerobically-chiselled mass-murderer which has been lurking in the background of The Fall should be taken out and shot once and for all.
Not that writer Allan Cubitt seems to agree, although, perhaps in an effort to ward off this sort of criticism, he'd given Dr O'Donnell a careful speech about "clinical need" being the sole criterion for how a patient was treated, even if he was an evil bastard. Meanwhile the reactions of Gillian Anderson's DSI Stella Gibson (pictured above) to Spector's blood-drenched condition looked very much like those of someone who has suffered a bereavement, the camera gazing in pitiless close-up on her drawn, lined face. Beyond the hospital bounds, we caught up with Katie (Aisling Franciosi, pictured below), Spector's babysitter-turned-superfan. TV news bulletins announcing Spector's fate reduced her to screaming hysterics, and she had to be restrained from rushing out of the house to comfort the stricken Belfast Strangler (even though this would have been a violation of her bail conditions).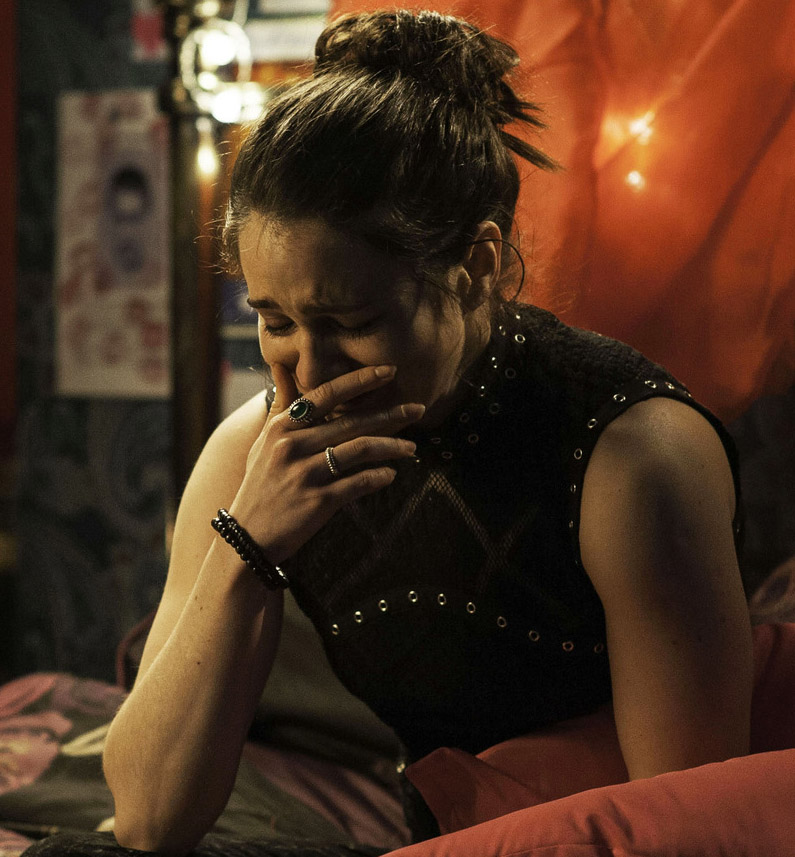 Spector now has a rival male pinup in DS Anderson (Colin Morgan, hot-foot from The Living and the Dead), who brings a kind of Pre-Raphaelite dreaminess to his police work. Although he'd been shot too, though only in the arm, nobody was taking much notice of him, but he did get Gibson's attention by asking her why she'd dashed over to Spector (rather than Anderson) when they'd both been shot. "You sounded anguished," he added. Gibson's defence, that her sole concern was that Spector should live to stand trial, sounded about as plausible as a manifesto pledge from Nick Clegg.
Still, The Fall still hasn't lost its power to freeze the blood. A final scene of Spector lying in his hospital bed while a nurse silently monitored his charts suddenly took on a ghoulish, spectral aspect when his eyes briefly flickered open. The nurse somehow felt this happen behind her, and turned as though somebody had placed a freezing hand on her shoulder. A shiver of eerie music seemed to seep up through the floor. Eek!