Songlines Music Awards, Barbican |

reviews, news & interviews
Songlines Music Awards, Barbican
Songlines Music Awards, Barbican
Mariza and Sam Lee shine at this celebration of world music
Wednesday, 05 October 2016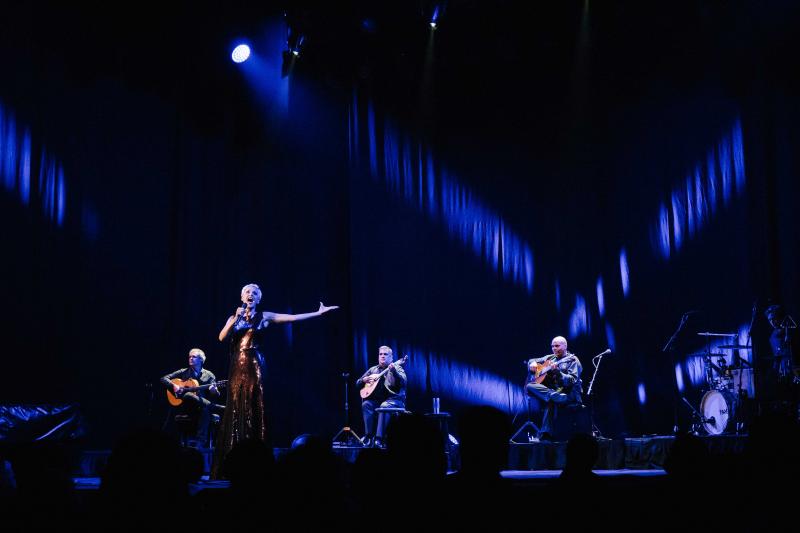 Mariza, Best Artist of the 2016 Songlines Awards
Four headliners, one bill – Sam Lee, Debashish Bhattacharya, Songhoy Blues and Mariza: it was an impressive line-up at the Barbican for a Monday as the world and folk music magazine Songlines hosts its annual awards bash. Now, these are readers' awards, with nary an expert in sight when it comes to choosing the winners.
As such, we are talking the same kind of democracy that Corbynistas go on about, and in the year when the cogs of Hard Brexit (sounds like a porn category) started turning, one wonders how the cultural/political frame around what we call world music will change as England decouples from Europe, and possibly a lot else besides.
The music of Sam Lee and friends has developed by leaps and bounds with the Arthur Jeffes' produced second album, The Fade in Time, and the way Lee collects and reinterprets great songs from the Traveller and Romany folk traditions of the British Isles has made him one of our most visible folk artists. Here, he and his trio of friends began with "Bonny Bunch of Roses", highlighting it as a song of union, not division, between England, Ireland, Scotland and Europe. With his shruti box, and with added throat-singing on the closing "Goodbye My Darling", Lee and co draw brand-new textures over our ancient oral traditions.
When Mariza sings another song, it's like she removes another veil
Best Newcomer Songhoy Blues' last UK gig was at the Roundhouse, an indication as to how well the young Malian rock band has crossed over into the international mainstream. The songs from album Music in Exile and documentary feature, They Will Have To Kill Us First, tackle in first-person terms the Islamist scourge across northern Mali. So at least that's one thing to thank Jihadists for. Here, they played like Sixties power rockers, the load, lock and release of a crack rhythm section fuelling Songhoy's full-on rave-up of twin guitars, and vocalist Aliou Toure working the stage and the audience like a decathlete cross between Jagger and James Brown.
Winner of the Asia & South Pacific award, Indian slide guitarist Debashish Bhattacharya brought music from his Riverboat album, Slide Guitar Ragas from Dusk Till Dawn, to the stage. Having warmed up nicely at the Elgar Room of the Royal Albert Hall the previous evening, he was on relaxed – perhaps overly relaxed – form, beginning with an underwhelming vocal improvisation but shining as a master of his instrument, the Hawaiian slide guitar. The sound he conjures up is a rich hybrid of sitar and guitar, and the dichotomy between the two made for thrilling, weirdly becalming music
Portuguese Fado star Mariza (Best Artist) has been perennially popular with audiences and concert programmes since her first album, way back in the early 2000s. Her latest, the Javier Limon-produced Mundo, includes covers of Tango legend Carlos Gardel among original tunes and classic Fado. Tonight, she looked resplendent in a burnished floor-length gown, commanding the stage and a hall of adoring fans with consummate ease. Her trio of acoustic players and a prominent percussionist provided the spare kind of backing over which her voice sounds like it could command a fleet. Her older Fado pieces are stronger than some of the MOR-ish emoting from Mundo, but even on this lesser material she is dramatic, elegant, artful, revealing. When she sings another song, it's like she removes another veil.