On the road with Bob Dylan: the mother of all rockumentaries |

reviews, news & interviews
On the road with Bob Dylan: the mother of all rockumentaries
On the road with Bob Dylan: the mother of all rockumentaries
DA Pennebaker's 'Dont Look Back' created new myths for musicians
Wednesday, 12 October 2016
'Incredibly rude with journalists, yet tender with teenage girls, almost as if disarmed by their sweet innocence'
Dont Look Back is the Ur-rockumentary, the template for hundreds of hand-held rock tour films, a source of inspiration as well as a model to aspire to.
When director DA Pennebaker went on the road with Bob Dylan as he played a number of English gigs in 1965, he was intending to make a concert film. The backstage, limo and hotel room material was imagined as filler. But something unexpected happened: Dylan and his entourage, not least his constant companion road manager Bob Neuwirth, realised very soon that the performance didn't end as the protest singer stepped out of the spotlight, high on adrenalin, his ego boosted by applause.
Dylan doesn't, on reflection, come out that well
As Neuwirth explains very eloquently in one of the excellent bonuses that comes with this Criterion Blu-ray re-release, the camera crew was after action; the people being filmed sensed their appetite, and happily delivered. He compares – with great acuity – the dance of camera and subjects to collective jazz improvisation, a creative give-and-take, in which a story is created spontaneously and presents a fiction as real life, the "vérité" of this cinema a frame-by-frame piece of acting-up for the ever-present fly-on-the-wall lens and microphone.
A whole generation of film-makers (and musicians) saw Dont Look Back and learned a new film language, as well as absorbing an immensely attractive narrative: a cousin of the road movie, chronicling the secret lives of touring musicians. The tropes – the boredom of dressing- and hotel rooms, encounters with officious security guards and desperate groupies, limousine confidences and reflections – were laid down, and instantly became the leitmotifs of the genre.
When I set out to make So You Wanna Be a Rock'n'roll Star in 1975, following the Kursaal Flyers around the UK in their transit van, I couldn't help re-making the Pennebaker classic – albeit with a bunch of witty Southend guys, who knew from the start how to perform in front of the camera, cracking jokes, flirting with groupies, baring their arses and collapsing, sweat-drenched and exhausted after a particularly fiery encore. The Kursaal Flyers, and their acerbic and witty manager, must have seen Dylan's antics in the American vérité classic, and their moves are modelled on Dylan, Neuwirth, the super-cool yet deadly manager Albert Grossman, and sweet and playful Alan Price. They understood the inescapable dynamic between touring musicians, journalists and fans, as a source of entertainment and revelation – the self-conscious artists speaking in their own codes and acting kind of superior to the more earthly mortals surrounding them.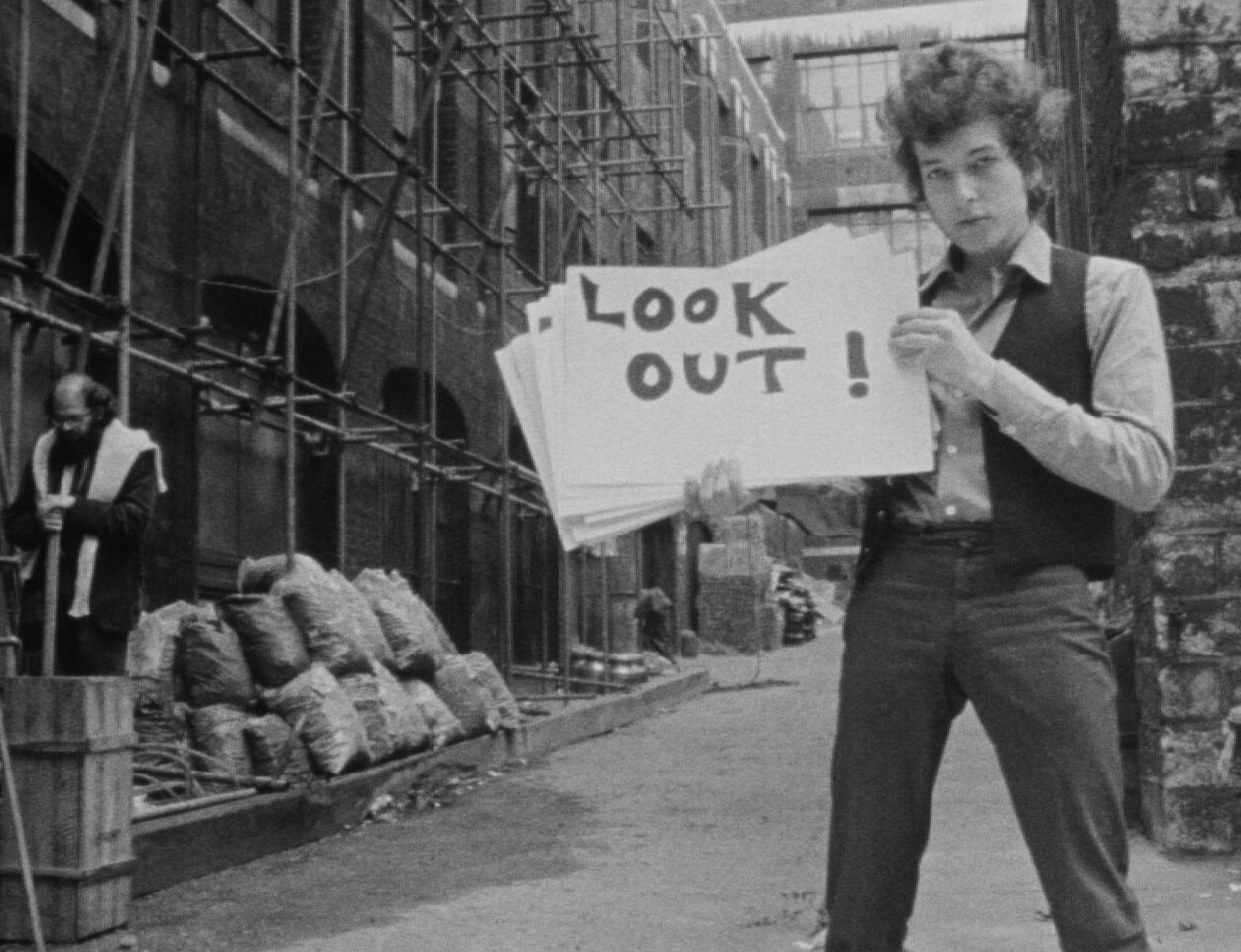 In sequences that have become iconic, Dylan is sometimes incredibly rude with journalists, yet tender with teenage girls, almost as if disarmed by their sweet innocence. His own naivety, the source of much of his visionary poetry, is inextricably connected to the immaturity of his rebel rudeness, a kind of punk attitude that belies teen angst as much as political wisdom. That attitude became a tour-movie trope. When I followed Rod Stewart around in 1976, for Rod the Mod Has Come of Age, he not only delivered cute one-liners to the camera, but made the lives of his PR entourage a living hell, not to speak of air-head Britt Ekland, whom he managed to torture on screen, a few weeks before giving her the push. There is a scene in the film, where Rod walks out on an unfortunate French radio interviewer, after 20 seconds of on-air silence, in which the journalist fumbles helplessly as the rock star enjoys his humiliation. (Dylan in the "cue cards" opening sequence, with Allen Ginsberg in the background, pictured above right.)
There are plenty of such moments in Dont Look Back, and Dylan doesn't, on reflection, come out that well. There is an element of truth in all this pretend "vérité", for even when the protagonists "direct" the show, taking the lead and playing to the gallery, they reveal a great deal about themselves. So much so that, in my case, I retired from film-making for several years, because I wasn't happy with the way we film-makers could exploit the performer's egomaniacal desire to be filmed, whatever the consequences. Our subjects, however arrogant, had no idea how vulnerable they were making themselves, as the film-maker always had the last word, in the cool and sometimes devastating deliberation of the cutting room.
My Kursaal Flyers film was supposed to have inspired Peter Richardson's Comic Strip mini-epic the Bad News Tour, which in turn inspired Rob Reiner to make This Is Spinal Tap. It is probable that all these films, starting with Dont Look Back did more than influence film-makers: musicians on tour modelled themselves on the "vérité" heroes they had watched on screen. Bad behaviour was not just contagious because of news reports about trashed hotel rooms and outrageous groupie goings-on, but because people had watched rock'n'roll road movies and unconsciously picked up the body language, the moves and the narrative codes. Alain Resnais evoked a similar effect in his immensely inventive film My American Uncle (1980), in which the protagonists model themselves on the French film stars of their youth. When I interviewed Black Rebel Motorcycle Group for a French documentary about Glastonbury in 2002, they all hid behind their shades, monuments to hip coolness, and behaved as if they'd learned their lines and beatnik attitude from Bob Dylan and Bob Neuwirth in Dont Look Back: I was the enemy.
This new Blu-ray release, in the tradition of the Criterion Collection standards of excellence, is packed with extras: a deeply illuminating conversation between Pennebaker and Neuwirth, Patti Smith talking about Dylan and the aura he projected in the documentary, interesting out-takes, and many other goodies. Dont Look Back is not just a classic and groundbreaking documentary, but a remarkable document that not only deeply influenced the culture of our times but also describes an extraordinary moment in the making of new myths and narratives.
Below: DA Pennebaker and Bob Neuwirth recall how the "cue cards" sequence in Dont Look Back came about

It is a remarkable document that not only deeply influenced the culture of our times, but also describes an extraordinary moment in the making of new myths and narratives
Explore topics
Share this article