Inferno |

reviews, news & interviews
Inferno
Inferno
In Dan Brown's dumbed-down Florence, Tom Hanks saves the world. But not the movie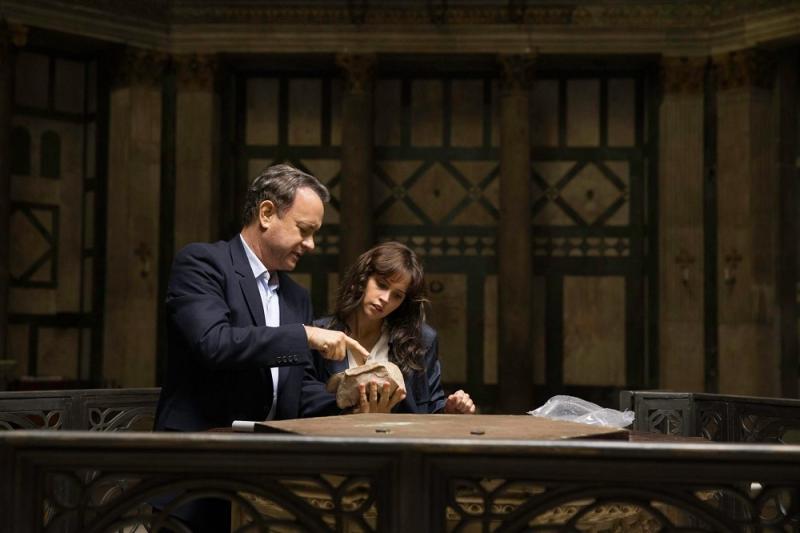 Infernal: Tom Hanks and Felicity Jones and Dante's death mask
Dan Brown is famed for calamitous language massacres that sell by the kerchillion to tone-deaf Renaissance cryptogram junkies. His sentences hurt eyes and his plots numb skulls. But one thing you can say for Brown is he checks facts like an obsessive-compulsive über-nerd. When the books are transplanted to the big screen, he gets less control over this stuff. The result, in Inferno, is unintentionally comical to anyone (which means pretty much everyone) who knows Florence.
The film opens with a bearded redhead being chased by hunks in suits to the top of the campanile of the Badia Fiorentina – as in Dante's church. He evades capture by hurling himself down into the Piazza della Signoria, which is doable in the same way that leaping off the Shard will splat you onto the forecourt of Buckingham Palace.
The jumper is bigshot science guru called Bertrand Zobrist (Ben Foster) who believes that mankind is overpopulating its way to extinction. His solution is to plant a superbug which will infect the half the world and save humanity. But as he's dead he needs an acolyte to do it. This being a plot by Dan Brown, he can't just tell that person exactly what to do but must set them a complex puzzle involving Dante, Botticelli, Vasari, those bronze horses atop St Mark's Venice, old Uncle Tommaso Cobleigh e tutti.
Enter super-symbologist Professor Robert Langdon (Tom Hanks), just emerging from a brief coma in a hospital bed in Florence. This is no common-or-garden hospital: it has a well-appointed view of the Duomo and is staffed by a syringe-wielding symbology groupie Dr Felicity Jones. She introduces herself as Sienna, after the other Tuscan tourist trap down the superstrada. (Brown surely missed a trick not naming her Volterra, or Montepulciana, or Follonica.) Before you can smell a rat sundry people with guns are after them including Sidse Babett Knudsen, formerly Danish statsminister but now heading up a paramilitary wing of the World Health Organisation, while Hanks and Jones ping about Florence solving clues on the run as if trapped in a game of cryptic pinball. (Pictured below: Hanks and Babett Knudsen)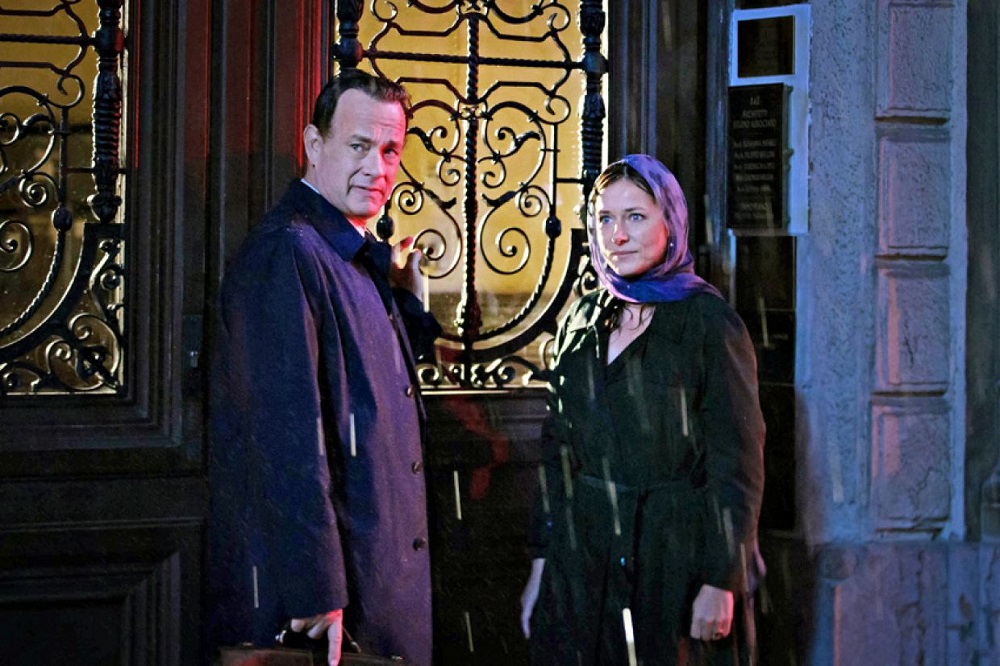 Maybe it's because the Professor has had a knock on the head but he knows his way around Florence no better than the evil genius who jumped into the wrong piazza. The Palazzo Vecchio, he says, is "near the Boboli Gardens". Guess he reads symbols better than maps. Not that Sienna is any better, driving for miles around the ring road before fetching up miraculously downtown again. It's a mild surprise when the Vasari Corridor over the Ponte Vecchio doesn't deliver them, like Mr Benn and a hot young sidekick, through a side door to the Sistine Chapel.
Inferno is not all galloping baloney. There's quite a fun chase in the Palazzo Vecchio, happily accessible from the Uffizi for one blockbuster only. And there's even the odd joke. Langdon introduces Sienna as his niece to a curator. "You're an Italian professor," she replies. "You don't have to say niece." (And so say all sleazy Hollywood casting directors.)
Eventually the action whistlestops to Venice before dashing to Istanbul where other topographical solecisms are doubtless perpetrated. The director on autopilot is Ron Howard, last seen high-fiving the Beatles. Hanks is Hanks. Jones will have to chalk this one up to experience. Babett Knudsen, for all the credit she has in the bank, is a surprisingly flat actress in English. The best thing in it is Irrfan Khan as a suave offshore fixer. On the plus side there's no putting up with Brown's infernal prose.
Overleaf: watch the trailer to Inferno