theartsdesk Q&A: Musician Marc Almond |

reviews, news & interviews
theartsdesk Q&A: Musician Marc Almond
theartsdesk Q&A: Musician Marc Almond
In an epic interview, the veteran singer talks Soft Cell, parrots, rehab, blues rock, and much, much more
Saturday, 05 November 2016
Perhaps a Sunday afternoon session chez Almond
Marc Almond (b 1956) grew up in Southport, on the Lancashire coast. He first achieved fame when Soft Cell, his Leeds Polytechnic art school electronic project with Dave Ball, much to both their surprise, had a huge global hit in 1981 with their electronic cover of an old soul song, the 1965 Gloria Jones B-side, "Tainted Love".
In its wake the band were leading lights of early Eighties synth pop, releasing three albums and a string of successful singles, including "Say Hello Wave Goodbye" and "Torch", before splitting in 1984.
Almond went onto become a cult star throughout the 1980s, initially putting out two albums as Marc and the Mambas, the second of which, 1983's Torment and Toreros, has since been acclaimed something of a lost, if smudged, gem. It was chosen to be performed in full by Antony Hegarty when he curated 2012's Meltdown Festival in London. As the 1980s drew to a close Almond returned to pop success, duetting with Gene Pitney on a chart-topping new version of his 1967 hit "Something's Gotten Hold of My Heart".
Despite flirting with the charts throughout the early Nineties, he'd always been an icon of transgression, living life very much to the full, indulging wherever and whenever, until he finally gave up his prodigious drugs intake after a stint in rehab in 1994. In the new Millennium Soft Cell briefly reunited but Almond's solo career wasn't on hold for long. It was, however, derailed for a while after he had a serious motorbike accident in 2004 which smashed up his head and body and was very nearly the end of him.
Almond tends to balance serious artistic projects – such as his albums based on Russian music, or the Ten Plagues theatrical project, which was written for him by Mark Ravenhill and Conor Mitchell – with music and concerts that focus on his easy way with a torch song and his Eighties pop history. It's all celebrated on a new 10-CD box-set, The Trails of Eyeliner: Anthology 1979-2016.
I meet Marc Almond in Soho House, London, where he ensconces himself in the corner of a large upstairs room in a massive leather armchair and sips herbal tea. He is dressed in black with a scarf, wiry of frame, his dark hair tight to his head. He has a way of laughing that is entirely mischievous, his eyes wrinkling, his gold front teeth jutting forward. He initially gives off a nervous energy but settles and becomes gregarious, easy company, gossipy of tone, and occasionally even of subject matter. To start with, we chat about the way music is consumed in 2016…
THOMAS H GREEN: Do you prefer to own music rather than stream it?
MARC ALMOND: I do. iTunes is fading slowly and now streaming is building up but the artists don't make money off it. Downloading is dying. MP3s squash tracks. They're great for playing on the phone but not anywhere else. You don't get all those lovely bass sounds. A lot of people still like hard copies. People don't play a lot of vinyl but they collect and display it. Every Sunday I try and have a vinyl session. I play two or three vinyl records while I do things round the house.
What were you playing last Sunday?
I was playing A Beard of Stars and My People Were Fair [and Had Sky in Their Hair... But Now They're Content to Wear Stars on Their Brows] by Tyrannosaurus Rex, and also More Johnny Mathis Greatest Hits, some of his really early stuff.
Have you maintained an affection for prog rock, stuff which you must have cast off during punk?
I've always loved prog rock, even secretly as a guilty pleasure during punk rock. I never stopped liking it. All the different genres I've liked I've stayed true to. I still love Sixties pop, I like blues rock from when I started buying records when I was 12 or 13 – Deep Purple, Black Sabbath, Jethro Tull. Then, of course, came David Bowie and Marc Bolan who swept everything away. Then it was punk, post-punk, disco and electro, and I liked all those genres. Even though I might have put my other records aside for a while and immersed myself in new music, I've always gone back to them and they still influence me.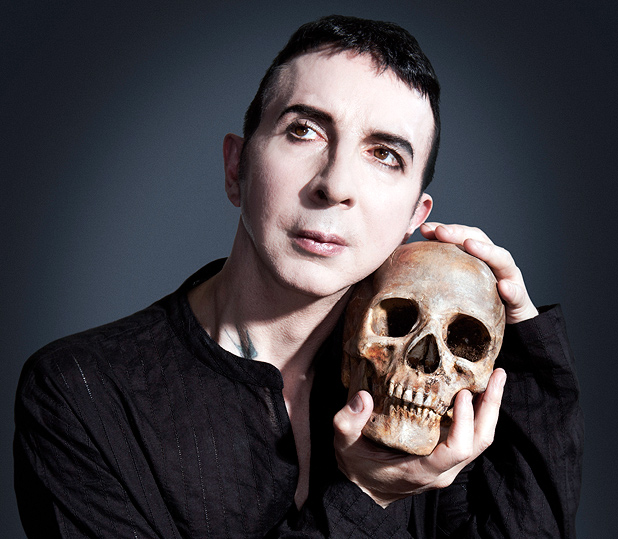 Blues rock doesn't seem very Marc Almond, somehow.
But that's all there was then. I liked things like Black Sabbath, Deep Purple, Led Zeppelin. Your parents didn't like them because they had really long hair. They were quite full-on. Watch some of those Top of the Pops appearances. My parents were mortified and I think that's why I liked it. Loud aggressive guitar music – it's still great. I still play Deep Purple in Rock, Paranoid, Led Zep I and II.
"Paranoid" was one of Soft Cell's earliest covers.
Yes, we did cover that – I always like to nod to my early influences.
You covered Hendrix too [A medley of "Hey Joe", "Purple Haze" and "Voodoo Chile" that came as a bonus 12" single with The Art of Falling Apart album].
We did. It fitted in thematically with Soft Cell at the time. We always had eclectic taste. Our love of Northern and Sixties soul lead to one of our more famous covers! The only music I don't like is modern R&B and rap. And I can't bear reggae. There was a period – the punk period – when I bought heavy dub, Tapper Zukie and The Abyssinians, so I liked it for a little while but I never liked Bob Marley or commercial reggae. With modern R&B, it sounds so plastic and samey.
Listen to Soft Cell's Jimi Hendrix medley
My main problem with a lot of R&B is that the lyrics are often so sleazy.
A lot of rap has terrible rhyming and terrible lyrics – sexist, homophobic, just aggressive generally. It just always passes me by. Having said that, I think Kanye West is kind of amazing, the way he does things musically. He uses interesting samples, Dead Can Dance, gothic things, film soundtracks. I went to see him at the 02 with Jay-Z a couple of years ago. I really did enjoy the trade-off between the two of them on podiums with all this fire. Kanye was the much better performer, in his leather outfit, leather kilt. I really liked that. A friend of mine was working on his fashion label at the time. Kanye West actually bought me my toilet. This friend of mine lent me money which came from Kanye to do up my bathroom. Kanye West also came to see me when I was in an opera in Paris based on [Monteverdi's] The Coronation of Poppea [at the Théâtre du Châtelet in 2012].
When you were playing Seneca.
Yes, with Carl Barat and various people. Kanye came along dressed in a white suit. He was in the fifth row and I could see him watching me. He left after the first half because he had to catch a plane, but I was only in the first half anyway so it didn't matter.
Do you still spend a lot of time in Russia?
I spent a lot of time living in Russia around 2000-2001. It was easier to get an apartment than a hotel – 15 bucks a month! – so I rented an apartment there for three years, really lovely, a government apartment, what we'd call a council house, wooden floors, dark wood, in a little bit of a grim-looking building. I was offered the chance to buy it for $50,000 but, at that time, I'd just had my motorbike crash so it didn't really register on my radar. Now it's worth about two million dollars. The whole thing was very dodgy anyway.
Watch the video for "Friendship", a song from Almond's second "Russian album", 2009's Orpheus in Exile
In your autobiography, Tainted Life you describe your first visit to Russia in 1992 in great detail. It comes over as a catalogue of negligible, awful food, terrible accommodation, terrifying transport, and worse. It's amazing you ever went back at all.
I do love Russia but it was a horrible visit, that first one. I was dying to kiss the ground when I got back. We went to Russia, the Baltic States, Siberia, just past perestroika. There's still poverty everywhere there. Moscow and St Petersburg are having a party and the rest of Russia is paying for it.
On that first visit, one of your party was ill, actually dying although you didn't know it…
And someone else was pregnant. Running around with this creaky entourage having to turn up for planes at 3.00 in the morning with people getting on at gunpoint, fighting over seats, sitting in the aisles. It was also an amazing experience and I fell in love with Russia. Still a lot of my best friends are there. I'll be there in two or three weeks' time and there for New Year's Eve. I'm there a lot.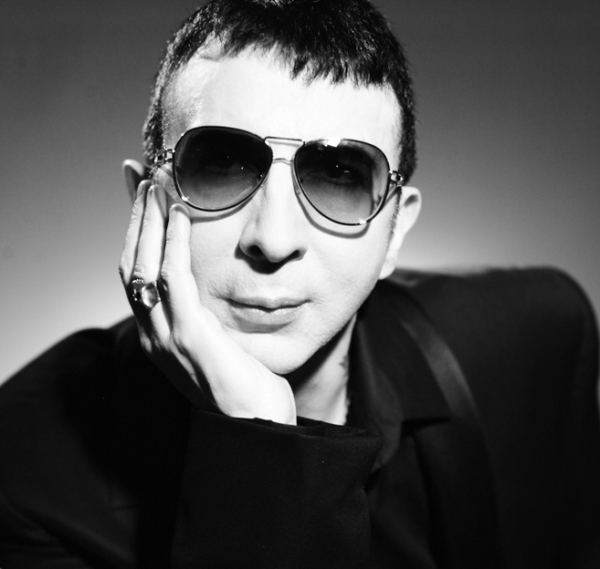 The Russian adventure is told directly from your diaries. Given what a decadent life you've lead, it's amazing you got round to keeping a diary.
I wrote [Tainted Life] at a time when my memory was a lot better. I've had memory problems since the accident. I still have a great long-term memory but if you ask me what film I saw yesterday, I don't know. I can barely remember what the last record I listened to was.
Well, you told me that just now.
So I did.
Tainted Life was published in 1999. That's a long time ago now. Then you wrote In Search of the Pleasure Palace which was a sort of debauched travelogue.
I wrote them one after the other. I plan to give my biog a rinse and incorporate both books. I like writing by hand but I have problems with writing now so I'll probably have to spend weeks on a computers with Spellcheck because I'm dyslexic as well. I might have to get some help this time. The other one was all me. I had someone to tidy up the grammar, but wrote the whole lot by hand.
Along with Mötley Crüe's The Dirt, Tainted Life is one of the richest autobiographies for prurient anecdotes and hedonistic madness. You didn't hold back.
I couldn't bear to read it since. When I wrote it I was still in a state of anger about some things and there's a danger with autobiographies of settling old scores. I fell into that trap, I think, and I shouldn't have. This person left my band so I'm going to write something really bad about them. With the passage of time I don't feel like that. They may not be my friend but I see them from a better perspective. Having said that, I do take a lot of blame on myself in the book. I was a very difficult person then. I'm an easier, mellower person now. I don't have the anger I had maybe even 15 years ago. The accident had a lot to do with that. And generally getting older. For the first 40 years of life you learn lessons and, if you're lucky enough to live until you're older, that's when you apply them.
Watch the video for "Torch" by Soft Cell (featuring an appearance at the end by Cindy Ecstasy)
You have said in the past that if Soft Cell (pictured below) had stayed together, they could have been a much, much bigger band.
We burnt out quite quickly. We formed in 1979 when I was in my last year at art college. By the time we recorded our first album, at the beginning of the Eighties, the drugs came into it. We recorded it in New York, which was going through a very dark, Wild West time, big club life, big downtown art scene which I got into, fast living came into it, the pressure of doing more "Tainted Love"s. It all helped us implode quite quickly so we were over by '83, dragging it out into '84. We should have taken a break, I could have done Marc and the Mambas, Dave should have taken a break from the road because he didn't like it, come back in year or two. We should have done that. Depeche Mode stepped into our footsteps as a dark, gothic electro-rock band. We should have thought about it. We'd probably be playing stadiums. Who knows what would have happened? Anyway [what did happen] catapulted me on to interesting adventures, but you do think about it sometimes.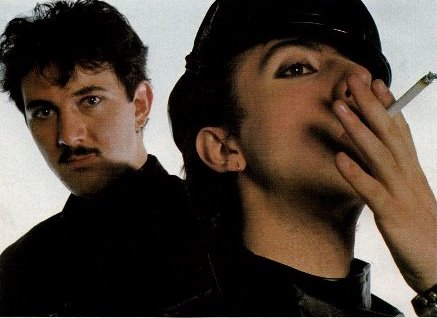 In any case, you did reform in 2001 for a couple of years.
But it was too late by then. Not late in the way that Dave and I still had a chemistry writing together. What was late was it felt like starting all over again. And the demons came back with it, people hanging on the peripheries like our ex-manager [Some Bizzare Records owner Stevo]. Suddenly you realised why you stopped in the first place, then suddenly it's not fun anymore or creative. I think Cruelty Without Beauty is still a great modern Soft Cell record. There were some filler tracks on it that should have been extras on other things; some tracks on The Best of Soft Cell should have been on the album; the wrong track was chosen as the first single. I suddenly felt powerless whereas I'd had power during my own career. I felt a third person while our our ex-manager was listened to more than I was. Dave was managed by him so back came all the demons, and in the end it finished in animosity, which it never did the first time round.
I'm sorry to hear that.
I'd love to do a box-set of Soft Cell.
Your new boxset has Soft Cell stuff on.
Well, I was a lot more stingy with Soft Cell stuff than I think Universal would have liked me to have been. I thought I'd like to hold back a lot of good 12" mixes and have a Soft Cell boxset all on its own. I think it deserves that. I'm hoping to come back to that.
Isn't there lots of pre-fame Soft Cell material?
Stevo, our ex-manager, released that with Dave on an independent label at some point, without even asking me, actually. These songs were written by Dave, the lyrics and music. They were Dave's art project, like little TV adverts, very catchy tunes with songs about Tupperware and supermarkets and consumerism and having suburban breakdowns. I just came in as a vocalist where Dave would put my voice through mechanical things. Then we developed into a true songwriting partnership. I wrote more lyrics until one day Dave said, "I don't want to write the lyrics anyway, you write them, you be the singer." So there were a lot of earlier bedroom songs and bootleg stuff, a DVD of one of our first-ever performances. I've got the recording of our first-ever performance in the art college common room, it'd be nice to present some of that stuff.
A lot of fans would like that, songs such as "Metro MRX".
"Metro MRX", all that kind of stuff, I loved all those little songs Dave wrote. It was a great coming together. Dave was writing that stuff, I was doing experimental theatre performance and I was doing my own music for that, like Throbbing Gristle with tape loops of guitars and various things. The art college setting gave us freedom to do what we wanted to do. It was very fortunate. I'm a crap painter and a crap sculptor, but I can maybe get some of my ideas across in song and performance.
Listen to Soft Cell "Metro MRX"
You first took Ecstasy in a New York apartment overlooking the Brooklyn Bridge in the Autumn of 1981, and spent the night listening to The Cure's album, Faith. When you hear that album now, does it make you tingle?
It does, actually. It makes me tingle. It's drug recall. They tell you in drug rehab that's very bad. You're not allowed to play records that bring out those feelings. I love that album. "All Cats Are Grey", very muted and strange. It was at the apartment of Cindy Ecstasy who rapped on some of our songs. We liked to get our drug-dealer on our records. In rehab they say we're not allowed to bring up drug recollections, even talking about it. Having said that, I'm actually going to go and download that album now and listen to it.
Do you not adhere to all the principles your came across in drug rehab?
They were useful for a while. I'd go to NA meetings but I found I could never get a word in edgeways. There's always other people there, well-known people who shall remain absolutely nameless, talking, talking, talking… "I got up this morning, blah blah, blah, went downstairs, blah blah blah, had some breakfast, blah blah blah…" Half an hour later they still haven't taken any drugs. After an hour they'd say, "So I decided not to use today." And I'd be thinking, "Well, get off then – what are you talking about?" I wasn't very welcome at those things. I've made things work for me. I haven't drunk since the Nineties, I haven't had a drug since Millennium New Year's Eve when I had a party binge at my house. At the time my main problem was prescription sleeping tablets, downers, that's what drove me to rehab. I spent two weeks [in rehab] with the trees coming alive, sitting by the fire night after night, the curtains coming alive. Benzodiazepine drugs are as bad as heroin, the withdrawal is particularly nightmarish, and even now I get occasional jolts.
Do you like the film Withnail and I?
I only saw it in recent years and I thought it was amazing. I loved it. I don't know why I hadn't seen it. It's one of those films everyone's seen so I felt, well, I'll get round to seeing it. I felt I'd seen it because everyone else has. They quote every line. I don't know why no-one's done it on stage. It would be fantastic on stage, especially as the two main actors are alive and even still looking quite good.
I mentioned it because it has a kind of fin de siècle dissolution that seems up your street.
There were times in my life that were like that. It was uncomfortable to recognise some of those things.
Talking of films, in the couple of weeks since I found we were doing this interview I watched the box-set of the TV series Fortitude and the film Sightseers. Both have "Tainted Love" in, quite centrally.
I watched Fortitude and I wondered, "How much will I get paid for this? Amazing!"
Do you have a favourite use of "Tainted Love" onscreen?
My happiest moment was when I saw Steve Coogan in the Paul Raymond film [The Look of Love]. There's a whole section with almost the whole of the song, going through streets of Soho, looking at the red lights, recreating Soho in a montage. It would have been an amazing video clip for that song. That's my favourite use of it in film – I like Steve Coogan, I like Paul Raymond, and I love Soho.
Yes, Soho must have such resonances for you.
It was a dream place. Before I came to London, Soho is what I thought it was all like. I love it in those black and white films – The Small World of Sammy Lee, or Expresso Bongo, or The World Ten Times Over, about two prostitutes, or Peeping Tom. They all have Soho scenes and it seems such an alluring place, ladies of the night on the corners, jukeboxes in cafés, sleazy characters with cigarettes who'll sell you a record deal or say, "Come to my nightclub," which has Christopher Lee at the door, like in Beat Girl, dodgy deals always going on. When I was young I saw a documentary on TV called Johnny Go Home about rent-boys in Soho, showing this is what could happen to you, you'll probably get murdered and end up in a rubbish dump. I just thought it looked amazing, hanging around stations in London. Somehow it became a great romantic mythical place.
Watch the video for the 1990 single "Waifs and Strays".
And you fulfilled your dream of living there.
I had a friend in London, a ballet dancer called Fred. He told me, "I live in Archer Street in Soho above a casino and it really is like what you think – there's all sorts going on." So with the first money from "Tainted Love" I bought a flat for 50 grand in Brewer Street overlooking the Raymond Revue Bar. I couldn't believe it. You couldn't sleep because it was so noisy, the police Black Maria loading in everyone from the Coffee Pot Café over the road, screaming and carrying on, a transvestite with an Alsatian and everything, the Raymond Revue Bar flashing in the window all night long. 1-3 Brewer Street, it was like being in a film. I had it for a long time but when I had some money problems I sold it, another of my biggest regrets. I wish I had it now, it's worth about £3 million. Another great property deal! [Roars with laughter]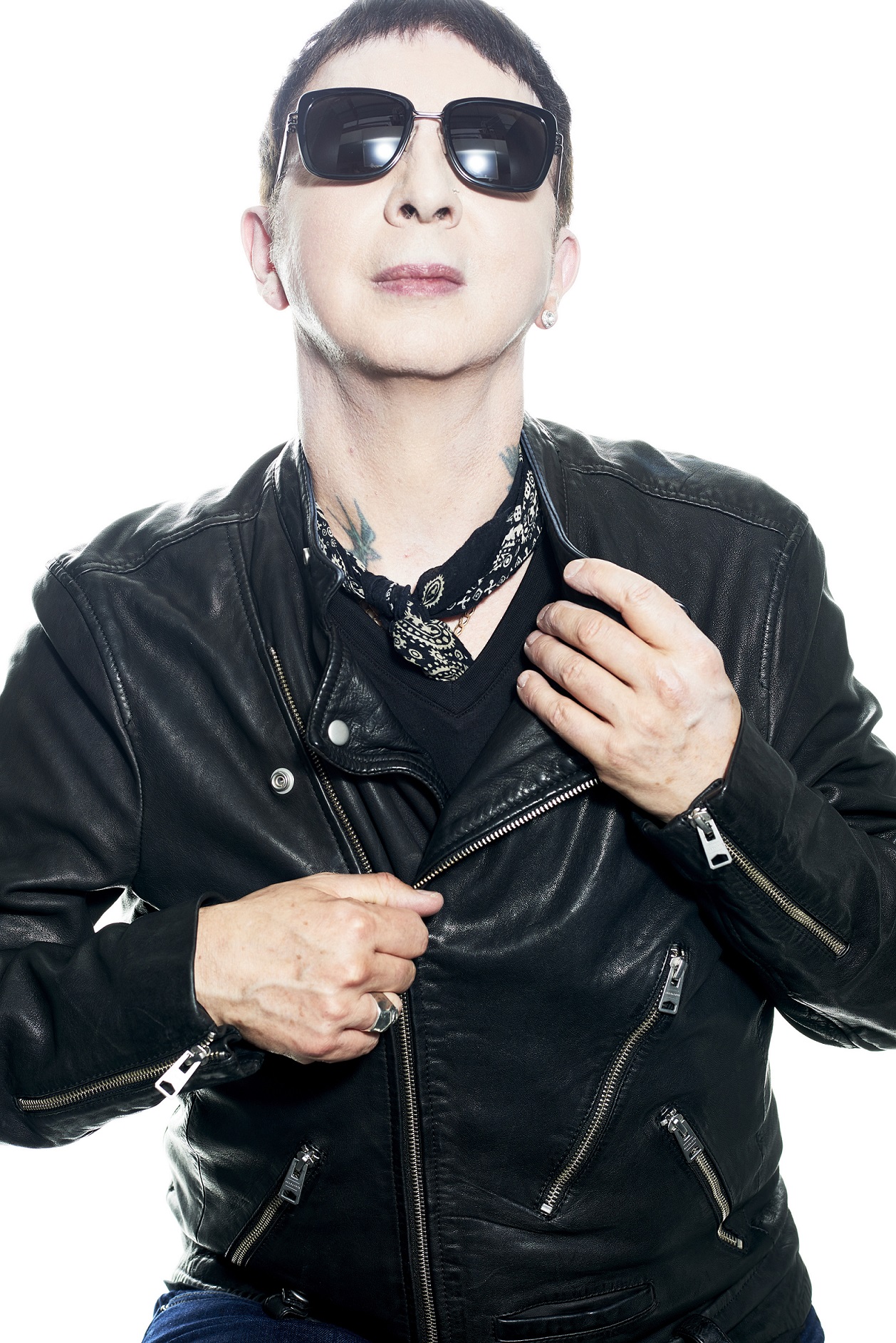 When I was younger I used to gorge on abstract avant-garde films, but I seem less compelled to watch them now. Are you still as engaged with that kind of film-making as you used to be?
When I was at art college I studied film and belonged to the film club. I saw all the great art films – Bergman, Visconti, Warhol, my first John Waters, I'd never seen anything like that, Kenneth Anger, lots of others. My tutor was Jeff Nuttall, a performance artist of renown who wrote the book Bomb Culture, and we got to see every experimental film at the cinemas around the uni – double-bills, triple-bills, all-nighters – The Damned by Visconti, The Seventh Seal, Hans-Jürgen Syberberg's Ludwig: Requiem for a Virgin King and Hitler: A Film from Germany. They all inspired me. Now I have all those films on DVD, and I collect films set in London from the Fifties, Sixties and Seventies, but I find that as long as I have them, I don't need to watch them. I settle down with boxsets actually. I kind of want entertainment. I try to watch every major TV series I hear about. If I go to the cinema I like to watch some trashy blockbuster although I'm tired of the Marvel films. If I want those other films, the art films and so on, they're in my head and they helped shape the person I am. I don't feel I need to look at them all on a Sunday.
Your life seems a fine balance of arty projects and Back-to-the-Eighties tours and shows.
I do it because I can. I wear different hats for different things. Soft Cell was originally a continuation of an art project. We became pop stars which we never expected to happen. It was a shock to me but I liked it. Someone said to me once, "Would you prefer commercial success or to be an underground icon in experimental theatre?" I'd much rather have commercial success because it opens doors and enables me to do what I want. It gives me a better platform to be subversive, as opposed to some underground thing in a little theatre preaching to the converted. Give me pop stardom anytime!
Do you enjoy those Eighties tours?
I did my last one this year. I haven't done a lot… every other year. I'm lucky I have a greatest hits worth of hits. They can be my bread and butter and finance other things I want to do. For many years I financed my own records and that's enabled me to have production values and work with good producers. I don't want to be a cottage industry, I'd rather give up. I just signed to a major label for two albums, a rather big deal with BMG, my first time with a major since the mid-Nineties, a new phase, good for the Indian Summer of my career.
That's great news.
I had a lot of fun doing the Eighties things. They made me realise that when you strip everything else away, any pretentions of being an artist, you're an entertainer, you have bunch of hits that mean a lot to people, to their teenage years, just as Bowie and Bolan hit my life at 13-14. I'm just a singer and an entertainer. I couldn't be subversive to save my life any more. Even though I like to think a little bit of me is anti-establishment, they like me for being a bit anti-establishment, so therefore I'm part of the establishment. Like Germaine Greer. I'm just a jazz hands entertainer when it all comes down to it.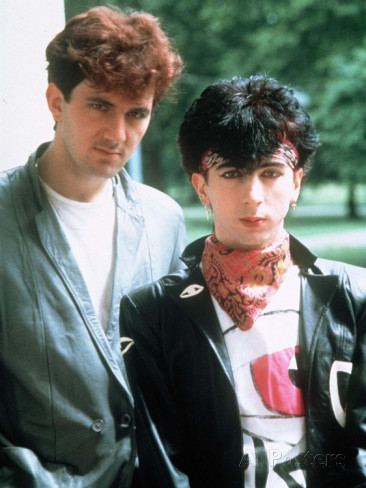 You're a bit more than that. It's funny, though, isn't it, that in the Eighties some of us would love Soft Cell or the Human League, but intensely disapprove of the likes of Howard Jones and Go West. They were such different things then, yet now they're all lumped together on these retro tours and festivals.
The trouble is you meet them and they're lovely people, all just trying to get on in the world of the music business. In the days of the early Eighties, with Smash Hits and [BBC Radio One] Roundtable, we'd be saying how crap everyone else was. Us against Duran Duran, or Spandau Ballet sitting at breakfast sharing the same hotel as us, everyone being off with each other. Now we meet and it's just great, people with a bunch of hits going out and selling them. Strip away your pretensions, that's what you are. You're not going to change the world, you're not going to be remembered forever and ever. When I'm dead I couldn't care less what happens to my music. It'd be nice if someone likes it but I'm dead. Give me the awards while I'm still alive – don't give me posthumous awards.
What's your earliest memory?
It was with my grandfather. My father was in the army, and he was a travelling salesman for a while. The story with my father is a very dark one and I don't want to go there. But lot of time I was with my grandparents. My grandfather was a big Norwegian guy. My grandmother we thought of as like the Queen because she had the same hairstyle. She spoke very posh and had good manners. They had a beautiful house. I had asthma as a child and my grandfather used to walk me along the beach singing "Hold My Hand, I'm a Stranger in Paradise" from Kismet, to take the sea air. That's why I've always loved that song. Bing Crosby sang it, loads of other people did too. It's probably my favourite song of all time because my grandfather sang it to me when I was a sick child on a beach. That's my earliest, fondest memory. My grandmother lived to 96. My grandfather sadly suffered from dementia at the end of his life. There was a dark side to my childhood. My teenage years were very traumatic with the break-up of my parents' marriage and my father's alcoholism, but I have happy memories of my grandparents, especially Christmases with them. I prefer to fixate on those.
You have often made it clear you find interviews gruelling.
I'm not fond of interviews but, having said that, this time round I've really rather enjoyed them. It's good to be [promoting] a retrospective boxset, taking stock, signing off before the next phase. Sometimes I do interviews about albums and by the time I get to do them I can't even bloody remember why I did the album. Sometimes I think, "I just talked gobbledygook for an hour." I'm very slippery at times.
The boxset allowed me to discover songs I didn't know, like "Tale of a Tart (Hell)", that's a good one.
I do loads of demos of songs that never make it onto records. They're often better than the songs that do make it. I have stacks of half-finished songs. They're the songs I enjoy the most, actually. It's been interesting doing the box set, sat in front of the computer for four months. There's some of what the fans like, some of what I like, some that the fans would like but I don't necessarily like. I was working with Mark Wood at Universal who's known my music for years. He's a fan and sometimes said, "You've got to have that on," so "Sex Dwarf" goes on. I do have an affection for that song now. Someone wrote this article for Vice and I thought, "Oh, that's what the song is about!" and I really like it now.
Watch the video for "Entertain Me"
From Non-Stop Erotic Cabaret, the one I used to cane, indeed, I still cane from time to time, is "Entertain Me".
Yeah, I went back to Non-Stop Erotic Cabaret recently because I hadn't been back to it for ages. I really think it's great. Critically it was pretty much mauled at the time. A lot of my career has been "Very good – three stars – dismiss". I might call my next autobiography that. People have really looked at [Non-Stop Erotic Cabaret] in retrospect and called it a classic record of the time, a little pushed aside, three massive hits, "Tainted Love", "Bedsitter" and "Say Hello Wave Goodbye". "Say Hello Wave Goodbye" is actually a more popular song for me than "Tainted Love", more of a fan anthem. It's my classic song moment.
"Standing in the door of the Pink Flamingo crying in the rain…"
At my last Eighties Rewind shows, at the end of "Say Hello Wave Goodbye", everyone brought out inflatable pink flamingos, 40,000 people, a gigantic sea of them waving. That was a nice way to bow out of doing those shows. Not that I'll stop doing those songs but people can see me in a much more controlled environment. At Eighties Rewind everyone plays just six hits, although you don't have to sing them because the crowd sings them for you, so you're just there really. I did my last ones this year because I'm not due to do another for two years, when I'm 61. I caught sight of myself on the giant HD screen, all sweaty and out-of-breath, and I thought, "Maybe I shouldn't do this anymore."
How have you got to know Antony Hegarty?
I was introduced to him quite a few years ago in New York. When I was first introduced to him I didn't even realise it was Antony Hegarty, just this shy young man. David Tibet from Current 93 put out Antony's first album on his label. I loved the album but didn't equate it with the person I'd just met. I was actually a bit off-hand with him at first. He sat down in my seat and I said, "Would you mind moving out of my seat, please." Who is this fan who's hanging around? I didn't know who he was until someone told me. Oh my god, I've been really rude to someone whose album I love. We got on really well in the end. He told me the reason he got into music was Torment and Toreros. When he did Meltdown he asked me to recreate the album onstage (pictured below left).
This was very, very difficult to do as it was something we created organically in the studio, loads of drugs, a strange time of my life, a dark time. I got lots of musicians involved and a string section. It was one of best concerts I've ever done. I said at the time I didn't want it recorded, didn't want any memory, not one camera. I wanted it to be just for people who were there. One thing I like about Kate Bush when she did her concerts, she asked people not to film and they didn't. Of course Antony is Anohni, she's a she now. That's always been on the cards and over the past two years she's finally made a full transition. I haven't seen her since but she's a great person. We have like to meet up and exchange New York gossip.
Listen to the song "Nijinsky Heart" from the album Varieté
After your 2010 album Varieté you said you felt your songwriting muse ebbing away.
I think it was my first album in a while of all self-written songs, and I felt really drained. I couldn't see myself doing another album of originals and felt relieved and happy about it. I could be a curator of songs. Lots of other people have written better songs than I have. I could record them alongside maybe one or two of my own. Then came a chance to work with Tony Visconti. I'd known Tony for a few years because we worked on Marc Bolan tribute shows together. We'd said years ago, "Let's do something together," and eventually we did [they worked together on tracks for Almond's 2014 album The Dancing Marquis]. We had a great time and, of course, he's such a tease, saying this is just the way I did it with Marc Bolan, that's just the way I did it with David Bowie. I enjoyed our five days working together. At the same time Chris Braide, a producer in LA, sent me a bunch of tunes and said, "You wouldn't consider writing something for these, would you?" He tapped into all the chords I like, tapped into the Dave Ball thing, the electronics that go well with my voice [resulting in last year's The Velvet Trail]. So suddenly I found myself writing again and since then it's been non-stop. There's a whole new album with Chris. I've probably been writing the same song for years, hoping to get it better. Nick Cave says something like that too. I mainly see the faults in things I do which spurs me on to do something better.
You do so many songs, how do you recall all the lyrics when you're singing them?
I find it difficult. I recently discovered prompters. After the accident I did rely on prompters a bit, then it went OK, but I have so many different projects, a whole bunch of new songs for a show in November with the composer John Harle in Canterbury. John wants me to learn eight songs, then I've got to remember the whole of Mother Fist [and her Five Daughters] and a set of Jacques Brel songs for my own show, and another lot for someone else. It was giving me a headache so I'm tending to go for a prompter down low at the front. If it's there I don't need it but if it's not I start to need it. The songs I forget the most are songs I've done for ages and ages. I'm so busy concentrating on remembering the new ones that I forget the order of the verses in "Say Hello Wave Goodbye".
In your autobiography you speak of a lost childhood toy, a plastic-faced monkey called Jacko, and write that you always keep an eye out for a similar toy. Have you found it?
Ah, my childhood Rosebud. I loved that monkey. My mum gave it away to younger cousins and as I get older I miss that monkey. I found a semi-one once, but it had seen better times, it wasn't Jacko. It wasn't the same. Jacko's never returned.
But you named your parrot after him.
Yes, I have a pet parrot, a pet jackdaw, and a pet Senegal parrot.
Do they all talk at you?
The parrots talk. The jackdaw was rescued from magpies who ate all the other eggs in the nest. A friend who runs a falconry up in Yorkshire rescued it and I always wanted a pet crow. It eats anything, like a little dog that runs around the house. He thinks he's a human or maybe he thinks he's a parrot because he spends a lot of time with them in the house. He's an amazingly intelligent bird. He'll sit and watch television. He'll see birds and animals on TV and run after them. He looks behind the television for them. Unfortunately they only live for about five years.
Whereas parrots live to 100.
Sadly! Jacko, the African grey, is about 35. He's particularly awkward, a little bit of me comes down every day thinking, "Will he have dropped off the perch and gone to the parrot heaven in the sky?", but, no, he's determined to hang in there to the last bitter moments. He sang "Tainted Love" at one time. He comes out with every word you don't want him to learn, and he has a repertoire of annoying noises. He's never been quite the same since the little Senegal came to the house. He usually sees other birds off. We've had canaries and all sorts but he whispers in their ear at night, "Die, die, die, die," until they fall of the perch.
Aside from parriots, it's been a bad year for mortality among your formative influences – Alan Vega [of Suicide] and David Bowie…
Alan and I fell out for a little while in the early days. We [Soft Cell] always said we were very influenced by Suicide but Alan said something like, "Those guys ripped us off really badly, blah, blah, blah." He lived in the Gramercy Hotel in New York and I asked him, "Alan, why did you say those things?" It was fine in the end but he seemed to think afterwards I wasn't friends with him. I loved Alan, a fantastic person. When these people drop off the conveyor belt you feel like a little part of yourself has gone as well. I was devastated when Bowie went, like a member of my own family, probably more than a member of my own family. I was actually in tears. He was more than a musician. He taught me more than my teachers did at school. He was one of those artists that has you feeling, when they go, like a part of you has died as well.
Death has constantly cropped up in your work – has your perspective on it changed?
Ian McKellen said every third thought is death when you get older. I'm not quite as old as he is so probably it's every fifth thought. It's fascinating. Someone said to me you just fall asleep and that's it. I replied, "Unless you die screaming in agony in twisted metal in a burning car." Otherwise, one day you go to sleep and don't wake up. All those things you did, all the things you sweated and struggled over, it all means nothing in the end. Life's got to be about having a great adventure, meeting great people, trying to entertain, stir a few emotions, get people out of their seats, make them dance, perhaps even make them think.
Watch Soft Cell perform "Tainted Love" on Top of the Pops
Life's got to be about having a great adventure, meeting great people, trying to entertain, stir a few emotions
Explore topics
Share this article