Titanfall 2 |

reviews, news & interviews
Titanfall 2
Titanfall 2
Robot Wars goes up a notch
Thursday, 10 November 2016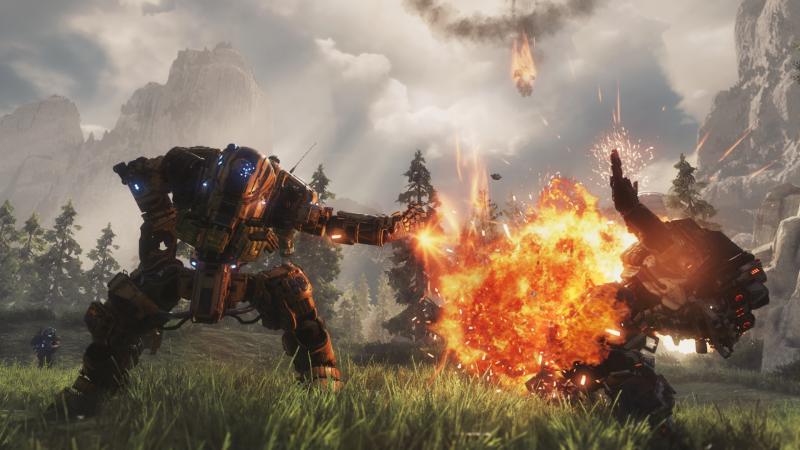 'Titanfall 2': War machines in overdrive
Just as there are only seven different stories for fiction in the world, there are a paltry number of videogame genres. Every year games developers have to not so much reinvent the wheel, but polish the hubcaps or add a few new spokes to try and deliver something fresh to an ever-demanding audience.
Arguably the largest gaming genre, first-person shooters or run-and-gun games, has the toughest ask. How can you constantly reimagine an experience that is essentially point and click? Enter the graceful giant that is Titanfall 2, the sequel to the 2014 Xbox One "killer app" that bolstered the sales of Microsoft's big black box of tricks.
There's a ton of high velocity pyrotechnic firepower to play with
The Titanfall titles attempt to offer much more variety to running and gunning by placing you in two very different character's shoes. Firstly, the graceful jetpack-enabled stealth slippers of the Pilot, a one-man hit squad; part assassin, part parkour enthusiast who can run on walls and, most enjoyably, slide along polished floors like he's the embodiment of Mr. Sheen. Secondly, the gigantic metallic mech boots of a Titan, a huge pilotable 20-foot war machine, wrapped in armour, complete with multiple weapon loadouts, an array of special projectile attacks and a devastating melee function.
For those new to the Titanfall games, we're served with a healthy dose of first-person shooter combat variety, complete with highly satisfying weapons and a mix of maneuverable platform action. It looks amazing and handles really well. But so did the first offering. What's new here is a solid single-player campaign to match the highly polished multiplayer action – the calling card of the first title.
The story is lightweight, focusing on a militiaman with pilot aspirations being gifted a Titan by a fallen comrade. It's your job to carry out your predecessor's orders and thus begins a reasonably lengthy romp through an alien planet, fighting mercenaries, other Titans and the over-arching evil corporation behind it all – whatever it all is.
But Titanfall fans don't buy a ticket for the plot: it's all about the gun show and this is where the sequel excels. There's a plethora of both Titan weapon loadouts and on multi-player, multiple Titan models with different configurations of main and secondary weapons; as well as shield projectors and special attacks. There's a ton of high velocity pyrotechnic firepower to play with – and the action is spectacular.
In a crowded field, the 20-foot Titan holds its ground and stands at least a head above the standard soldier-shooter competition. Titanfall 2 is great to look at, fun to play and offers surprising depth with a fairly meaty single-player campaign. As Elon Musk would say, prepare yourself, the robots are coming.