Akram Khan's Giselle, Sadler's Wells |

reviews, news & interviews
Akram Khan's Giselle, Sadler's Wells
Akram Khan's Giselle, Sadler's Wells
Narrative dance takes a new direction in choreographer's visionary re-imagining for English National Ballet
Saturday, 19 November 2016
'The Wilis become stronger, and more disturbing: these women whose lives have been destroyed by the global garment industry'
Thank God for Akram Khan, English National Ballet, and Tamara Rojo. Their new Giselle, which finally arrived at Sadler's Wells this week after its Salford premiere in September, is a work of intelligence, power, beauty, and - most gratifying of all in this age of lies, damned lies and politics - stunning integrity. This is a ballet about issues that matter, made by people who know what they're doing.
Giselle, thematically much the richest of the 19th-century ballets, is a strong choice for a remake, with a tight two-act structure on which to hang the exploration of all sorts of interesting questions - about class relations, gendered power, love, betrayal, madness and death. Khan and his regular dramaturg Ruth Little chose to go in strongly on the power asymmetry of the original with their setting, an allegorical future with 19th-century antecedents in which a huge wall divides the immiserated Outcasts (unemployed garment industry workers) from the privileged Landlords (dressed in absurdly rich couture garments to symbolize the profligacy with which they "spend" others' labour).
This powerful setting clearly frames the ballet as an indictment of the class, race, and gender violence caused by contemporary global capitalism, but Khan and Little sensibly make it suggestive rather than literal. Khan as dancemaker has always been attracted to the mythical, understanding that dance makes its argument best through investing simple stories with great feeling, and this Handmaid's Tale-style indictment of injustice is perfectly calibrated to the expressive potential of dance theatre. The Wall itself (pictured below), as we might expect from designer Tim Yip's previous work with Khan, is an utterly simple, yet incredibly powerful visual storyteller, and its surprising capacity for movement (it can spin on its horizontal axis, as well as advance and retreat) leads to several of the piece's most dramatic scenes. Dance may not be able to capture the subtleties of politics, economics, and the history of colonialism, but it can show with heartrending immediacy what it looks like when one group has power over another, or how there is an exquisite beauty in love and in hope that can always - however temporarily - transfigure grim reality.
In the original Giselle, Duke Albrecht is clearly never going to smash the system, which is why he is such a difficult character, but Khan draws the burgeoning love of the Outcast Giselle (Tamara Rojo) and the disguised Landlord Albrecht (James Streeter) with such radiant brightness that it seems to have something of protest about it: could this pair bring about the revolution, we wonder? Rojo's Giselle appears to be a kind of leader among her people, brightly flitting about among them, seeming to spread hope, and Albrecht learns from her: he starts out oblivious to the nature of the Outcasts' reality (he doesn't notice when klaxons go, signalling the approach of the Landlords, although all the Outcasts immediately adopt rigid postures of abasement), but Giselle teaches him to "see" the Wall for what it is, in an affecting sequence where she guides his hands over its rough surface. It is Hilarion (superbly danced by Cesar Corrales), traditionally Giselle's honest peasant suitor, who here becomes the slipperiest fish, though I suppose we must pity him too: as the Landlords' Outcast go-between, he is in a difficult position, and seems to end up being responsible for Giselle's death, though the exact train of events there was unclear to me on first viewing.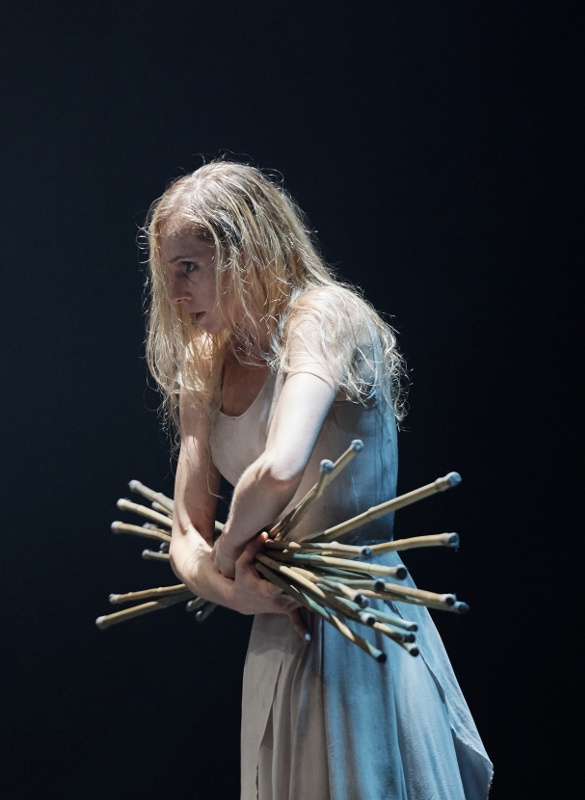 Detached from their context in the febrile fantasies of male Romantic writers, and in light of Giselle's apparent death by murder, the Wilis - looking not unlike the munitions workers from Dust, Khan's last work with ENB - become stronger, and more disturbing: these women whose lives have been destroyed by the global garment industry, do not merely dance men to death (which after all has more than a whiff of sexual pleasure about it), but threaten them much more directly with sharp poles (main picture) like those Khan used in his recent Until the Lions, also a story of female revenge. As Myrthe, Queen of the Wilis, Stina Quagebeur (pictured right), a fine ENB dance-actress whom I was pleased to see given such a major role, is a phenomenal presence, muscled shoulders tense with suppressed violence, but also seeming to feel an attraction to the transfiguring love between Giselle and Albrecht.
Thanks to a collaborative rehearsal process with the company which was evidently conducted with great intelligence and creativity on both sides, Khan has achieved a brilliant choreographic synthesis between ballet and his own Kathak-influenced contemporary mien. A rhythmic, hypnotic swaying animates the crowd of Outcasts at the beginning; queer little hops and gallops indicate their discomfort at the Landlords' approach; we understand Hilarion's slippery nature from the way he tumbles and rolls at speed in different directions to everyone else. The Landlords have a static, aristocratic demeanor that seems to reference the 17th-century origins of ballet in Versailles, while the Outcasts build their dancing upwards from that most protean and international of dance steps, the three-beat weight transfer (called pas de basque in ballet, but cropping up in all kinds of dance traditions).
The most important point about the dancing is, of course, that it is entrancing, as we have come to expect from Khan, whose ability to grab an audience and catch them up in his energy is almost unparalleled among contemporary choreographers. There were a few moments, particularly the long entrance of the Wilis in Act II, where I lost focus, but there were plenty of others, including Streeter and Rojo's hauntingly poignant duets in the same Act (pictured left), where I was breathless and spellbound.
Vincenzo Lamagna's score (orchestrated by ENB's music director, Gavin Sutherland) is a hugely impressive piece of work, particularly considering that Lamagna came on board scant weeks before the premiere, after the original composer Ben Frost left the production. Lamagna's music quotes from the original at key moments, using its melodies to build up huge waves of emotion, but also goes it alone for long periods, layering orchestral, industrial and electronic sounds to powerful effect. Likewise the effects created by lighting designer Mark Henderson, quoting the original's moonlit otherwordliness, while staying consistent to the murkiness favoured by most contemporary choreography; if I have one criticism of the production, it's that with an actress of Rojo's calibre in the title role, being unable to see her face properly is frustrating.
This run is completely sold out, but ENB have scheduled another at Sadler's Wells next autumn. I urge you to get a ticket by hook or crook. This extraordinary, original work is a seminal event in Khan's choreographic career, Rojo's directorship of ENB, and the development of the story ballet in the 21st century.
English National Ballet perform Giselle at Sadler's Wells until 19 November 2016. It will return to the same theatre 20-23 September 2017.
Detached from their context in the febrile fantasies of male Romantic writers, the Wilis become even more disturbing
rating
Share this article