Alice's Adventures Under Ground, Barbican |

reviews, news & interviews
Alice's Adventures Under Ground, Barbican
Alice's Adventures Under Ground, Barbican
Gerald Barry's crazy velocity berserks both 'Alice' books in rude style
Tuesday, 29 November 2016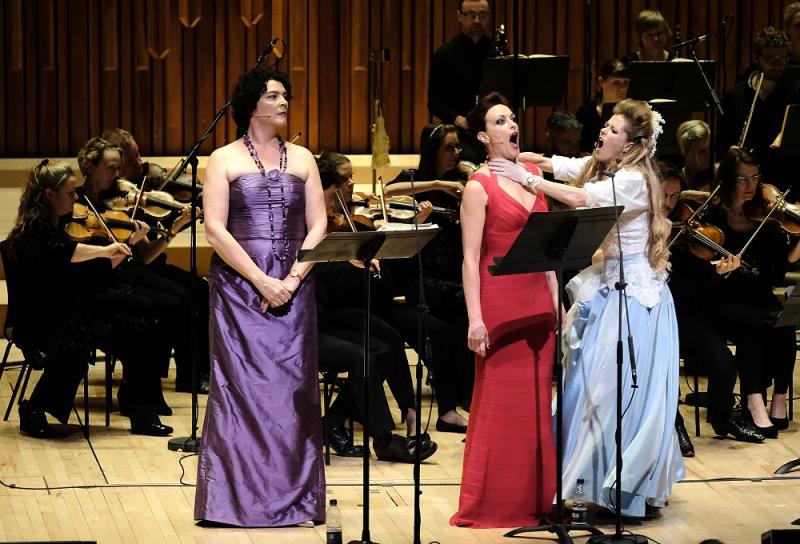 More than a little shaking of the Red Queen (Allison Cook) by Alice (Barbara Hannigan) as the White Queen (Hilary Summers) looks on
Having musicalised the madness in the method of Wilde's The Importance of Being Earnest, what would that wackiest of composers Gerald Barry turn to next? Why, dear child, what else but the method in madness of Lewis Carroll's Alice books. Except that method is mostly discarded in the shards of nonsense extracted from Carroll, and to be found only in the musical art of compression.
Usually you look sceptically at a cast which includes both the Mad Hatter and Humpty Dumpty as portent of a watered-down Alice compendium. But this savage parade, given its European premiere in last night's Barbican concert performance, whizzes us through both Alice's Adventures in Wonderland - Carroll's first manuscript, adopted by Barry as his title, doesn't contain two of the famous sequences used here - and Through the Looking Glass both sequentially and in less than half an hour apiece.
Alice (Barbara Hannigan, high-wire Barry favourite) squeaks out scales and arpeggios in competition with an orchestra which, as in Earnest, favours brass and wind as she plunges down and down; the ever-virtuosic and clarion Allan Clayton switches in a second from White Rabbit to join the three other male voices as Bottles - "Drink!" - and Cakes - "Eat!" (pictured below: Clayton, Peter Tantsits, Mark Stone and Joshua Bloom).
Then we're at the Duchess's door, behind which plates are smashed - not literally, Earnest-wise, as Barry doesn't repeat obvious tricks - and the male quartet play extended baby-chorus to "Speak roughly to your little boy". It's on to a Mad Tea Party and the Queen's Croquet Ground, where a game without rules is played out to piano exercises in Barry's only major departure from Carroll's text, before a demented (and text-inaudible) rendition of "Jabberwocky" in Russian - later we also get "Jaseroque" en français and "Jammerrock" auf Deutsch - hurls us through the looking-glass and into the garden of live flowers. What follows is an even more thorough selection from the second book featuring passages that can't have been set to music before.
The filleting favours the ensemble - virtually the Earnest set-up - though the hard-working singers, constantly having to swig from their "drink me" bottles of water for refreshment as well as transformation, do get some wonderful solos and duets. Hilary Summers' inimitable contralto pairs off with a single double-bass for the dormouse reverie, while in the looking-glass world fragments of Humpty Dumpty's and the White Knight's songs get very different treatments. Joshua Bloom exercises egghead restraint to the tune of Beethoven's "Ode to Joy" setting - pay-back time after Earnest, where only Schiller's words were declaimed at rapid speed in German - and Mark Stone successfully stays on his horse during yet another of the score's regular buckings. As for duets, the wistful Mock-Turtle double act of Summers and Allison Cook for the Lobster Quadrille is rudely mirrored in the second-half dissonances of Tweedledum and Tweedledee's "The Walrus and the Carpenter" (or some of it).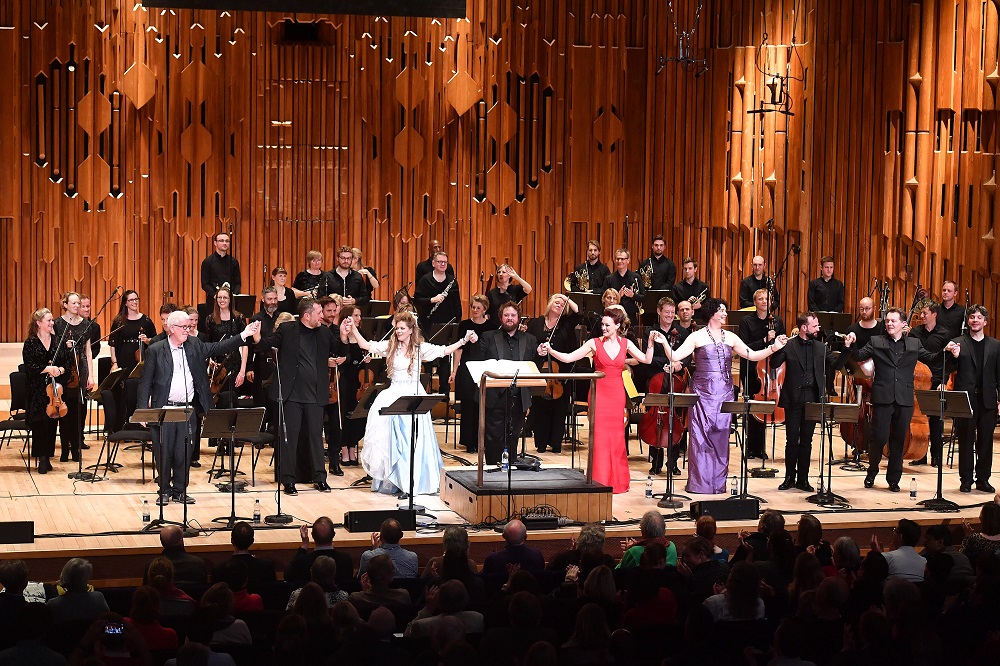 Lurid sounds from the Britten Sinfonia under no less than Barry's good friend Thomas Adès (pictured above with the composer on the left and the cast at the "curtain call"), are frequently capped by Bruce Nockles' virtuoso trumpet; they play music of blatant speed for flights, runs and train journeys, and pastiches of sundry dances and processionals (the King and Queen of Hearts' cortege number is a corker). Respite usually only comes in the speech-song with its rigorously notated silences, though there is, finally, an equivalent to Earnest's melancholy, post-coital Act Three Prelude: the slow motion Valse triste to which the Red and White Knights thrash it out, counter-intuitively as usual with Barry.
The odd singer out, in an unexpected way, is Hannigan: attired more like Duchess or White Queen than little Alice, inclined to mug a bit in a way that her mostly deadpan companions don't (full marks to Clayton especially and Allison Cook's lower-key displays). The protagonist is rarely at the centre of things in the way she is in the books, but Hannigan proves determined to wrestle back attention from time to time. Even with miking her text, and the communal songs, can't always be made out. There is, typically, no comfy Oxford context for this Alice; they're all mad in Barry's world, and we wouldn't have it any other way. Staging next? I wonder: only video work or a cartoon would get the stage directions up and running to match the score's furious velocity. But, like Earnest, this score is here to stay.
ALICE'S ADVENTURES ON STAGE AND SCREEN
Alice, Scottish Ballet. It should be a capital crime to attempt an Alice ballet - off with their heads
Alice's Adventures in Wonderland, Royal Ballet. Even the best butter would not help this plot-less evening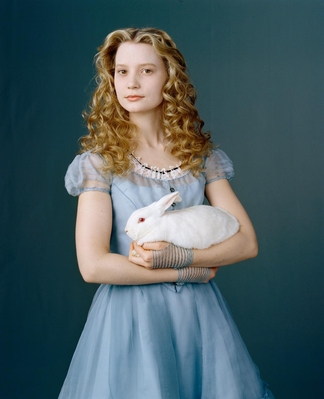 Alice in Wonderland. Tim Burton takes on the fantasy classic
Alice in Wonderland, BBCSO, Brönnimann, Barbican. A curious tale gets a riotous operatic telling from composer Unsuk Chin
Alice Through the Looking Glass. Mia Wasikowska (pictured), Helena Bonham Carter and Johnny Depp back in inventive if unfaithful Carroll sequel
Jan Švankmajer's Alice. The great Czech animator's remarkable first full-length film
wonder.land, National Theatre. Damon Albarn's Alice musical has fun graphics, but a banal and didactic storyline


There is, typically, no comfy Oxford context for this Alice; they're all mad in Barry's world
rating
Explore topics
Share this article
Subscribe to theartsdesk.com
Thank you for continuing to read our work on theartsdesk.com. For unlimited access to every article in its entirety, including our archive of more than 10,000 pieces, we're asking for £3.95 per month or £30 per year. We feel it's a very good deal, and hope you do too.
To take an annual subscription now simply click here.
And if you're looking for that extra gift for a friend or family member, why not treat them to a theartsdesk.com gift subscription?