To Walk Invisible, BBC One |

reviews, news & interviews
To Walk Invisible, BBC One
To Walk Invisible, BBC One
Subtle but brilliant depiction of the Brontë sisters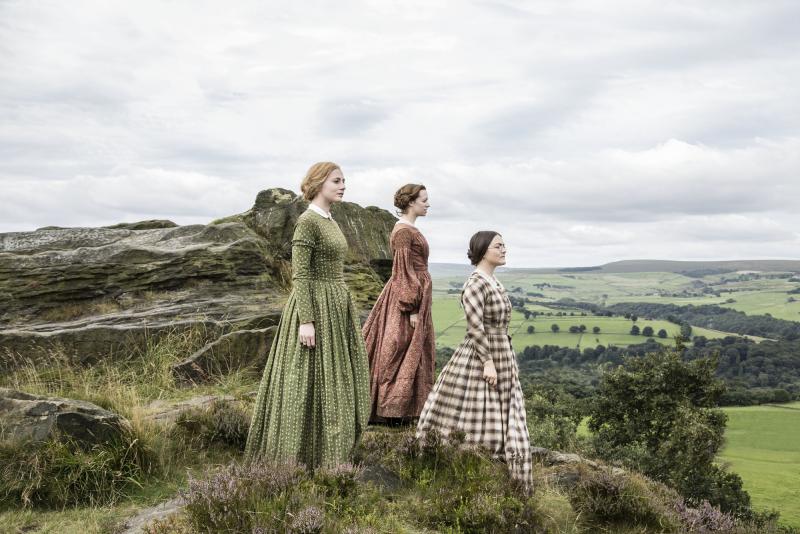 Anne (Charlie Murphy), Emily (Chloe Pirrie) and Charlotte (Finn Atkins)
Yorkshire-born screenwriter Sally Wainwright has carved a distinguished niche for herself as chronicler of that brooding, beautiful region's social and familial dramas.
After the romance of
Last Tango in Halifax
and the gritty panorama of
Happy Valley
, she has settled on perhaps the quintessential troubled Yorkshire family, with awesome bleakness on the side: the Brontës.
Despite a difference of 150 years in setting, To Walk Invisible is not only a seamless progression from Wainwright's previous work, but the story comes, ready-made, both achingly sad and also driven by a passion that can't fail to uplift. Much like one of the sisters' novels, in fact. So while the source material is already very rich, the narrative has been sculpted to perfection, with the sisters' rise counterbalanced so poignantly by their brother Branwell's decline to first alcoholism, then tuberculosis.
Another star of the Brontës' fiction, the countryside, only made brief appearances
Patrick Brontë (Jonathan Pryce), the learned, kindly, and immensely long-suffering father, spoiled his only son Branwell (Adam Nagaitis, pictured below, manhandled by a bailiff) terribly, such that the younger man's vanity undermined the discipline necessary for developing his own artistic abilities. The sisters, meanwhile, looked after Branwell, ran the house, and lived for themselves the humiliation and furiously frustrated desire for expression that nurtures so much great art. Although the film doesn't shout about its feminism, it's both a riveting account of three female geniuses, who collaborated as young writers to build a career, and a damning portrayal of the complacent and indulged men around them.
Nor was the contrast of productive sisters and wastrel brother purely about artistic poise. First-hand experience of Branwell's alcoholic decline was an important source, as Anne confided to Emily, for the character of Arthur Huntingdon in The Tenant of Wildfell Hall, generally considered the first sustained feminist fiction. The drunken dissipation of Hindley in Wuthering Heights is another likely instance of Branwell's influence.
As poignant, though, and probably a more important cause of the sisters' rage for recognition, was the Rev Patrick's condescension and unwitting neglect of their own creative and intellectual lives. The scenes in which the sisters sat mute during his indulgent addresses about Branwell's faltering creative career were beautifully understated tableaux of pain. And surely no one could watch dry-eyed when Charlotte astonished him with the revelation that Currer Bell was her nom-de-plume ("It can't be you - he's famous!" he stammered.)
Ironically, part of the sisters' original motive for becoming professional novelists was to secure their financial independence in case their father died (and the Church reclaimed the house, in that familiar nightmare of the pre-modern spinster), but the father outlived his wife and all six children, dying in 1861, aged 84. The film ended with Branwell's death (followed a tragically short period after by Anne and Emily). To close there made dramatic sense, though a glimpse of Rev Patrick's thoughts, as he looked back on a life crammed with triumph and tragedy, would also have been fascinating. (Jonathan Pryce with Finn Atkins, pictured below.)
Such strong roles and a taut script were a gift to the actors. Of particular interest was the contrast between the feisty, family-centred Emily (Chloe Pirrie) and the cooler, career-focused dedication of Finn Atkins' Charlotte. Another star of the Brontës' fiction, the countryside, only made brief appearances, and it would have been interesting to find out more about how the solitude, space and quiet became an invaluable part of the writers' lives and works.
Otherwise, the only jarring note was the ending, which faded to Haworth Parsonage as it is today, all cream tea and Christmas cards. The purpose, presumably to ground the setting in our present-day appreciation of the sisters' work, was fine and sensible, but the effect couldn't help but be anticlimactic, after such a tense and finely-poised tragedy. Some montage of the myriad modern adaptations of the Brontës' work, from Kate Bush's song "Wuthering Heights" to Charlotte Gainsbourg as Jane Eyre, might have made the same point in a more elegant way, and reminded us that from this bleak, if inspiring place, three literary geniuses arose. Their influence still towers over the creative scene today.
The sisters' rise is counterbalanced so poignantly by Branwell's decline
rating
Share this article