Last Tango in Halifax, Christmas special, BBC One |

reviews, news & interviews
Last Tango in Halifax, Christmas special, BBC One
Last Tango in Halifax, Christmas special, BBC One
Halifax, Harrogate, Huddersfield, wherever... They're back. Glorious
Wednesday, 21 December 2016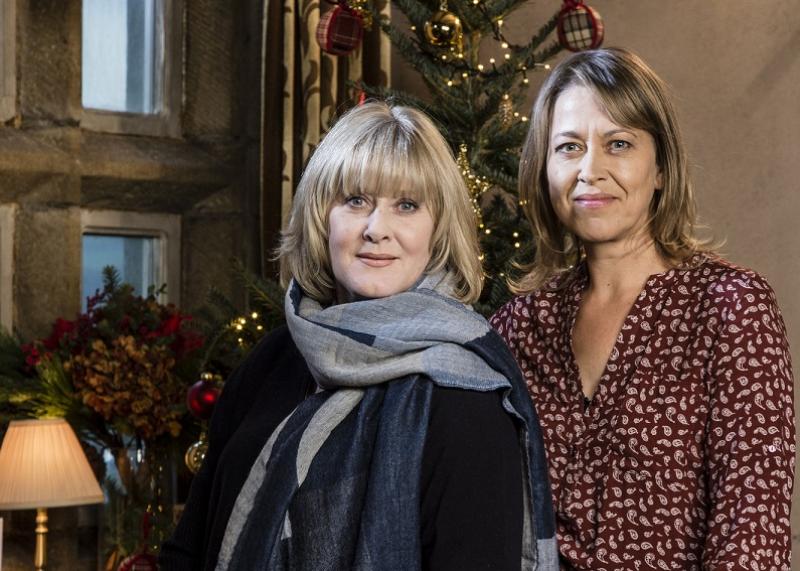 There will be trouble ahead: a (very) rare moment of calm for Caroline (Sarah Lancashire) and Gillian (Nicola Walker)
It could only happen in Halifax. The series' two families, whom we have come to know so well and – with exceptions – love, had arranged a pre-Christmas dinner out, festive-like as Alan, the ever-saintly Derek Jacobi, might put it.
Instead there was Gillian (Nicola Walker) all on her tod, nursing a glass, until Caroline (
Sarah Lancashire
), equally solo, hoved into view. Pity the waiter who approached to ask what they'd like: a smaller table, pronto, and the wine list. The wine list is usually the crucial element when these two get together, though a later scene in the second episode of Sally Wainwright's Christmas special two-parter had them managing one of their inimitable deepies while they did the rounds of the supermarket .
Jacobi still can't finish 'sentence if 'bull was after him
Shout it from the hilltops: these two are just glorious. When it comes to the usual annual gongs, really only the toss of a coin can decide who's the most deserving (I speak as a past advocate for Walker: now, I'm reserving judgment). The two of them were dining à deux this time having declined the company of respective kith and kin. Rather forcefully. Caroline, of course, with that kind of genteel disaffection that leaves a room sniffily (must be the head-teacher in her), Gillian after a thermo-nuclear blow-out that threatens to demolish walls (something about a green dress, since you ask).
It's two years since the shattering sudden death of Caroline's partner, Kate – and close on that since we last visited these parts in Wainwright's company. Location alert, for starters: the days of ever-so-proper, stuck-up-its-own Harrogate are gone, with Caroline's move to a new headship precipitating relocation in the Huddersfield direction. She's chosen a lovely old place right out in the country, needs a bit of work, to be sure, and bit on the cold side, as Anne Reid's inimitable Celia can't help going on (and on) about. No sign of her and Alan – Jacobi still can't finish 'sentence if 'bull was after him – decamping to any blooming bungalow.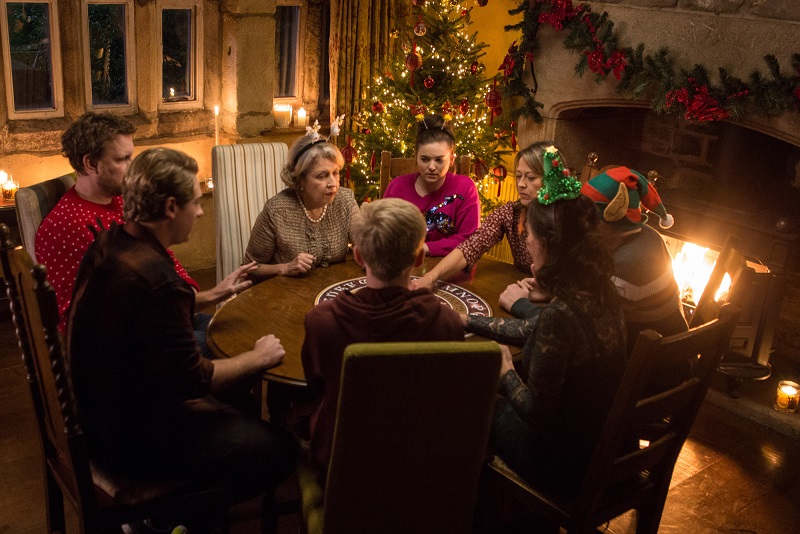 Reid's riposte on hearing about her daughter's new job was priceless: the fact that Caroline wasn't moving south – that dread first intake of disbelieving breath – may have been a relief, but she coped with the news that it was a state school with all the aplomb of a would-be Lady Bracknell relieved of multiple handbags. Which actually she nearly was, since am-dram featured prominently in this Christmas storyline: Celia ended up as Blithe Spirit's Madame Arcati instead, which made for some nifty ouija-board practice after Christmas dinner (pictured above). Alan got roped in too, predictably, and triumphed against the odds.
Wainwright manages something remarkable in melding the two tonally disparate strands of her story: call it Coward – though Wilde would do no less well, snooty bon-mots and all – meets gutsy Nordic noir (Gillian's getting up to a right Ibsen back in that barn). The two-episode format suited her writing neatly, allowing for some nice use of flashbacks to vary story development.
At one point we heard Gillian pondering, "I'm thinking about becoming a lesbian." I don't think that's going to happen – though not because the male contingent (pictured above) doesn't often seem plain dismal (sons excepted). Coincidentally the same line, or words to that effect, cropped up last week, in a Jacobi-related context to boot, with the final episode of the now-departed sitcom Vicious (hard to say that one will be much missed). There it was Frances de la Tour going on about precisely nothing. It brought home, as if it needs to be said, just how Wainwright writes drama about grown-ups for grown-ups. Maybe she could manage a sitcom – Celia might even be right at home in one – but I can't see it coming to that.
But the dramatic current runs so resoundingly in one direction that we sometimes just wish the rest of them would pipe down – so much for Last Tango's original brief as a new stomping ground for under-used senior thespian talent – and let Walker and Lancashire thrash it all out in their private Valhalla. As they assuredly will. The fact that this brief revisit closed with Caroline striding purposefully into her first day at that unfamiliar new school hinted that Wainwright will be offering us a proper new series before long. Can't wait.
Wainwright manages something remarkable in melding the two tonally disparate strands of her story
rating
Explore topics
Share this article