Last Tango in Halifax, BBC One |

reviews, news & interviews
Last Tango in Halifax, BBC One
Last Tango in Halifax, BBC One
Bertolucci meets Alan Bennett in Sally Wainwright's gentle generation game
Wednesday, 21 November 2012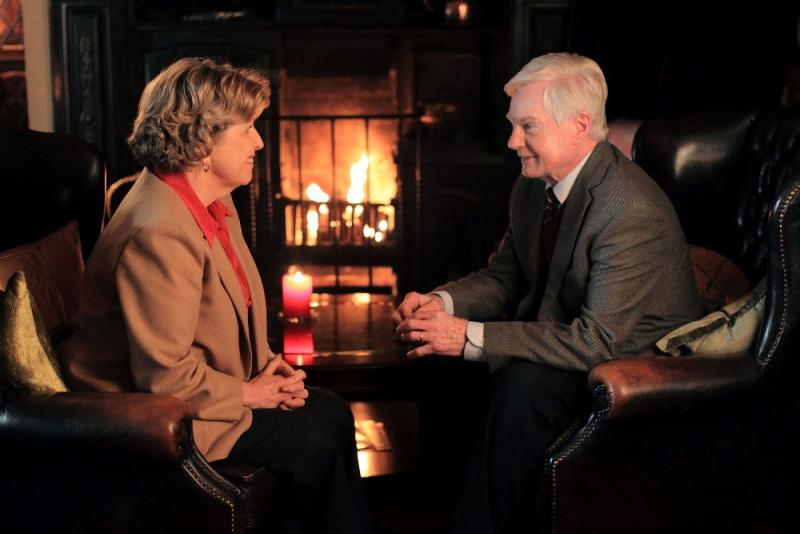 As time goes by: Celia (Anne Reid) and Alan (Derek Jacobi) re-light their fire
The title says it all: Bertolucci's landmark (if boring) French film has its last word changed from Paris to Halifax – where butter is only used for glazing parsnips. The very idea of Derek Jacobi taking Anne Reid up the scullery is enough to put anyone off their food but the two grandes dames of English theatre add class to the bittersweet romance of Sally Wainwright's dog's-dinner of a drama.
Jacobi plays Alan Buttershaw who was stood up by Celia Dawson 60 years ago – except he wasn't. Celia moved to Sheffield and sent him an explanatory note via a friend called Eileen who destroyed it and married Alan herself. Half a century later – thanks to the facility of Facebook – they arrange a rendezvous in Skipton (geographically and thematically very close to Alan Bennett territory) and by the end of this first part have agreed to put right the ancient wrong and get hitched.
Their families, needless to say, don't like it, and herein lies the real interest of Last Tango in Halifax. Wainwright's CV includes At Home with the Braithwaites (the ups and downs of domesticity) and the cop saga Scott & Bailey (women beat men at their own game). Alan's widowed daughter Gillian (the brilliant Nicola Walker) has casual sexual with a handsome chancer and worries about her son falling off his motorbike (which, of course, he does). Meanwhile, her deranged brother-in-law, a cop, thinks she killed her husband.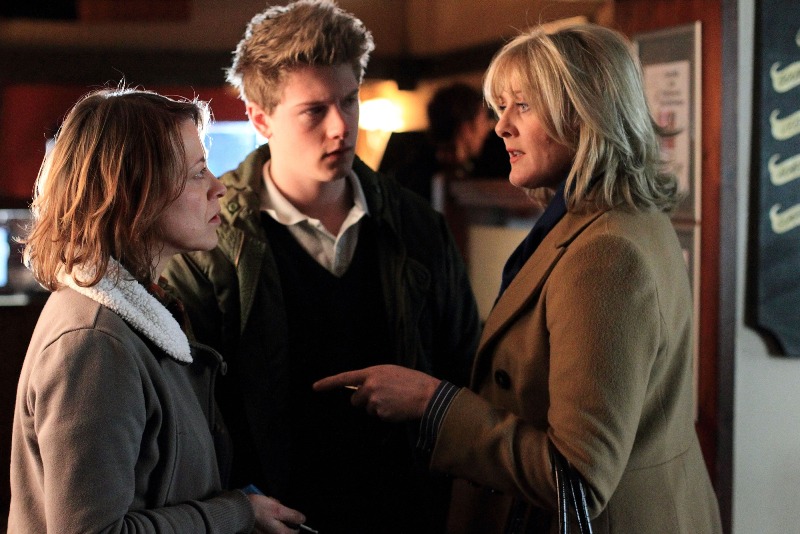 Celia's daughter Caroline (Sarah Lancashire making the most of her northern vowels again) decides to take back her errant fool of a husband whose bit on the side turned out to be a boozer for the sake of her sons. In the best sequence, Gillian and Caroline (pictured above) are both shown walking down the aisle. Gillian works in a supermarket, while Caroline is the headmistress of a school – first seen be-gowned in the assembly hall – who coolly ends a Sapphic fling with another teacher when hubby crawls back with his tail still between his legs. Elsewhere, the direction falls back on the cliché that it's grim up north. Shooting a comic car chase in winter doesn't stop it resembling The Last of the Summer Wine and, as in DCI Banks, every shot of moorland has to have pylons marching across it.
As this might suggest, the biggest problem is the uncertainty of tone. First episodes are notoriously difficult, but how will the show develop? A murder mystery? A case of lesbian blackmail? Will the two tribes – the Buttershaws and Dawsons – go to war over the impending marriage? It's Romeo and Juliet for the zimmer generation. This may explain why my parents, both in their seventies, enjoyed it far more than me (then they like New Tricks too). Perhaps they're the intended audience. That's the trouble with including something for everyone – you end up disappointing most of them.