Scott & Bailey, Series 4, ITV |

reviews, news & interviews
Scott & Bailey, Series 4, ITV
Scott & Bailey, Series 4, ITV
Manchester's detective duo are as disaster-prone as ever
Thursday, 25 September 2014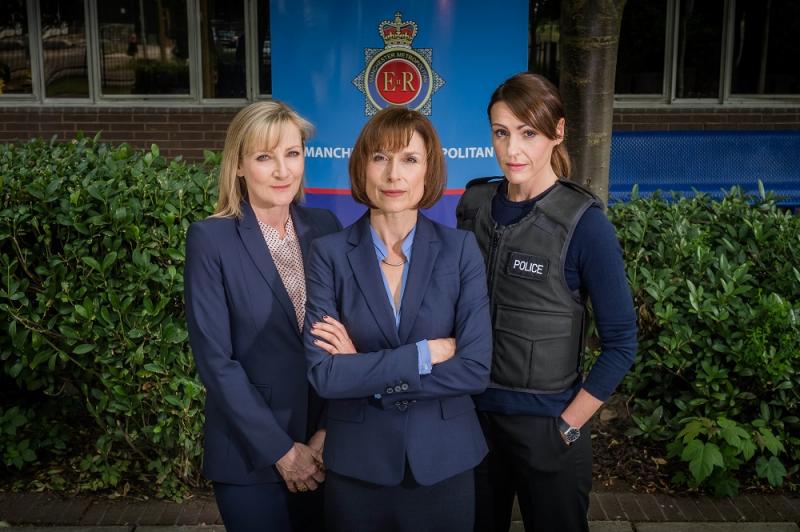 Lesley Sharp as DC Janet Scott, Amelia Bullmore as DCI Gill Murray and Suranne Jones as DS Rachel Bailey
When Rachel Bailey (Suranne Jones) told the promotion board at the beginning of this series: "I'm not a liability, I'm a safe pair of hands", we knew it would be a matter of sitting back and waiting to see in what manner she would heap disgrace upon herself.
It looked like being the quickest denouement ever, when seconds after leaving the interview, Bailey narrowly avoided being overheard telling Janet Scott (
Lesley Sharp
) that one member of the panel was "about as funny as sewage".
While best friends Scott and Bailey have always enjoyed a chuckle at the expense of their colleagues, this new series has a lightness of touch and plenty of comic moments to contrast with the nasty crimes the pair gets tasked with investigating. Far from compromising the realism of the series, the humour, often dark, inappropriate and at the expense of other people, only makes it more plausible.
We are not expecting their character traits, or the essential dynamic of their relationship, to change
When in tonight's episode the hapless Pete Readyough (Tony Mooney), a DC of unsophisticated views and struggling to contain his homophobia, speculated that the murder of a gay man could be "a bit of sexual misadventure, a gay sex game gone wrong", there followed a classic moment of playground-style humiliation. Colleague DC Ian "Mitch" Mitchell (David Prosho), sensing an easy victim, responded pointedly: "What's a gay sex game?", and Pete retreated inside a shell of bluster and embarrassment. Much as we felt his pain, there was no doubt that we were all round that briefing table, sniggering into our notepads with the rest of them.
The welcome injection of well-observed and expertly calibrated humour is thanks to Amelia Bullmore, who not only plays station boss DCI Gill Murray with conviction and verve, but has also taken over as lead scriptwriter, replacing Sally Wainwright, who is, presumably, overwhelmed with work following recent hits Happy Valley and Last Tango in Halifax.
This change of tone could not have come at a better time. By the end of the last series, the two detectives were only just on speaking terms after a colossal falling out, and the pair had been through such an assault course of personal and professional angst, that it was difficult to see where they could possibly go next.
Bullmore's insight, of course, is that they don't need to go anywhere; like all old friends we love Janet and Rachel flaws and all, and we are not expecting their character traits, or the essential dynamic of their relationship, to change. The pitfalls they face – and they are always the same ones for these two – are waymarked from the word go, and far from making the storylines boring and predictable, it is curiously satisfying to watch the inevitable unfold.
Just as Rachel's promise to the promotion board was confirmation that she will undoubtedly suffer some professional fall from grace this series, Janet Scott's decision to progress her career now that her children are growing up was a cue for her family to go into immediate meltdown. No sooner had she pulled up outside her house, she was met by the sight of her eldest daughter slumped against the front wall, looking hangdog.
When Janet turned down the post of station sergeant, dutifully putting her family first, Gill offered the job to Rachel, on the strict understanding that Rachel would never find out she was not first choice. Janet's promise to Gill that she would not tell Rachel has hung over the series so far like a black cloud, and it is safe to assume that a fairly momentous storm will brew up over the next couple of weeks.
Already thrown off course by the reappearance of her appalling mother Sharon, a drunken layabout who brings chaos and misery in her wake, Rachel's fragile self-confidence is teetering on the brink of personal and professional catastrophe (Suranne Jones with Tracie Bennett as Sharon, above). Throw in one more emotional hand grenade and however predictable the outcome, we can expect nothing less than gripping viewing.