The Halcyon, ITV |

reviews, news & interviews
The Halcyon, ITV
The Halcyon, ITV
Intrigue, treason and family feuding at Lord Hamilton's swanky hotel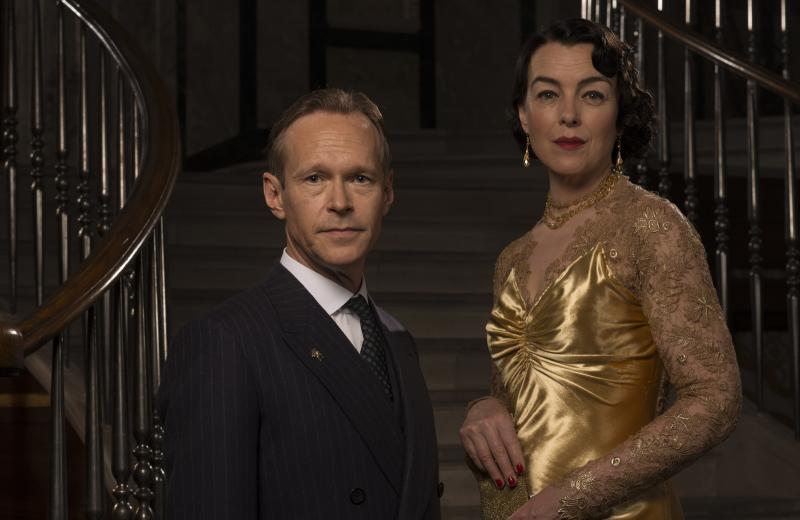 Richard Garland (Steven Mackintosh) and Lady Hamilton (Olivia Williams) aren't seeing eye to eye
The most surprising thing about ITV's latest period drama is that they've scheduled it for Monday nights. Since you could soundbite it as a mash-up of Mr Selfridge and Downton Abbey, you'd have thought The Halcyon was a shoo-in for that peachy Sunday-night slot.
But no, the latter niche will be filled (from next Sunday) by the returning Endeavour, while The Halcyon must fight its way through the choppier waters of the working week, hoping that harassed commuters will still be seeking a bit of historic escapism after another day of trench warfare on the railways. And it may be in luck, because this opening episode was amusing and diverting (though hardly profound), as it pitched us into the spring of 1940, when Britain was watching uneasily as the Germans rampaged across Europe.
The titular Halcyon hotel (apparently in London's West End) is celebrating its 50th anniversary, and the production department has gone to town on gleaming interior decor and chic Forties-era clothes. It's all much more fun than the dingy Connington hotel in BBC Two's Close to the Enemy. Drama-wise, worries about the onrush of the Führer are furrowing the brow of the hotel's owner, Lord Hamilton (Alex Jennings, pictured right). In fact he's so concerned that he's formed an alliance of like-minded chums who all think it would be a good idea to do a deal with Hitler, though Hamilton himself seems more motivated by financial concerns than a fondness for Nazi ideology. However, that would not be true of his mistress, Charity Lambert (Charity Wakefield), who has spent time, Mitford-style, in Germany and has befriended several prominent members of the regime.
Consequently all is not sweetness and light within the Hamilton clan. Elder son Freddie (Jamie Blackley) is a newly-qualified RAF fighter pilot planning to take the fight to the Hun, while younger son Toby is disgusted by his father's stance. Lady Hamilton (Olivia Williams) looks as if she's on the verge of a nervous breakdown, thanks to her husband's extra-marital dalliances and (even worse) the knowledge that everybody in the hotel seems to know more about them than she does.
None more so than the Halcyon's manager Richard Garland, played by the ever-reliable Steven Mackintosh as a steely pragmatist, with a possibly sleazy dark side which will doubtless reveal itself as the series progresses. Never mind the war, his most urgent priority is to save his job, since Lady Hamilton regards him as her husband's henchman and is determined to get rid of him. The plot is thickened by the fact that his daughter Emma (Hermione Corfield) is the Halcyon's bright and efficient receptionist, and has caught the eye of Freddie.
Plenty of fodder for the next seven episodes then, especially when you chuck in American journalist Joe O'Hara (Matt Ryan), who looks as if he was based on the real-life Ed Murrow. He has already caused ructions by spilling the beans about the appeasers' convention at the Halcyon to his Stateside radio listeners. Blowsy light relief is supplied by Kara Tointon as jazz band singer Betsey Day (pictured left), a raucous good-time girl often to be found sleeping off last night's excesses in one of the Halcyon's state rooms.
It's a bit of a blow, though, that Lord Hamilton isn't going to make it past episode one, because it was the perfect role for Alex Jennings. Presumably he's preoccupied with his even more perfect role as Edward VIII in Netflix's megabucks monster The Crown. Pity.
Lord Hamilton has formed an alliance of like-minded chums who think it would be a good idea to do a deal with Hitler
rating
Explore topics
Share this article