Australia's Impressionists, National Gallery |

reviews, news & interviews
Australia's Impressionists, National Gallery
Australia's Impressionists, National Gallery
The visual discoveries of France applied in the open landscapes of a young nation
Wednesday, 04 January 2017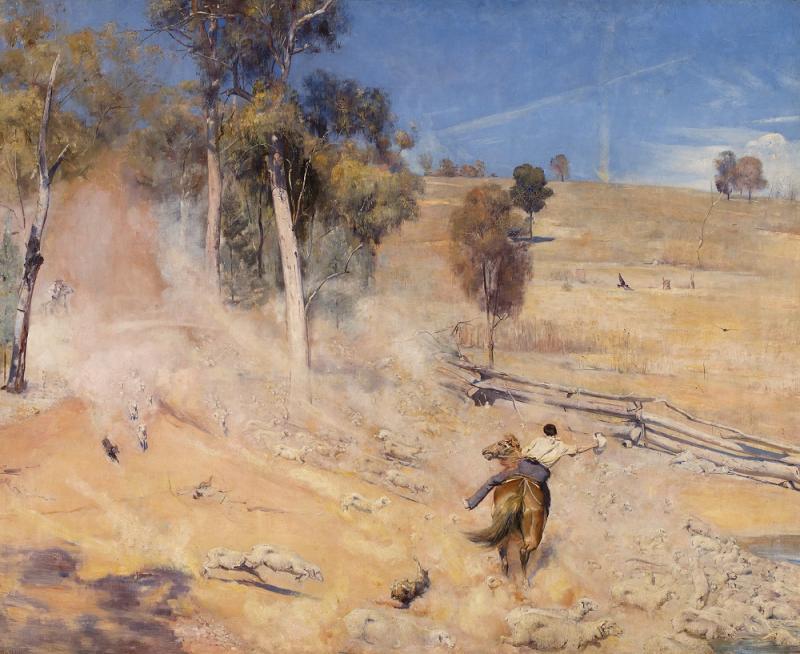 Tom Roberts, 'A Break Away!', 1891
Painted in 1891 by Tom Roberts, A Break Away! shows us a flock of maddened, thirsty sheep careering down a hillside stripped of grass by drought, accompanied by rollicking sheepdogs and cowboy shepherds on horses. If those sheep pile on top of one another into the puny stream at the bottom of the hill, injury – even death – will occur. The perspective is vertiginous, and the scene almost visibly pulsates with energy.
It is one of Australia's best-loved paintings (main picture), emblematic of the growing prideful nationalism of a new country – well, new to Europeans who ignored, blighted and almost completely destroyed the 50,000-year-old culture of the native aborigines. It is a highlight of an unusually refreshing exhibition of landscapes and cityscapes of that so-called Lucky Country, Down Under on the other side of the world, where Christmas is summertime.
England's First Fleet arrived in 1788, with the first permanent settlements by westerners, and its centenary in 1888 provoked strong feelings of national pride. Federation was finally accomplished for the whole continent in 1901. So, in the waves of nationalism and constitutional consolidation that was taking place all over the world in the 19th century, Australia was not that far behind; nor, with its tiny population almost all concentrated in the cities – Melbourne was one of the richest in the world – was its art backward in coming forward to inhabit the mainstream.
Nevertheless, in spite of the huge but ramshackle survey of art from Australia at the Royal Academy in 2013, its leading lights are still little known outside their home country. The timing of this small but concentrated and specialist showing should help us open our eyes as we escape briefly from London's weather and global worry to revel in these refreshing, enthusiastic examinations as a newly confident group of artists flexed their visual muscles to look at their surroundings. Nearly 50 paintings, most from the leading museums of Oz, give a fair overview of a trio of young but ambitious artists of the time and their passion for both city streets and vast country vistas. Almost all date from the 1880s and 1890s and encompass the famous "9 by 5 Impression" exhibition, held in 1889 in Melbourne, which took its name from the dimensions of the lids of the cigar boxes which were used instead of canvases. It was in Melbourne in the late 1880s that the Heidelberg group was formed, the artists travelling out from the city to camp at its edge, in the country, in a place called Heidelberg – and to paint, both out there in the landscape and back home in the studio.
They are unpretentious but so vivid and captivating, painted with an acute observation
The group could easily have been widened, but the intensity of the concentration on just the four artists makes for helpful clarity. They are hybrid artists, travellers all: the precocious Charles Conder (1868-1909) was born in England, and only spent six years in Australia (1884-1890) studying art and painting, prodigiously precocious. The Australian Arthur Streeton (1867-1943), master of the landscape, was in later life to spend 23 years in England before returning home. He was hailed early on as embodying the beginning of (Western) art in Australia. Tom Roberts (1856-1931) studied at London's Royal Academy and was profoundly influenced by Whistler (himself, of course, also a hybrid, claimed by both America and England): he brought the lessons he had absorbed from the new movement of Impressionism back to Australia, but even he in later life left Australia to spend some 20 further years in England.
The wealthy Australian John Russell (1858-1930) went away entirely, returning to Sydney only in old age: he was friends with Van Gogh, whose portrait he painted. Living for years in the artists' colony on Belle Isle in Brittany, Russell was close to Monet and mentored Matisse. His subject matter is French, his style an amalgam of Impressionism and post-Impressionism, with encrusted brush strokes and a flirtation between representation and – well – imaginative impressions. He is now comparatively little known in Europe – he destroyed much of his own work – and has been called Australia's lost Impressionist. Oddly, the one prominent Australian Impressionist Frederick McCubbin who also exhibited in the "9 by 5" show is not included, although it was he who hardly ever left Australia.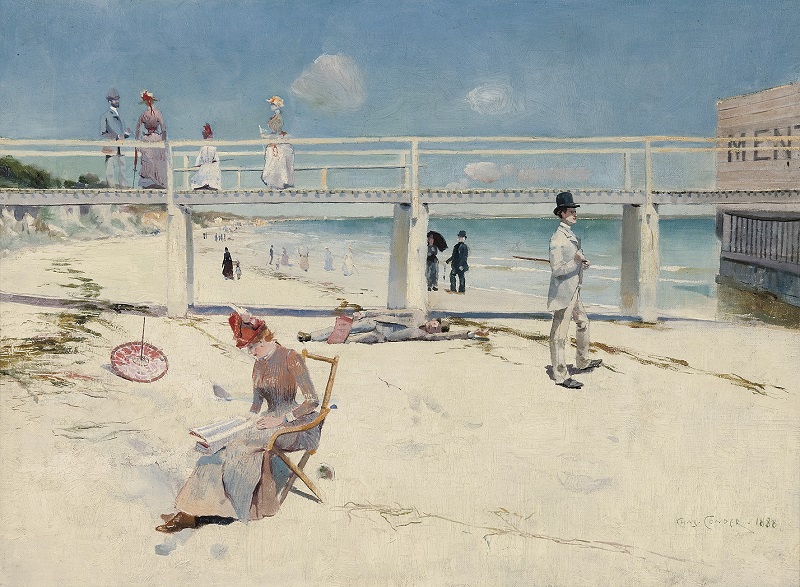 Arthur Streeton's glorious Golden Summer, Eaglemont, 1889, shows his gold and blue palette; the rich land, the sheep and their shepherd going home in the early evening. His Purple Noon's Transparent Might, 1896 (pictured above right), is a beguiling look over a vast landscape, a river valley, the river sinuously twisting and turning, a range of mountains blurred by mist in the distance, all under a huge overarching sky.
There is a wall of the "9 by 5 Impression" paintings, and other small sketches, city scenes of London and Australia, country and city, and of course larger paintings, fully-formed so to speak. But all share a sensibility: they are unpretentious but so vivid and captivating, painted with an acute observation of solid structures, crowds, country bridges, railway stations, city streets, harbour side, meadows, bathed in changing light. Tom Roberts' Allegro con Brio: Bourke Street West is a much larger painting, a crowded city scene of a dusty street with people and horse-drawn carriages, framed by unpretentious buildings, their verandas hinting at strategies to combat the inescapable heat. Roberts and Streeton both paint the sea, the land coming down to meet the water: endless beaches, cliffs, wooded hills. And Charles Conder paints a fashionable beach at a resort, in A Holiday at Mentone (pictured above), its inhabitants fully, and elegantly, dressed, strolling, in 1888.
Go to this show, and be refreshed and surprised: it was a time when art was becoming truly international, almost a kind of lingua franca. The investigations initiated by those French visual revolutionaries were contagious, providing an impetus that broadened the vocabulary of art, taken up with intelligent discernment, skill and enthusiasm on the other side of the world.
It encompasses the famous '9 by 5 Impression' exhibition which took its name from the dimensions of the lids of the cigar boxes which were used instead of canvases
rating
Share this article