20th Century Women |

reviews, news & interviews
20th Century Women
20th Century Women
Coming of age in California with Annette Bening as every boy's dream mom
Kitchen table cabinet meeting: Annette Bening and Lucas Jade Zuman
It would be easy to dismiss this sweet, wayward film as Michael Mills's self-indulgent love letter to his mother, who raised him alone in California after his father moved out, but it's subtler and more complex than that. This is an ensemble piece, with warmly funny dialogue generously shared out among a handful of excellent actors. Annette Bening is wonderful as Dorothea, born in the 1920s, she dreamt of being a pilot and meeting Humphrey Bogart but ended up a draughtsman in aeronautics.
Dorothea had a son at the ripe age of 40; her husband absented himself from the family (for more on his father's story, see Mills's earlier Beginners), so she is left raising Jamie on her own. Played by Lucas Jade Zuman, Jamie is one of those 15-year-old boys who are beaten up at school by the jocks because he likes the Talking Heads. Although he looks uncannily like a young prince painted by Botticelli, Jamie's a California skater boy, and in love with his childhood friend Julie (Elle Fanning, pictured below). Unfortunately for him, she's too busy having sex with ungrateful older boys.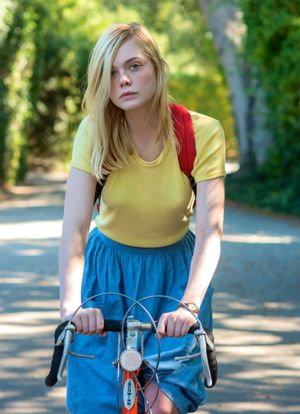 Julie likes to climb in Jamie's bedroom window and curl up next to him when life with her intrusive therapist mum becomes too much. She is not the only extra at the breakfast table – Dorothea's big, ramshackle house in Santa Barbara provides lodging for stoner handyman William (Billy Crudup) and photographer Abbie (Greta Gerwig), who is having her own existential crisis which involves mainlining feminist texts and confronting cervical cancer.
20th Century Women shifts narrative perspective repeatedly and at one point meanders into a road movie, but it's essentially saturated with the atmosphere of a time and place – Santa Barbara, California: 1979. Mills conjures up a nation at a turning point; post-hippy, mid-punk, proto-identity politics. The Raincoats and the Clash are on the soundtrack, Our Bodies, Our Selves is on the bookshelf while President Carter pops up on TV questioning the very meaning of America.
This makes Mills's film sound heavier than it is and it shouldn't do – it sparkles with funny exchanges and tender embarrassments. Dorothea is a free-spirited mom who invites the firemen who doused her burning car over to her house warming party, much to her son's chagrin. She tries to get into Jamie's music, dancing to Black Flag when Louis Armstrong is more her style. But she's also the mom we all wanted when we were a teen – the one who agrees that going to school every day is just a bit unnecessary.
The narrative loops between romantic crises, punk gigs and conversations about menstruation. Nothing really happens, there are no great showdowns or revelations, just people growing up, growing old and dying; sometimes that's enough to make a charming movie and with 20th Century Women Michael Mills has pulled it off.
There are no great showdowns or revelations, just people growing up, growing old and dying
rating
Explore topics
Share this article