theartsdesk Radio Show 18 |

reviews, news & interviews
theartsdesk Radio Show 18
theartsdesk Radio Show 18
The latest global radio show including Brazilian electronica, Vietnamese Jazz and Ethiopian nostalgia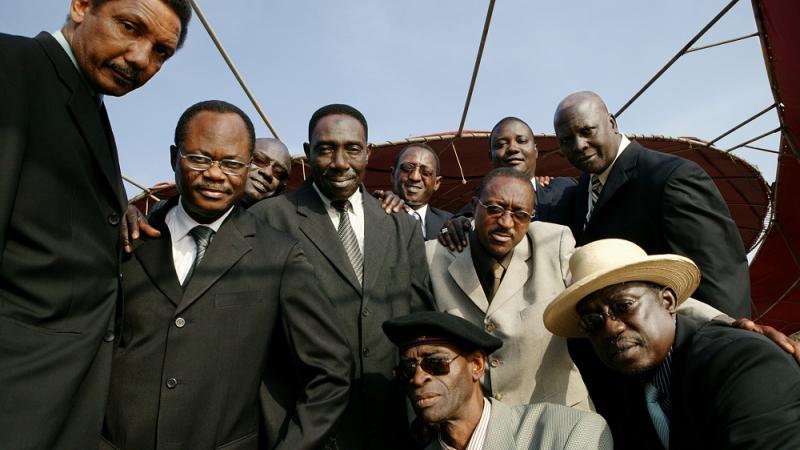 Orchestre Baobab: Senegal's finest
Peter Culshaw's nomadic monthly round-up of the latest brilliant intercontinental sounds includes Frippertronics from São Paulo, Indian classical electronica, Vietnamese jazz and Ethiopian nostalgia. It features great new releases from King Ayisoba, Blue Beast, Orchestra Baobab and some terrific compilations, notably from the late, great Nashville master songwriter Guy Clark.
The show was recorded at the enterprising MusicBoxRadio UK's spanking new studio in Farringdon, London. Since being posted on Mixcloud the show has already gone to number two in Mixcloud's Latin chart and Afrobeat chart, third on the World Music chart and sixth in the Eclectic chart.
To listen to the show click here:
Track Listing:
Vivieck Rajagopalan: "Ta Dhom"
Blue Beast: "Comfort Zone"
King Ayisoba: "Africa Needs Africa"
Calypso Rose: "Calypso Queen"
Fantastic Negrito: "An Honest Man"
Orchestre Baobab: "Foulo"
Aurelio: "Landini"
Hot 8 Brass Band: "Get It How You Live"
Mulatu Astatke: "Tezeta (Nostalgia)"
Orchestre Baobab: "Utérus Horas"
Caetano Veloso: "Feelings"
Joäo Bá: "Boi Uberdade"
Joäo Arruda: "Aguas Rio Abaixo"
Omar Sosa and Seckou Keita: "Black Dream"
Nguyen Lê and Ngô Hông Quang: "Cloud Chamber"
Julian and Roman Wasserfuhr: "Tutto"
Michael Nyman: "Poczatek 1"
Guy Clark: "Cornmeal Waltz"
Omar Rahbany: "Anarkia"
Bargou 08: "Sidi El Kadhi"
Guy Clark: "My Favourite Picture of You"
Joäo Bá: "Fotosintese"
Tamikrest: "Mowarina Tartit"
Blue Beast: "Love Is Beautiful"
King Ayisoba: "1000 Can Die"
Explore topics
Share this article