Peter Kay's Dance for Life, Ricoh Arena Coventry |

reviews, news & interviews
Peter Kay's Dance for Life, Ricoh Arena Coventry
Peter Kay's Dance for Life, Ricoh Arena Coventry
School disco with lots of laughs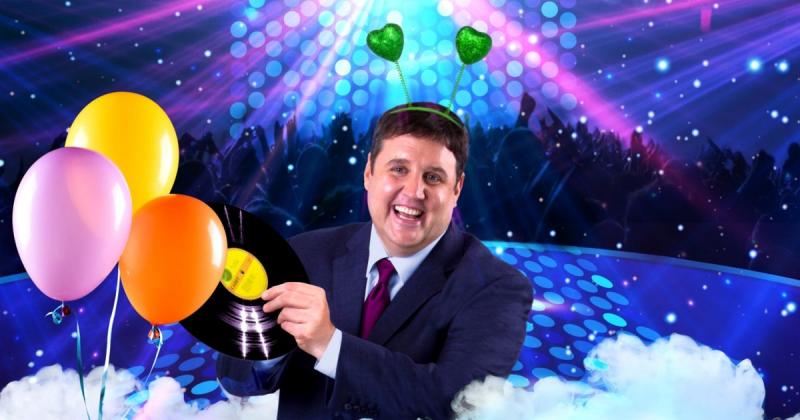 Peter Kay is performing his dance-a-thons around the UK in aid of cancer charities
Peter Kay's love – and extensive knowledge – of pop music is well known. He has often spoofed misheard song lyrics in his shows, and has released various charity singles over the years.
Now, with this series of shows to raise funds for Stand Up to Cancer and Cancer Research, he displays his
DJing
skills with shows of three hours of non-stop dance music
–
a wonderful kind of school
disco
(for those who remember such things).
That is, if the school discos you attended back in the day took place in an arena that holds several thousand and had a video and light show that frequently takes the breath away, plus some pyrotechnics and audience participation (the nuns at my school didn't have the required sense of humour for getting up on stage and – as Kay would say – acting daft). He introduces the evening's action, and brings on his Car Share co-star Sian Gibson, dressed, like him, in a shiny shell suit. It's ironic, of course, but we're all in on the joke. And then the three-hour countdown begins as he takes charge of the decks and she leads the dance routines.
Much of the evening's comedy is provided by the multi-generational audience
The first hour is guaranteed floor-fillers – Abba's "Dancing Queen", the Nolan Sisters' "I'm in the Mood for Dancing", Dolly Parton's "Nine to Five" – with some house and techno in the second. The third has another shift of gear and the tracks are expertly mixed, with only an occasional dip in pace – but then the audience does need a quick fag or loo break at some point.
Kay doesn't talk much in the early part of the show – other than saying "I'm fucked" after exerting himself during one up-tempo number – and much of the evening's comedy is provided by the multi-generational audience, many of whom are in fancy dress as superheroes or in 80s disco gear. On the big screens on either side of the stage, DJ PK writes slyly humorous captions as the camera on the dance floor picks out unwitting punters throwing some shapes: "I'll feel this in the morning" or "I haven't been up this late in years" for a more mature fan, "Commando dancing" for a younger mover and shaker.
On the huge on-stage screen, meanwhile, a superb light and video show is played throughout the evening, a blaze of whirling, explosive or geometric designs, while other tracks are accompanied by film footage or photomontages. During Laura Brannigan's "Gloria" there's a Google screenshot of Gloria Hunniford which for some reason gets funnier the longer the song goes on – as does the film of Kevin Bacon played during "Footloose" by Kenny Loggins. Kay's Nan, meanwhile, gets name-checked several times during the evening, too, and his celebrity friends appear holding up signs saying "Hello, Coventry".
It's a fun-filled evening, and even at the end of three hours the crowd wanted more, as Kay got more chatty. He proves himself a talented DJ and the light show is simply magnificent. My school discos were never like this.
On the huge on-stage screen a superb light and video show is played throughout the evening
rating
Share this article