Peter Kay's Car Share: The Finale, BBC Two review - happy ever after? |

reviews, news & interviews
Peter Kay's Car Share: The Finale, BBC Two review - happy ever after?
Peter Kay's Car Share: The Finale, BBC Two review - happy ever after?
Take that! John and Kayleigh get it together in a wonderful last road trip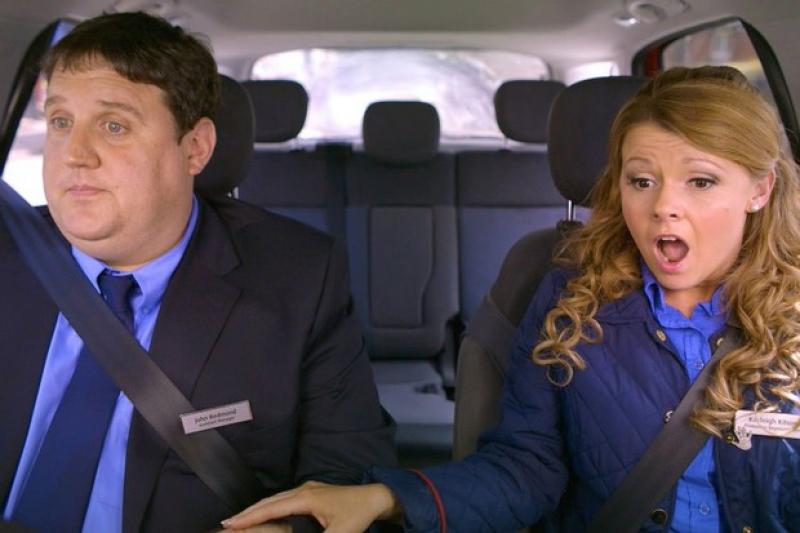 Peter Kay and Sian Gibson: share alike
Would it be happy ever after for John and Kayleigh? Would they or would they not drive off into the sunset? By the end they weren't driving off anywhere. Thanks to an errant hedgehog, the finale of Peter Kay's Car Share (BBC One) turned into Peter Kay's Car Crash and blew the bloody doors off. So they went home holding hands on the bus.
What a wonderful treat our last road trip with them was. For the nerdy #CarShare connoisseurs the street sign jokes came thick and fast. Old Trafford was handed over to Manchester City, there was an ad for My Big Fat Undateable Bake Off ("fancy a raspberry ripple?"), a white van man offered his services as Jean-Claude Van Man, a road sign gave directions to a Secret Nuclear Bunker, and another warned of a no dogging zone, with a graphic to match.
Like 'Waiting for Godot', 'Car Share' was a comedy in which nothing happens twice
Meanwhile, inside the vehicle, it's Kay's name in the headlights and Kay in the driving seat, but the brilliance of Peter Kay's Car Share was shared with his co-star and co-writer Sian Gibson. The joke was that his gabbling, squealing passenger made much more of the running. As was amply proved by the delightful improvised episode, Gibson is deft at repartee. Her Kayleigh was a lovely study of a bright-eyed romantic singleton, frank about her appetites (all those rippling carpark hunks, this time replaced by a leering grey-maned flabster) but also open about her romantic yearnings. John was the embodiment of every male stick-in-the-mud, with a head full of pop culture trivia and a hedgehog heart that made him timid of commitment.
His fear of getting that tender organ broken again was the cause of the false ending to the second series which left viewers hollering at the telly or jamming the BBC complaints line. Yes, Kayleigh got her man but only in a fantasy sequence. It didn't hit the spot because Peter Kay is not a meta comedian. It was as if he'd come over all Stewart Lee or Twin Peaks. He was even summoned onto The Today Programme to explain himself, and was honest about the limitations of a comedy featuring two characters who sit in a car for half an hour.
Like Waiting for Godot, Car Share was a comedy in which nothing happens twice. That visit to the safari park (series two, episode three) was an admission that, if they weren't going to go on a date, there was nowhere left to go for John and Kayleigh. Perhaps there should be a new category for shows that don't know how to resolve a plotline about romantic frustration. Not jumping the shark, but collecting the monkey.
But they did finally find a way to a happy ending, and earth it in the real world. John's romantic apologia took the form of an overnight composition ("Come back my car share buddy… Please won't you let me be your ride"). It was pronounced by Kayleigh to be "as good as any Gary Barlow", whose gurning, gyrating bandmates just happened to feature in the accompanying black-and-white video. That's the Lancashire old boys' network for you.
The song did the trick, but for John and Kayleigh the course of true love took the form of slagging off their colleagues, confessing to problems with flatulence, and contemplating death, marriage and body consciousness ("no one's that pert at 36, John"). If they do ever make it up the aisle, this will be a marriage of true minds.