Peter Kay's Car Share, BBC One |

reviews, news & interviews
Peter Kay's Car Share, BBC One
Peter Kay's Car Share, BBC One
The comic's first sitcom in a decade is a delight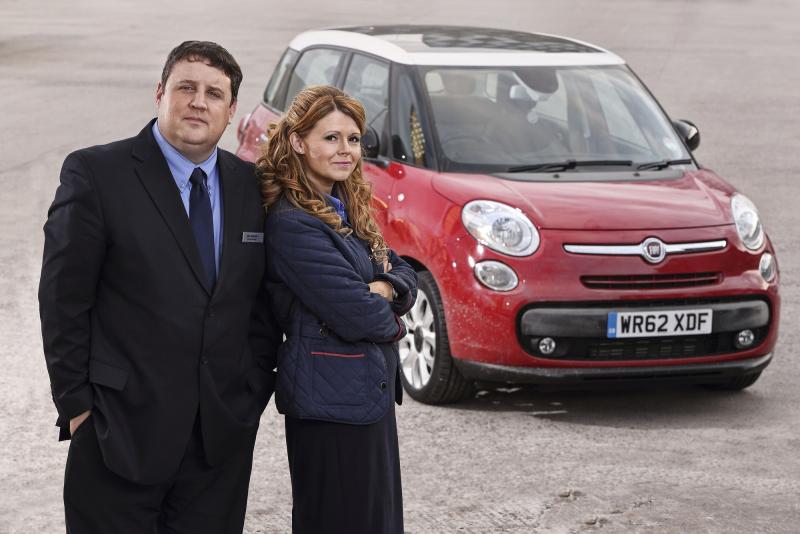 Peter Kay and Sian Gibson, colleagues at a Lancashire superstore forced to car share by their employer
Peter Kay's first sitcom in 10 years is always something to look forward to, and it achieves another first: the BBC made the six-parter available on iPlayer to watch in its entirety before showing it on a terrestrial channel, and it has broken all viewing records.
Despite the title, it isn't a Peter Kay creation, although he does direct and star. It is by Paul Coleman and Tim Reid, but Kay and his co-star, Sian Gibson, are also credited as writers so clearly some of this is improvised; there's the occasional clue of Kay and Gibson looking just about to corpse before the camera cuts away.
They play John and Kayleigh, assistant manager and promotions rep respectively for a Lancashire superstore, forced to car-share after their employer cut down on the number of staff parking spaces. In-car comedy has been done before, most notably Rob Brydon's Marion and Geoff and Jerry Seinfeld's Comedian in Cars Getting Coffee, and here it comes off with comparable aplomb as they shared their morning and evening commute.
A particular joy found Kayleigh talking about her drug dealer ex-boyfriend
The set-up was predictable – he's a grumpy bugger who argues with his satnav and would happily drive to work alone, she loves "chitty-chat" - but that's no matter. Even the most contrived of comic contrivances – when the urine sample she was carrying for a doctor's appointment later that day splashed John he had to take off his shirt, revealing a "I Ran the World" vest from 1986 underneath – worked, because it neatly told us a little more about a man nostalgic for a period of his life when he was young and fit.
Kayleigh never stopped asking questions, and for John it was a bit like being trapped by a particularly boring hairdresser. "Going on holiday/been on holiday/anywhere nice?" tripped off her tongue, but then the conversation turned more personal and we learned they're both ambitious and both single. A particular joy found Kayleigh talking about her drug dealer ex-boyfriend - "I just thought he was popular" - as she recounted the various ways in which she took revenge on him for using her as an unknowing drugs mule, not least by blasting out Alanis Morissette's "You Oughta Know" at him.
Much fun, too, came from the spoof station that Kayleigh retuned John's car radio to, Forever FM ("timeless hits forever"), with hilarious local ads for garden sheds and a hair salon where "We don't just cut your hair, we make love to it". It had shades of Chorley FM from Peter Kay's Phoenix Nights but was entirely believable. So was the banter, down to the whiff of casual homophobia as John protested he's not gay when Kayleigh suggested he was dancing a little too enthusiastically to Gloria Gaynor's "I Am What I Am" at the Christmas party.
The performances are a delight, and even if a fantasy sequence in which Kayleigh dreamed herself singing in front of a rock audience felt distinctly jarring in an otherwise naturalistic comedy, Car Share is warm and immensely likeable.
Much fun came from the spoof station that Kayleigh retuned John's car radio to, Forever FM
rating
Share this article