Buchbinder, Philharmonia, Hrůša, RFH |

reviews, news & interviews
Buchbinder, Philharmonia, Hrůša, RFH
Buchbinder, Philharmonia, Hrůša, RFH
Ideal orchestral Brahms under an already great young Czech conductor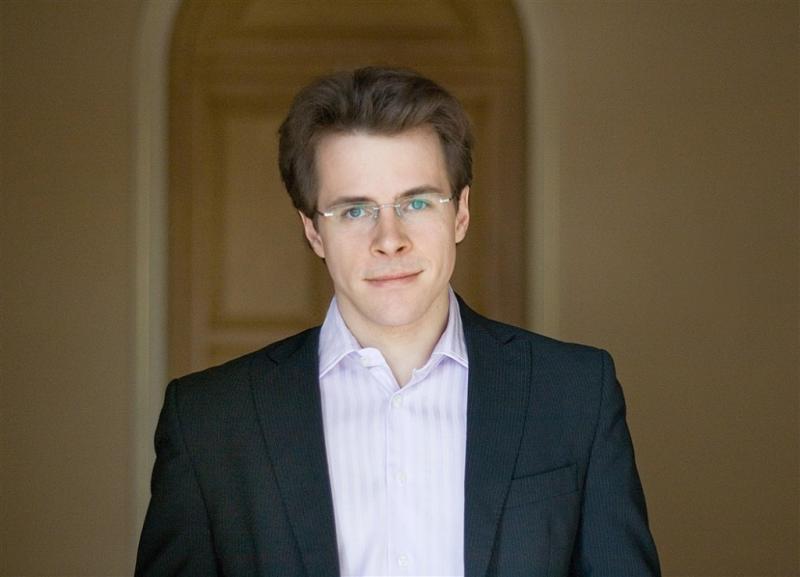 Jakub Hrůša - already a great Brahms interpreter
It's a rare concert when nothing need be questioned about the orchestral playing. The usual nagging doubts – about whether any of the London orchestras has a recognisable sound-identity, or whether Rattle's swipe agains the two main London concert halls as merely "adequate" means players can't make a proper mark here – simply vanished. Under regular visitor Jakub Hrůša, the Philharmonia last night simply sounded like a top-quality central European orchestra producing the ideal light, shade and energy for Brahms – and it made its own warmth, a very difficult thing to do in the Festival Hall. So much for acoustical shortcomings.
In January, Hrůša conducted his Bamberg Symphony Orchestra in Brahms's Fourth Symphony as an immediate sequel to Cage's 4'33" – of silence, from the orchestra, if not the Bamberg audience – and after a first half of Ives, Wagner and Martinů. The focus here was entirely on a Brahms inventive and energised enough to carry the whole programme – conventional in planning, perhaps, but not in execution. In effect, the Second Piano Concerto is a symphony – call it No. 2a, as it comes just before the Third Symphony – with a fully integrated role for a soloist who needs to be virtuoso and chamber-player rolled in to one.

Interesting, then, to hear a veteran pianist, Rudolf Buchbinder (pictured below by Marco Borggreve), who approached the titan from the Mozart-Beethoven perspective rather than across and backwards from Tchaikovsky and Rachmaninov. Unlike his fellow septuagenarian Elisabeth Leonskaja, Buchbinder tends to obscure some of the giant welters in lower and middle register with the sustaining pedal, even if the top is always crystalline. The first two movements sometimes lacked the ideal excitement of Brahms regenerating his fiery youth, but even here the dovetailing between piano and strings especially – including a leader of the second violins, Annabelle Meare, who was a joy to watch in her chamber-musical responsiveness to Buchbinder and her colleagues – reaped special rewards.


Perfection came with the ineffable Andante. Cellist Karen Stephenson kept the lovely song unaffected, never overly sentimental but always personable, with colleagues lining it nobly and a violin line above sounding like a voice from another planet; Buchbinder stirred the fire by degrees before calming it in that astonishing passage lit by the two clarinets. He was natural rather than comical or scintillating in the mostly light-footed finale; once again it was the strings who ruled in their sweeping tziganery. Hrůša knows exactly how to mould every phrase, where to encourage stresses – not always where you would conventionally expect them – and that kept every line alive.

He even seemed to have transferred from Bamberg the sound of an easy warmth underlined by the most impressive cello and bass lines, never imposing for the hell of it. Their subtle support for the levitational opening of the Fourth Symphony enriched an already nuanced approach. The embers which keep being fanned back to life in the middle of the first movement had the kind of smokiness I've rarely heard in this venue; rhythms were energetically defined but never over-punchy, creating a radiant miracle in the usually too-boisterous Allegro giocoso.

Time and again we were hearing depth of tone you rarely get from a London orchestra as strings moved towards climaxes that gave more sound than you thought possible – vital when the screw turns again and again in the harrowing but somehow still life-giving variations of Brahms's amazing final Passacaglia. The heart was where it should be – in Karen Jones' sorrowfully human flute solo and the prominence of the three trombones, silent throughout the previous movements and here garlanded by lower-string funeral wreaths.
There's always a point in this towering finale where you know whether the performance is going to carry you beyond the usual; it doesn't happen often, but it happened last night. Repertoire stalwart or fallback he may be, but Brahms is an ever-expanding phenomenon the more you hear him in performances like this, and at 35 – still young for a conductor – Hrůša is already one of his greatest interpreters.
Time and again we were hearing depth of tone you rarely get from a London orchestra
rating
Share this article