Decline and Fall review - 'a riotously successful adaptation' |

reviews, news & interviews
Decline and Fall review - 'a riotously successful adaptation'
Decline and Fall review - 'a riotously successful adaptation'
Evelyn Waugh brilliantly brought to BBC One with Jack Whitehall and Eva Longoria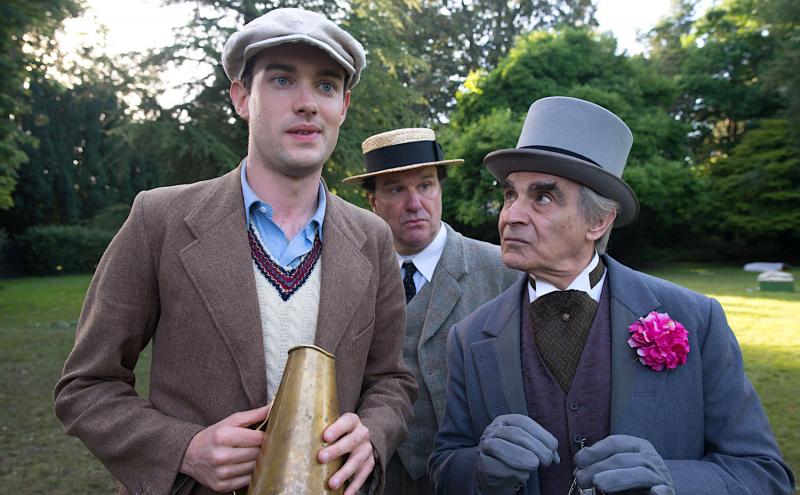 Savage farce and buffoonery: Jack Whitehall, Douglas Hodge and David Suchet
Like many first novels, Evelyn Waugh's Decline and Fall has a strong whiff of autobiography. It is a revenge comedy in which Waugh – like Kingsley Amis after him in Lucky Jim – transmutes his miserable experiences of teaching in Wales into savage farce.
BBC One's dramatisation begins in Oxford, 1928. Paul Pennyfeather (Jack Whitehall), a milk-and-water theology scholar, is sent down from Scone College (full of fruitcakes), for "indecent behaviour". His crime? To run into braying members of the Bollinger Club who, having already defenestrated a pig's head (Oink! Oink!), proceed to debag him. Viewers of Bad Education and Fresh Meat will be familiar with Whitehall's quivering bare buttocks. Here they just cry out to be spanked. It's about time someone gave them their own series.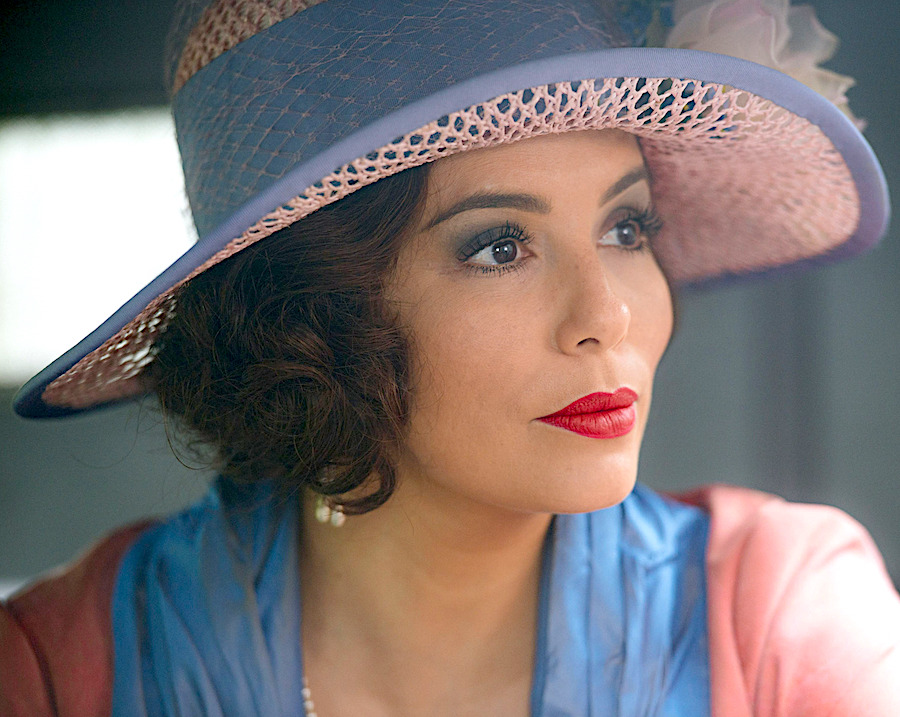 Unable to tap his late father's bequest until he is 21, Pennyfeather takes a job at Llanabba Castle, a Welsh Dotheboys Hall, where, despite having zero experience or ability, he is expected to teach the Fifth Form German, carpentry, the organ and games. The headmaster, Dr Augustus Fagan (David Suchet), is a wise old fool: "I've been in the scholastic profession long enough to know that nobody enters it unless he has some very good reasons he is anxious to conceal."
Enter Captain Grimes (Douglas Hodge), a one-legged sot with a taste for flagellation, a talent for getting "in the soup", and a raging thirst for male flesh. It is hard to believe that the real-life inspiration for Grimes was a notorious character called Dick Young. Was there ever a more apt name for a pederast?
James Wood's brilliant adaptation prudently diverts Grimes's attention away from the pupils and onto Margot Beste-Chetwynde's chauffeur. When the glamorous MILF, played with wide-eyed lasciviousness by Eva Longoria (pictured above), emerges from her Rolls, Pennyfeather, who has never been in love, is transfixed: "How beautiful!" "Isn't he…" replies Grimes.
The climax to this first of three parts comes at a hastily arranged Sports Day where Tangent, Lady Circumference's son (Felix Griffin Pain), is shot in the foot by a starting pistol helpfully provided by Philbrick, the dodgy butler – a role that allows Stephen Graham (Al Capone in Boardwalk Empire) to prove he can do comedy equally well. Dr Fagan prescribes the injured boy a piece of cake.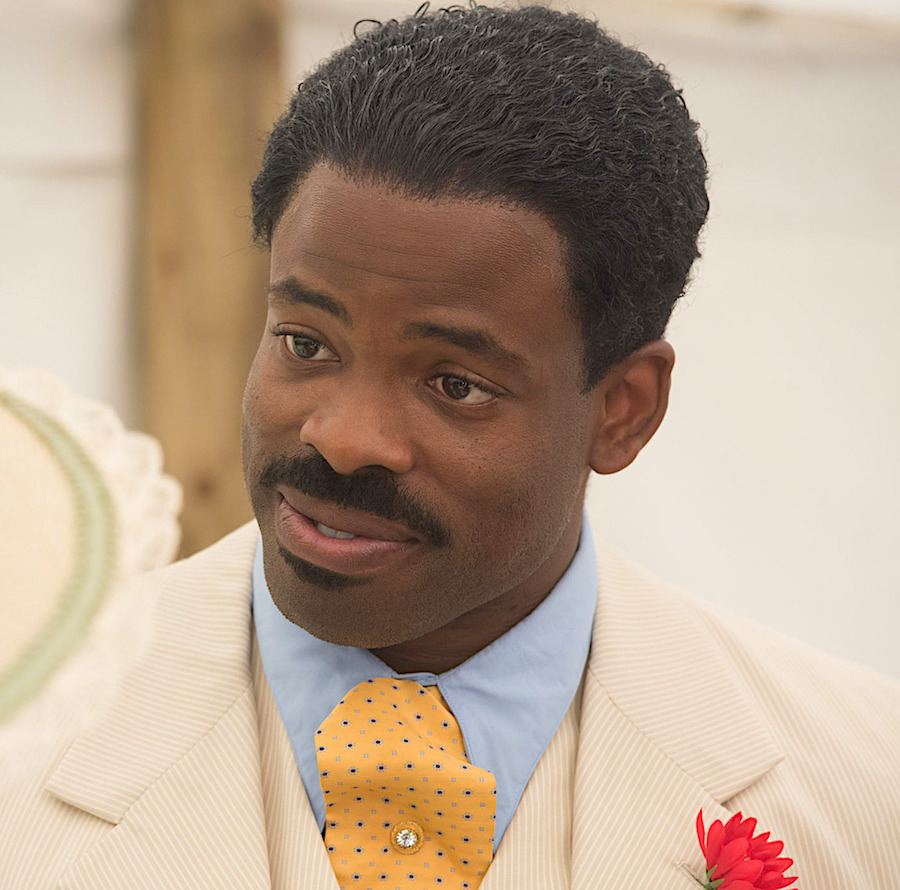 Old-fashioned buffoonery is not easy to pull off nowadays (unless you are Miranda Hart). As Fagan, Suchet, having offended the whole of Wales – "I do truly believe the Welsh are the only nation in the world that has produced nothing of any worth: no painting or sculpture, no architecture, no drama of any kind – they just sing…" – proceeds to outrage an entire race by unwittingly echoing the speech of Chokey (Chike Okwonkwo, pictured above), Beste-Chetwynde's black beau: "He do, he do!" These four little words are the highlight of the episode. And as if this weren't enough the headmaster then discovers Grimes and the chauffeur doing the nasty in the woodshed. Cue fireworks.
Director Guillem Morales (Inside No 9, Boys Briefs 2) ensures there isn't a dud performance in this hilarious parade of bad behaviour. Even the schoolboys , none of them better than they ought to be, look the right age. Whitehall makes a sympathetic ingénu and, naturally enough, copes with the all the funny business with ease – even a detumescent spoon.
Someone has had a lot of fun with the casting, too. Nickolas Grace pops up as an aged don while the soundtrack pays homage to another Waugh TV adaptation, Brideshead Revisited (1981), in which he played the stuttering Anthony Blanche. Prendergast, a bewigged, defrocked priest, is none other than Vincent Franklin, star of the recent gay saga Cucumber. Full honours, however, must go to Hodge. He brings out the queer (and worst) in Grimes, a latter-day Wackford Squeers, but – this being the PC BBC – it's all done in the best possible taste.
There isn't a dud performance in this hilarious parade of bad behaviour
rating
Share this article