DVD: Revolution - New Art for a New World |

reviews, news & interviews
DVD: Revolution - New Art for a New World
DVD: Revolution - New Art for a New World
Margy Kinmonth goes in search of the art that launched the Russian Revolution
History recreated: painting a banner for the Women's Day March, Petrograd February 1917
Revolution - New Art for a New World film starts well: the opening shot (main picture) is of young women painting white letters onto a red banner. "We all knew what to paint," says the voice-over. "Bread, Work, Vote, but the message was 'Women of the World Unite!'"
These were the words of Liubov Popova, one of Russia's many brilliant women artists; her enthusiasm came from the conviction that after the revolution women would have greater opportunities. "Everyone was going to have equal rights, and that included artists," she predicted, since they were "building a new life and a new world view".
As millions discovered to their cost, the revolution didn't fulfil its initial promise. Nor does the film. The early years of the revolution were heady, idealistic times and, on screen, a few exhilarating moments afford brief glimpses of the excitement and fervour; all were shot at the time, though.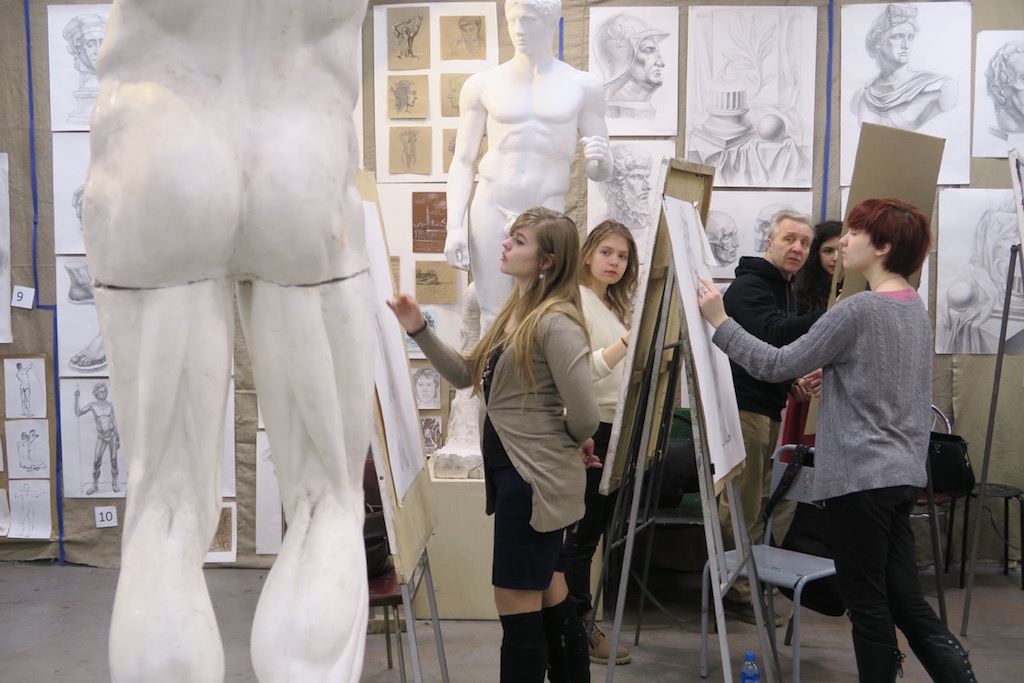 The banners were being made for the Women's Day March held in Petrograd in February 1917. Documentary footage shows them being held aloft by the eager throng that filled the city's streets. A photograph of the dead and wounded shot by the army during a demonstration in July 1917 is followed by footage of Lenin inspiring the people with his rhetoric. A clip of the storming of the Winter Palace from Eisenstein's famous 1927 film October shows young revolutionaries pouring through the colonnade in an unstoppable wave. A photograph of the Tsar and his family in exile brings this brief historical introduction to a close.
From then on, the film becomes something of a plod through the vaults of Russia's art institutions. Director Margy Kinmonth looks at the work of key artists such as Kandinsky, Malevich, Rodchenko, Chagall, Stepanova, Klutsis and Popova, interviews some of their descendants, and talks to various museum and art school directors about their importance. None of this yields anything of much interest, though; in Putin's Russia you also have to mind your back, so no-one is likely to jeopardise their career by speaking out of line.
Prior to the revolution, the Imperial Academy of Arts in Petrograd dominated the art scene. Kazimir Malevich referred to this institution as a "mouldy vault". "I have dragged myself out of the rubbish-filled pool of academic art," he announced and under Lenin, the academics were replaced by avant-garde artists. Lenin had little time for art and artists, but he understood the value of images in putting across the Bolshevik message to a largely illiterate population and made what he called "a marriage of convenience with the artists who are keen". Determined to control the look as well as the content of artistic output, Stalin would impose Socialist Realism as the official style and persecuted those who had supported the revolution.
The film shows present-day art students copying plaster casts (pictured above) as though the revolution that produced the most innovative art of the 20th century had never happened. Sadly, this is not surprising: the regime that arrested Pussy Riot is hardly likely to encourage experimentation.
Lenin understood the value of images in putting across the Bolshevik message to a largely illiterate population
rating
Explore topics
Share this article