Henry IX, UK Gold, review - 'return of sitcom classics' |

reviews, news & interviews
Henry IX, UK Gold, review - 'return of sitcom classics'
Henry IX, UK Gold, review - 'return of sitcom classics'
Clement and La Frenais' latest sitcom is stuffed with gags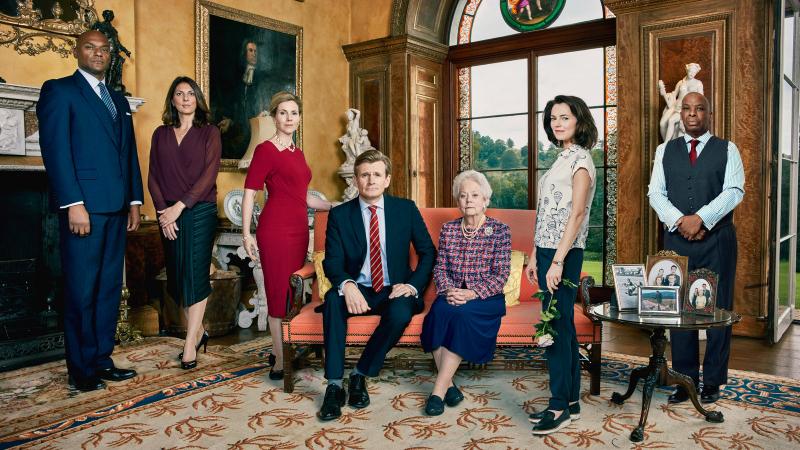 Henry IX, centre, with his family and flunkeys
It has been a long, long time since Dick Clement and Ian La Frenais wrote a new sitcom; in their heyday they created The Likely Lads and its sequel, Whatever Happened to the Likely Lads?, Porridge and Auf Wiedersehen, Pet, all of which have become classics of the genre.
The duo went to live in Los Angeles some decades ago to work in both film and TV, but now return with a new sitcom, set in the fictional but contemporary court of King Henry IX.
Henry IX follows in the writers' familiar territory of having their characters confined by circumstance. Likely Lads Bob and Terry were hemmed in by Bob's forthcoming marriage and Terry by being jobless; Fletcher was in his prison cell; and Auf Wedersehen, Pet's British builders were stuck on a German building site, miserable and unable to speak the language.
It's his awakening about what might be out there in the real world
Here, Henry struggles to make changes to his life, constrained as he is by tradition and a royal household who say – but we are not convinced – that they have his best interests at heart. Whereas he wants to listen to jazz and wear spotted Paul Smith socks, they want him to attend stuffy palace dinners and meet his loyal subjects at events such as a swim-aerobics for the elderly at a municipal pool.
Henry's glacial Scandinavian wife Katarina (Sally Phillips) thinks Henry is having a midlife crisis (although the glint in his eye for Kara Tointon's palace florist may have something to do with it) and so calls in a vapid young PR to "rebrand him". As part of that exercise he goes to a halfway house in Salford for former crack addicts, who perform a very funny rap about Henry. It's his awakening about what might be out there in the real world, and it spurs him into action.
He announces to his horrified family and courtiers that he's about to abdicate in favour of his young son, Alastair (unseen in this episode). It's a neat cliffhanger and, while there's some tiresome nudge-nudge about the son being gay – "He went to see Rufus Wainwright three nights in a row" – it's to set up the rather interesting storyline to come about a gay monarch possibly setting up home with his partner.
Charles Edwards is excellent as Henry, and there's an equally starry cast around him – among them Annette Crosbie's dotty ancient mother ("At my age I should be dead"), his loyal valet (Don Warrington) and his equerries (Colin Salmon and Gina Bellman) .
Directed at pace by Vadim Jean, Henry IX is certainly stuffed with gags, both verbal and visual, and some hit the target. It's not Clement and La Frenais's best work (and feels as if it could have been written any time in the past 20 years), but there's enough in here to make me want to see the two remaining episodes. It's good to have them back.