Their Finest review - undone by feeble female characterisation |

reviews, news & interviews
Their Finest review - undone by feeble female characterisation
Their Finest review - undone by feeble female characterisation
Disappointing drama about the British cinema business during World War Two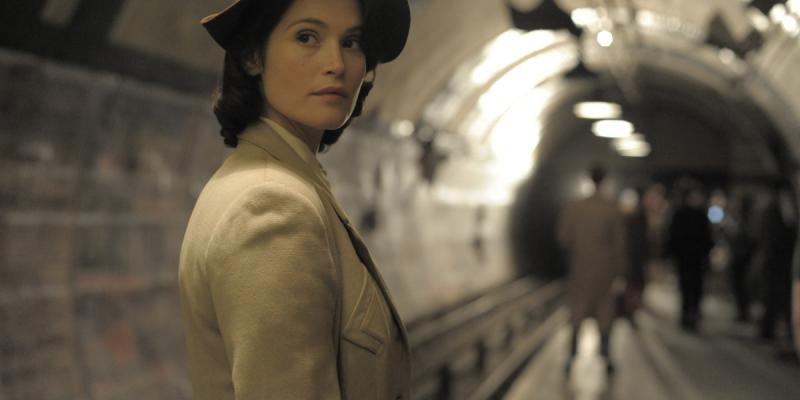 Fresh from the valleys: Gemma Arterton in 'Their Finest'
Yet another excuse to snuggle down with some cosy wartime nostalgia, Their Finest is purportedly a tribute to women's undervalued role in the British film industry. Unfortunately it comes over more blah than Blitz.
Gemma Arterton
plays Catrin Cole, fresh from the Welsh valleys and keen to carve out a career for herself in
wartime
London.
Employed by the Ministry of Information as a typist, she finds herself writing the "slop" – dialogue scenes between female characters in propaganda films. Supporting her artist husband (Jack Huston), who has come with her from Wales and longs to be a war artist but whose gloomy visions of pit villages don't make the grade, Catrin's grateful for the pay rise and starts to enjoy the work.
Dunkirk is recent news and an exaggerated yarn about twin sisters sailing their father's fishing boat across the Channel to rescue the troops becomes the focus of her efforts to inject realism into a script which is also supposed to encourage America to join the conflict. There's some charm in exposing the machinations of the film-making process – the ludicrous new dialogue dubbed over dull scenes, the matte painting effects that conjure up the illusion of vast armies on the beach where only a few extras lurk. And there's some humour in the wooden performance of an American hunk drafted in to appeal to the Yanks who can't act at all, but he rapidly wears thin.
Catrin has to contend with moody scriptwriter Tom (Sam Claflin, pictured above) and his initial resentment at having to share his credit with a woman. There's also the cheerful sexism of her bosses who come out with lines like, "Obviously we can't pay you as much as the chaps". There's a bit of support from a caricatured lesbian script supervisor (Rachael Stirling) but little in the way of real energy or engagement from any of the women on screen. Arterton appears to sleep-walk through the film; she's very pretty in her cardigans and blouses, but there's no sense of passion for her creative work and no chemistry with the two men with whom she's paired onscreen.
It's ironic that a movie with so many women involved in its production and with its subject the contribution of women to the film industry should be so very feeble about developing its own female characters. Based on Their Finest Hour and a Half, a well-researched novel by Lissa Evans, with a screenplay by experienced TV dramatist Gaby Chiappe and directed by Lone Scherfig (who did an excellent job with An Education back in 2007), the movie only comes alive when veteran thespians like Jeremy Irons and Richard E Grant are on screen. It's really hard to care about Catrin's burgeoning career as a script-writer when she's so self-effacing and busy being nice. The love triangle between her and the two male leads lacks any passion – she's no Celia Johnson simmering with suppressed desire for Trevor Howard.
The funniest scenes in the film (and its only real energy) come when Bill Nighy (pictured above with Helen McCrory) appears as an ageing matinee idol. He vainly ensures that he gets the best lines and relishes every crumb of public adoration. The production designer attempts to capture the atmosphere of wartime London on a low budget, resulting in underlit scenes in cramped interiors and repeated returns to the same few outdoor locations dressed up to fit the period; it's neither evocative nor convincing. If Their Finest inspires anything in the viewer, it's to rewatch some genuine World War Two films with feisty women characters, like Went the Day Well? or The Gentle Sex.
The funniest scenes in the film come when Bill Nighy appears as an ageing matinee idol
rating
Share this article